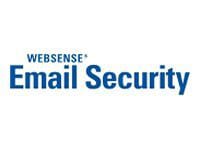 Software Details
Subscription license renewal (3 years)
volume
increments of 100 seats
1 seat
1001-2500 licenses
Win
View Tech Specs
Know your gear
Today's email threat landscape is dominated by converged email and web attacks with over 89-percent of unwanted email containing an embedded URL. Organizations are also facing increasing risks associated with loss of data and violations of acceptable email use. And while email threats are becoming increasingly complex, managing email security doesn't have to be.

Traditional security products don't have what it takes to protect today's dynamic email. That's exactly why Websense completely reinvented email security with Websense Email Security Gateway Anywhere.

Embeds thousands of predefined data classifiers, global compliance policy templates, natural language processing, data fingerprinting and other enterprise class.

Combines traditional security technologies, including antispam, antivirus, reputation analysis, URL filtering with advanced technology like real-time code scanning, real-time content classification, and data fingerprinting in a unified security engine.
Availability:
Discontinued