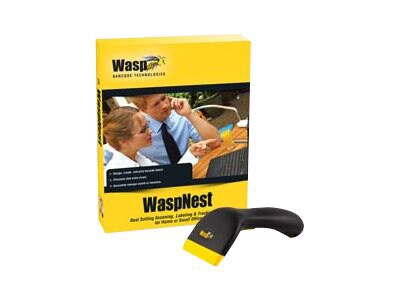 Quick tech specs
1 user
with WCS3900 CCD LR USB Scanner
View All
Know your gear
WaspNest Suite is a complete barcode starter solution designed for home and small office applications. This value packed suite includes a barcode scanner (Wasp WCS3900 barcode scanner) for reading barcodes, a full version of WaspLabeler +2D barcode labeling software for creating barcode labels and tags and 30-day trials of Wasp Inventory Control inventory tracking software and Wasp MobileAsset asset tracking software.

The Wasp WCS3900 barcode scanner offers durable construction and ergonomic design for comfortable use. Perfect for office, library, and light retail environments, the WCS3900 easily eliminates time consuming manual data entry. Adding information to a database, spreadsheet or Point-of-Sale (POS) system is efficient and error free - just scan the barcode, and the data is sent instantly to your active application as though it was typed on a keyboard.

The WCS3900 is designed for fast, easy installation and connects easily to your PC using the USB port of keyboard wedge (PS/2). The WCS3900 barcode scanner is configured to read most common 1D barcodes, right out of the box - no drivers necessary. The WCS3900 allows you to scan barcodes up to 1" away, with a maximum barcode width of 3.25".

With WaspLabeler +2D's intuitive interface, you can quickly create inventory barcodes, asset tags, product shipping/mailing labels, and more. Easily combine text, company logos, and barcodes to create the barcode label you need. Generate barcode scan sheets or shadow books so that barcodes for small or difficult to tag items are readily accessible.

WaspNest includes a free, 30-day trial of Wasp MobileAsset Standard Edition. MobileAsset allows you to easily track assets, including computers, furniture, equipment, tools, and vehicles. By allowing you to instantly locate any asset, MobileAsset eliminates wasted time spent looking for lost or missing assets and reduces the expense of replacing equipment.

WaspNest includes a free, 30-day trial of Wasp Inventory Control Standard Edition. Wasp Inventory Control provides the ability to accurately track inventory, without the complexity and expense of an enterprise solution. Manage your inventory from the time you receive it to the time it is sold & shipped to the customer.