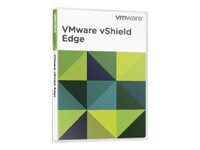 Know your gear
Get essential security capabilities including port group isolation, network security gateway services and web load balancing for performance and availability. vShield Edge is deployed as a virtual appliance to provide firewall, VPN, Web load balancer, NAT, and DHCP services. Eliminate the need for VLANs by creating a barrier between the virtual machines protected by vShield Edge and the external network for port group isolation.

Support multi-tenant IT environments and safely share network resources by creating logical security boundaries that provide complete port group isolation for virtual datacenters. Gain granular control and visibility over network gateway traffic, along with VPN services to protect the confidentiality and integrity of communications between virtual datacenters.

Extend your networks and application resources to branch offices, home offices and business partner sites through site-to-site VPN services with simplified provisioning, streamlined administrative tasks and improved scalability. All traffic between sites is encrypted using IPsec to maintain the confidentiality and integrity of all site-to-site communications.
Contact Sales Assistance
(800) 800-4239
,
Monday-Friday 7am-7:30pm CT
Software Details
License
federal
level 2 (600-999)
25 virtual machines
TPP
U.S. Federal only
View Tech Specs