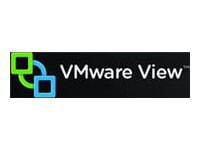 Software Details
(v. 5)
100 concurrent connections
VPP
product upgrade license
upgrade from Enterprise
level 4 (1750+)
View Tech Specs
Know your gear
Deliver end user freedom and IT control from your cloud. Simplify IT management, increase security, and control of end users while decreasing costs by centrally delivering desktop services from your cloud.

VMware View enables highly available, scalable, secure and reliable desktop services unmatched by physical PCs. VMware View with PCoIP delivers the highest fidelity experience to users across devices and networks. Enable a rich, personalized access to desktop services like applications, unified communications and 3D graphics for real world productivity.

View Premier comes with View Composer, ThinApp, View Persona Management, vShield Endpoint, and View Client for Local Mode not available in the Enterprise version.
Availability:
Discontinued