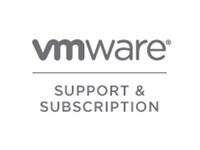 Know your gear
Cost-effective availability and data protection for small offices. VMware vSphere Essentials Plus provides an all-in-one solution for small offices to virtualize three physical servers to reduce hardware costs while ensuring superior high application availability and data protection.

With the vSphere Essentials Plus kit, you can: reduce capital and operating costs by over 50%, improve availability and uptime for business critical applications, cut the deployment time of new servers from weeks to hours.

VMware vSphere 4.1 Essentials Plus kit includes: 3 licenses of VMware ESXi and VMware ESX hypervisor architectures (deployment-time choice, VMware recommends ESXi), VMFS (Virtual Machine File System), 4-way Virtual SMP, VMware vCenter Server Agent, VMware vStorage APIs / VMware Consolidated Backup (VCB), VMware Update Manager, VMware High Availability (HA), VMware Data Recovery, VMware vMotion, VMware vCenter Server for Essentials.
Software Details
Technical support
emergency phone consulting
24x7
for VMware vSphere Essentials Plus Bundle (v. 4.x)
1 year
response time: 30 min
View Tech Specs