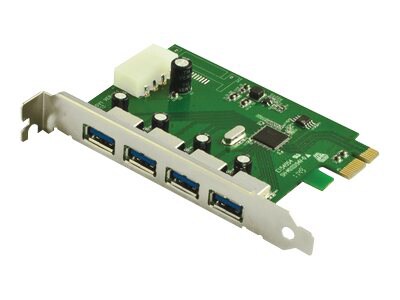 Quick tech specs
port USB 3.0 Host Adapter
PCIe
View All
Know your gear
The VisionTek USB 3.0 PCI Express Card allows you to connect multiple USB peripherals to your PC without the expense of replacing your motherboard.

The USB 3.0 4-port PCI Express Card enhances the performance of data transmission beyond existing USB 2.0. It is the ideal interface for transferring large amounts of data to/from USB 2.0/3.0 compliant devices such as external storage drives, HD AV streaming adapters, and much more.
VisionTek Connect PCIe 4-port USB 3.0 Host Adapter - USB adapter
is rated
2.60
out of
5
by
13
.
Rated

5

out of

5
by
Gene
from
Dell 4 Port USB 3.0 PCIe Internal Card
The Dell 4-port USB 3 internal card installed in this 5-6 year old computer without a problem and seems to be working as expected.
Date published: 2019-11-20T00:00:00-05:00
Rated

5

out of

5
by
Three of Nine
from
Extra USB 3 ports at a reasonable price
I needed more USB ports for my backup drives and other external devices. It was easy to install. The instructions need to be updated to include Windows 10 install procedure to just install the card with the PC unplugged. Then turn the PC on and let Windows 10 install it. The instruction as is may confuse others that they need to use the included install CD.
Date published: 2018-02-07T00:00:00-05:00
Rated

5

out of

5
by
Wojtas0
from
better instructions and the right parts
There was no literature to explain that the power cable was a sata power to molex adapter. If one doesn't recognize a sata power buss it takes awhile to figure it out. Then when you do get it you discover the cable sent is far too short. Had to order a molex extention cable. When it gets here I wil know if the usb 3 port works with the usb 3 drive I also ordered from Dell. Very frustrating.
Date published: 2013-09-16T00:00:00-04:00
Rated

5

out of

5
by
Zaydewise
from
USB Port Hard to Install
This was very difficult to install into the XPS 8930. Dell's Helpdesk was not very good in assisting with the installation.
Date published: 2020-02-13T00:00:00-05:00
Rated

5

out of

5
by
Tgeorge
from
No power supply available
Bought one of these. Nowhere did it say requirements are: "Must have an available power supply connection." Needless to say, when I received it, it was not compatible with my system. Returned it,-- No problem.
Date published: 2012-10-26T00:00:00-04:00
Rated

5

out of

5
by
DonWFromVA
from
Blue Screens My PC on reboot in Windows 7
Got this because of a free gift card promo from Dell. So I was like.. okay my PC doesn't have 3.0 USB.. so I will give it a whirl. Installed fine but on every single reboot, PC would blue-screen. I removed the card, PC reboots fine. I could not even find this card information on VisionTek's website and could find no other Windows 7 drivers other than the native drivers for Windows. Was a waste of my gift card.
Date published: 2012-08-26T00:00:00-04:00
Rated

5

out of

5
by
rmfa
from
Visiontek Connect USB 3.0 PCI-e x1 Review
This card works great in our Dell systems. I tested it with all of the Visiontek USB 3.0 connect devices and was able to stream full screen 1080p video with no issues. I was unable to tell a difference in speeds with systems that have integrated controllers and this add-in controller. I didn't experience any issues with this device, it functions as advertised. There is a disc in the packaging that has all the drivers on it, installation was a breeze.
Date published: 2012-09-05T00:00:00-04:00
Rated

5

out of

5
by
marco2500
from
Problems with card
Card broke Wake on Lan, something I use. Got replacement card, Wake on Lan worked, but USB2 printers don't show up. It also hangs when copying to USB2 flash drives and must be rebooted for the card to work after it freezes.
Date published: 2014-08-17T00:00:00-04:00
Rated

5

out of

5
by
Kara
from
Works great!
I was having difficulty figuring out which PCI card would work on my computer, but a quick chat with Dell representative lead me to the correct option. I ordered, received it quickly, and installed it within minutes. It works as promised.
Date published: 2021-03-25T00:00:00-04:00
Rated

5

out of

5
by
David
from
No support from Dell
Contacted Dell but did not get any support for installing this card. Looks like it need an extra cable for power but never got confirmation from Dell on this (No place to plug in cable supplied)
Date published: 2021-09-24T00:00:00-04:00
Rated

5

out of

5
by
Gary Brockel
from
3.0 USB Card
I was told that the card was compatible with my Inspiron 3670 computer. I get it and installed it and then find out it needs to be plugged into the something and I can't find a place to plug it in. So I waisted my money.
Date published: 2020-03-09T00:00:00-04:00
Rated

5

out of

5
by
GC
from
PCIe didn't fit computer circuit board
couldn't align with circuit board and is not usable
Date published: 2020-09-04T00:00:00-04:00
Rated

5

out of

5
by
Bob
from
Good Price for 4 3.0 USB ports.
Easy to install. Instructions were not clear about additional power cable that did not match SATA sockets on mother board. Good Price for 4 - 3.0 USB ports. Clearer instructions would have rated 5 stars.
Date published: 2020-05-20T00:00:00-04:00