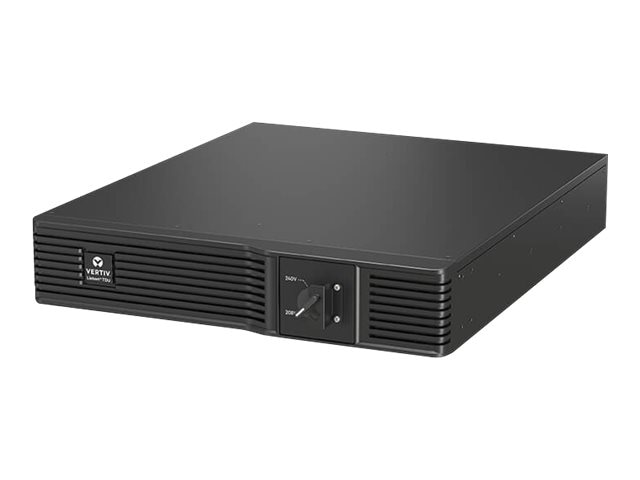 Quick tech specs
With voltage selector,it accepts 208 or 240VAC input and offers 120VAC (L-N) output.
The 2U rack tower comes with mounting brackets for quick and easy installation.
It comes with 10 power output connectors: 8 NEMA 5-15/20R and 2 L5-20R.
It meets standards in safety,RFI/EMI,environme- ntal and transportation.
View All
Know your gear
The Vertiv Liebert TDU - 4000VA/4000W 120VAC is a step down transformer / voltage converter that provides 120VAC output power from 208V or 240VAC input. It is designed to work with Vertiv Liebert GXT3-6000RTL630, GXT4-6000RTL630, GXT4-3000RT208, and PSI5-5000RT208 but can be used with other UPS products with 208VAC in and out, and have a compatible input power plug. Many 5kVA and above single phase UPS products only accept 208VAC input power, so users consider Vertiv Liebert TDU, which accepts 208 or 240VAC (200/220/230 VAC acceptable) input and converts it to 120VAC (L-N) output.
Voltage Converter
Many downstream products and devices that you may want to power only accept 120VAC output so without a step down voltage converter like Vertiv Liebert TDU, you will not be able to use a larger 208VAC UPS.
Easy to Use
This 2U rack-tower provides a mounting kit for easy installation. Use a voltage selector switch to choose appropriate input voltage.
Agency Certification
This energy efficient device offers AC-AC efficiency of 94%. The unit is UL and cUL listed to the latest edition of UL Standard 1778 or the appropriate UL standard for single phase distribution transformers (UL 1561).
Keeping It Cool
Transformers generate some heat, the integrated forced airflow in the Vertiv Liebert TDU will assist in keeping the rack cool. The unit offers forced air cooling with air intake from the front and exhaust out the rear.