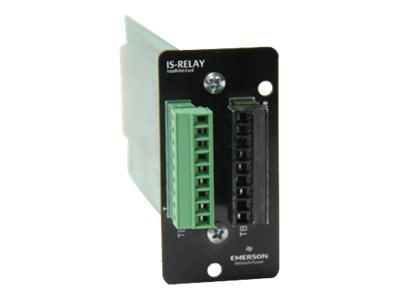 Quick tech specs
It provides proactive data center monitoring on 6 alarm points
The card is user-installable and hot-swappable
It communicates with Vertiv Liebert MultiLink automated shutdown software for reliable UPS monitoring and minimizing downtime
The relay card is easy to integrate with other relay contact monitoring systems
so you don't have to shut down the system when installing
View All
Know your gear
The Vertiv Liebert IntelliSlot Relay Card (IS-RELAY) provides contact closure for remote monitoring of alarm conditions in UPS systems with an IntelliSlot communication port. The relay card is easy to integrate with other relay contact monitoring systems. It is rated for 24VAC/VDC at 1A. On supported units, the inverter shut-off command can be controlled from the computer directly connected to the UPS (via the factory-installed DB9 connector) and will conserve battery power after the workstation shutdown is completed.

The relay card communicates with the Vertiv Liebert MultiLink automated shutdown software for UPS monitoring, full event management and automated shutdown protection.

Remote Monitoring
It provides proactive data center monitoring on 6 alarm points (On Battery, On Bypass, Low Battery, Summary Alarm, UPS Fault and On UPS signals).

Supported UPS Systems
This advanced power-management device is designed to function in units with a Vertiv Liebert IntelliSlot port. These include Vertiv Liebert NX UPS, Vertiv Liebert Nfinity UPS and Vertiv Liebert GXT3 UPS.

Hot-swappable
The card can be installed fast and easy by your onsite personnel. It is hot-swappable, so you do not have to shut down the system when installing.