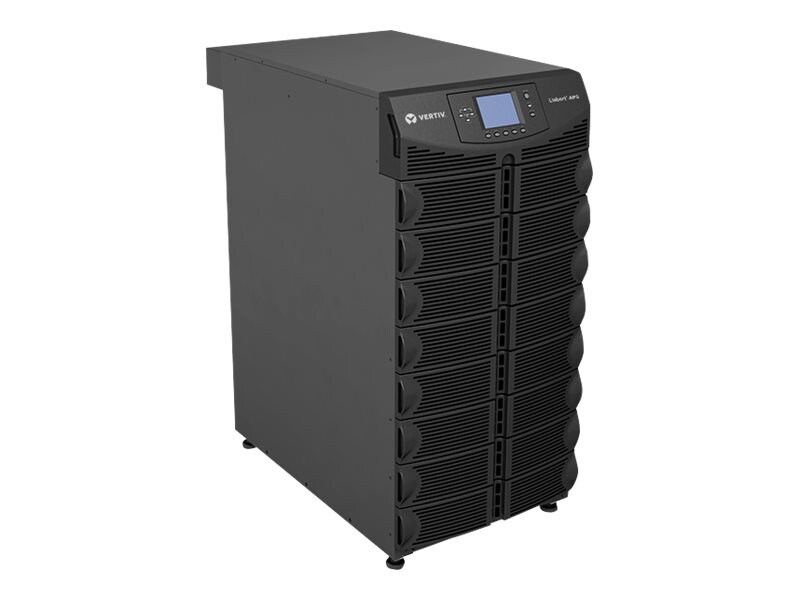 Quick tech specs
Hot-Swappable FlexPower modules allow scalable runtime and capacity upgrades up to 20kVA N+1
It offers redundancy for power continuity and takes modules offline without power disruptions
Add communication cards and sensors for remote management and environmental monitoring capabilities.
User-replaceable modular batteries,power components and controls help reduce maintenance costs
With 0.9 Output Power Factor,this UPS offers more usable power to support critical IT loads
View All
Know your gear
The Vertiv Liebert APS 10kVA Scalable to 20kVA N+1 120/208V Modular UPS (AS6B0NCYGNNXLKB) is an online double conversion UPS with up to 21 minutes full-load runtime designed for room or row-based applications. It offers redundancy and flexibility for the future while ensuring maximum power availability to your critical systems. For remote management and environmental monitoring, add Liebert IntelliSlot Unity Cards, FREE Power Insight Software, and Vertiv environmental sensors. The APS allows rack/tower configuration and comes with casters and leveling feet for standalone mounting.
Hot-swappable FlexPower and Battery Modules: The APS modules are hot-swappable FlexPower assemblies and battery modules that are quickly and easily installed or replaced without disrupting power.
Internal Redundancy: Customize your Liebert APS UPS to your desired level of internal redundancy. This maximizes reliability and ensures power continuity to critical infrastructure and applications by removing possible single points of failure.
Simple Capacity Planning: The addition of power capacity or battery modules as needed or pay as you grow design allows for better CAPEX/OPEX budget management.
Energy Efficient: With high energy efficiency of up to 92%, it supports sustainability and reduces the total cost of ownership (TCO).
Intelligent Battery Management: Integral battery monitoring with temperature-compensated charging extends the useful life of the battery and reduces TCO.
High Overload Capability: The APS can operate in a temporary overload state up to 200% load.