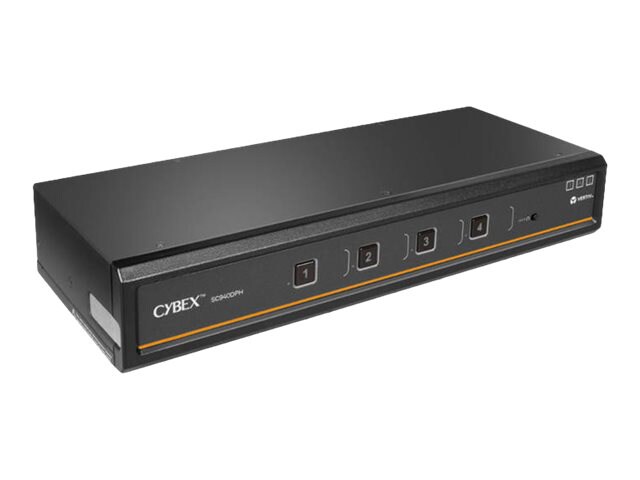 Quick tech specs
Certified to National Information Assurance Partnership (NIAP) Protection Profile V4.0
Provides Unique,Customizable Indicators that Improve Situational Awareness of Active Channels
Gain True Image Reproduction and Display Flexibility
Isolated Ports Provide Discrete Processing Paths,Preventing Data Leakage between Adjacent Ports
Tamper-evident Holographic Labels Visibly Indicate any Compromised Hardware
View All
Know your gear
The Vertiv Cybex SC900 series secure desktop KVM switching portfolio offers a proven solution for guarding against desktop cyber intrusion while working efficiently and with a minimum of clutter. These switches enable users to seamlessly and securely switch between multiple computer resources at the push of a button. Certified to meet the recently released NIAP Common Criteria Protection Profile for Peripheral Sharing Devices (PSD) ver. 4.0, the Vertiv Cybex KVM switches provide high resolution compatibility up to UHD 4K at 60Hz. The Vertiv Cybex SC900 series models are available in single-head and dual-head two-port, four-port, and eight-port options, with the DPHC models coming with a USB-C connection. With a universal port on every unit, the Vertiv Cybex SC900 can use a combination of DP, HDMI, or VDI-D cables without needing additional adaptors.
This includes:

NIAP 4.0: Secure 4-port KVM features an always-on active anti-tampering system certified by NIAP version 4.0, ensuring the highest security for peripheral sharing; the unit is also TAA Compliant.
USB-C COMPATIBILITY: Introducing DPHC models that utilize a USB-C connector, allowing the seamless connection of USB-C devices to the secure KVM switch.
VIDEO SUPPORT: Advanced video support for Universal Display DP, HDMI, and DVI-I delivering resolutions up to 2560 x 1600 on dual-head monitors assures image quality is highly accurate and video plays at the highest definition possible.
PERIPHERAL ISOLATION: Hardware-based peripheral isolation loads all firmware on ROM without keyboard buffering or memory; unidirectional optical data diodes assure USB peripheral isolation enabling data flow from devices to host only.
ZERO DELAY SWITCHING: Instant mouse and keyboard switching via emulation assures zero delay in switching time between connected sources.