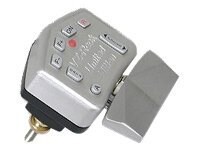 Quick tech specs
View All
Know your gear
The VZ-Rock has a precision machined aluminum rocker and body (not plastic) which makes it more expensive to manufacture.

The unique variable speed Rocker Zoom thumb control allows user to maintain the slowest crawl or gradually ramp up speed and then decrease speed gradually all in one smooth motion! Because your thumb never leaves the speed control you have quick response time and smooth actions to zoom in, zoom out, zoom faster or zoom slower. Simply push forward to zoom in (telephoto) and pull back to zoom out (wide). No shaking the camera or time lost fumbling to find the right button to zoom in or zoom out.

The intuitive rocker focus control provides you with smooth ergonomic control. Place your thumb in center of the rocker and move thumb forward to focus near or shift your thumb back to focus far. This is the only rocker control of its kind that does not share the rocker for both zoom and focus. Separate controls for zoom and focus is essential for quick active response times. No time will be lost switching back and forth with a shared control.

A low profile record button ("R") avoids accidental activation.

And finally, the Wake up from standby button ("ON") Your camera manufacturer wisely created this safety feature to protect your camera. VariZoom controls respects this feature and utilizes it to the videographers greatest advantage. The purpose of this critical safety feature is to prevent damage to your cameras tape heads and the tape itself. When a camera is in pause mode the tape is still engaged with the spinning recording heads of the camera. Because the tape is not moving when in pause mode the heads will be spinning in place on the tape. The standby safety mode activates the tape transport to disengage the tape from the recording heads. This of course eliminates wear and tear on your camera and your tape. When National Geographic uses VariZoom's on their wildlife shoots, they sometimes wait for hours with the camera in standby mode. When they get ready to shoot again they press "wake up from stand-by button" and then the tape re-engages the recording heads and remains in pause until the record button is pushed.

This model is designed for Canon and Sony miniDV & Hi8 Camcorders.
Contact Sales Assistance
(800) 800-4239
,
Monday-Friday 7am-7:30pm CT