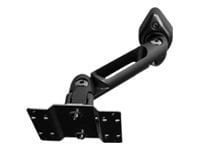 Know your gear

The VSS is the perfect "anywhere" mount. With its pivoting arm and wide range of articulation, this mount transcends the standard wall applications. Free up your space by mounting to desks, your ceiling, and under cabinets, to get the most from your flat panel. All joints are tension/friction adjustable, allowing for free or restricted movement—perfect for any mobile applications like RVs and boats! This mount also includes hole pattern expansion adapters that allow you to hit any VESA® hole pattern, from 75 mm to 200 mm, for maximum mounting flexibility.

Free your display from the wall.
• Swinging arm allows clean corner mounting
• Able to mount below cabinets or on desks
• Full, dynamic Pan for off-angle viewing
• Full, dynamic Tilt reduces screen glare
• "Picture Frame" Leveling
• Simple, single stud installation
• Included hole pattern expansion adapters
• Screen Size Range: 10 – 26 in
• Max Weight Load: 40 lbs
• VESA® Compatible: 75, 100, 200 mm
• VESA Hole Patterns (mm): 75x75, 100x100, 200x100 and 200x200
• Black color

Hardware included:
• Note: Hardware has been included for Wood Stud, and Solid Concrete Wall. Hardware is not intended for use on Metal Stud, Hollow Wall, Cinder Block or Red Brick Wall installation.
• Wall Plate
• Link Assembly (Assembled at Factory)
• Flat Panel Mounting Bracket 75/100mm VESA
• 1/4"-20 x 3/4" Socket Head Allen Screws
• #14 x 2-1/2" Phillips Sheet Metal Screws
• 3/8" Nylon Concrete Anchors
• 1/4"-20 X 3/8" Socket Head Allen Screws
• 200mm VESA Adapter Wings
• 4m x 6mm Phillips Machine Screws
• 3/16" Allen Wrench

All Vantage Point products are manufactured to ensure superior quality, performance and durability for a lifetime of use. Warranty covers the product to be free of defects in materials and workmanship under normal and reasonable use.