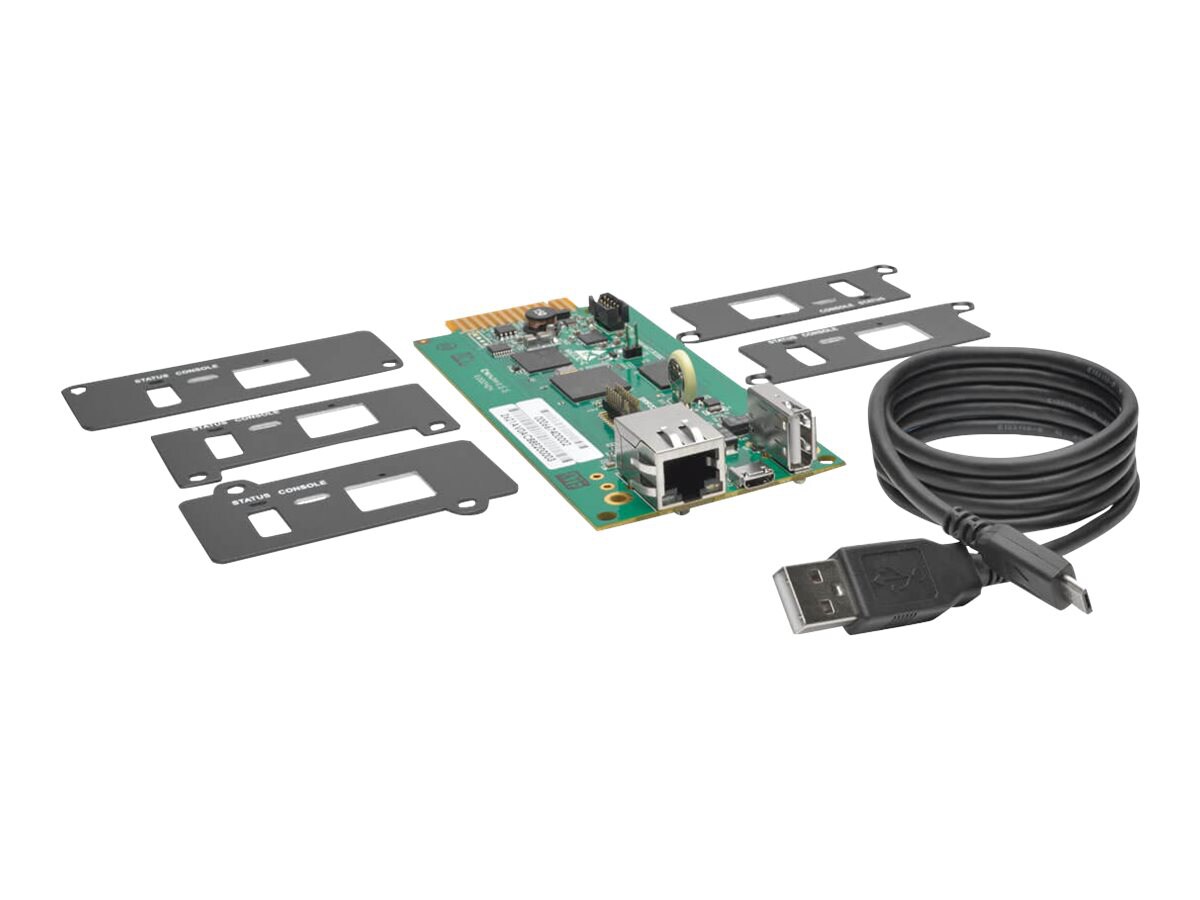 Quick tech specs
Web Management Accessory Card Enables remote management via SNMP web SSH or Telne
Monitor and control the device using an SNMP network management platform web browser SSH or Telnet
Allows mass configuration and updating of multiple units
Tripp Lite is now a part of Eaton
Operate any compatible UPS system or PDU as a managed device on your network
Reboots unresponsive equipment without requiring a site visit
Sends user-configurable alerts via SNMP or email
View All
Know your gear
The WEBCARDLX Web Management Accessory Card turns a compatible Tripp Lite UPS system or PDU into a managed device on your network. By inserting WEBCARDLX into an accessory slot and using an SNMP network management platform, web browser, SSH or Telnet, you can monitor, control and reboot the device from almost anywhere at any time. Its HTML5-based interface means Java isn't needed to interact with the mobile-friendly PowerAlert Device Manager.

Monitor site electrical data, UPS self-test logs and logged power events, such as blackouts, brownouts and overvoltage conditions. Receive email notifications or SNMP traps of selectable events and power conditions. If your device has controllable outlets, WEBCARDLX can remotely reboot locked network equipment without disrupting power to other devices.

Permission sets and interface access can be configured for each user from full administrator to view-only operator. Real-time clock support maintains current day and date even after a UPS shutdown. NTP (Network Time Protocol) support enables automatic updates to the real-time clock from an NTP server. Multiple protocols are supported, including IPv4, IPv6, HTTP, HTTPS, SMTP, SNMPv1, SNMPv2c, SNMPv3, Telnet, SSH, FTP and DHCP. DHCP/Manual configuration support enables network settings to be assigned automatically or manually.


Tripp Lite UPS Web Management Accessory Card SNMP Remote Monitoring HTML5 W
is rated
4.80
out of
5
by
16
.
Rated

5

out of

5
by
Dean
from
Excellent Monitoring cards and software.
This SNMP WEB card was installed rather easily. The device powered up and started doing it job as designed.
Date published: 2020-03-20T00:00:00-04:00
Rated

5

out of

5
by
Luis
from
Great product
This card wirks super fine for me to monitor my device
Date published: 2020-05-23T00:00:00-04:00
Rated

5

out of

5
by
Johnny V.
from
Quick and simple.
Easy to install. Comes with MAC tag to put right on outside plate of NIC.
Date published: 2018-05-21T00:00:00-04:00
Rated

5

out of

5
by
Tim
from
Best UPS network card system!
This helps me monitor my UPS -- it's easy to install, connect, and configure -- great product!
Date published: 2022-05-20T00:00:00-04:00
Rated

5

out of

5
by
Justin
from
Works for our battery backups on our server racks
We're using this card to monitor and control our battery backups in the even t of power loss. All features are solid, setup was simple enough with no issues.
Date published: 2022-05-05T00:00:00-04:00
Rated

5

out of

5
by
Behzad
from
Easy Install
Very good quality, easy install, and setup.
Date published: 2021-01-12T00:00:00-05:00
Rated

5

out of

5
by
Jihua
from
Nice product, easy to setup
Very nice product, easy to install and set up
Date published: 2020-12-27T00:00:00-05:00
Rated

5

out of

5
by
Jose
from
A needed upgrade.
Great update to the UPS. Easy to get statistics and details about health.
Date published: 2020-12-11T00:00:00-05:00
Rated

5

out of

5
by
Jamason
from
Great interface and easy to configure
The PADM interface was very intuitive out of the box. Installation was easy as well. Needed a firmware update when I first purchased and performed that without issue. I look forward to not getting power alerts in my email however I feel very confident the PADM Nic I installed will notify me of any issue should it arise. Great product highly recommend.
Date published: 2023-03-16T00:00:00-04:00
Rated

5

out of

5
by
Leonel Martinez
from
Excelente Producto
Compré la tarjeta para pruebas y supera mis expectativas, solo recomendaría que ya no tuviera puerto micro usb si no puerto usb tipo c y que fuera puerto ethernet gigabit. De alli en mas, es buen producto
Date published: 2023-03-13T00:00:00-04:00
Rated

5

out of

5
by
Nathan
from
Easy installation, great functionality, and decent price
I bought this card along with an external temperature and humidity sensor to place in my Data Canter. It was very easy to install and similarly easy to connect to the network and configure the GUI. It now allows me to reboot the UPS and monitor the Room's temperature and humidity via the connection with the external sensor. Well worth the money for what the card offers.
Date published: 2021-08-26T00:00:00-04:00
Rated

5

out of

5
by
Nathaniel
from
Excellent for remote monitoring of UPS.
I use this to monitor my power needs. I use this at home. It's the most advance UPS setup I've ever had. I love being able to have the ability to remotely shut off specific outlets. And I have this card setup to send me regular emails daily of the logs, so I can read the logs in my email. What I didn't like was the fact that it came with firmware version 5.5.7 or something like that. The firmware it came with, did not allow web access by default. I had to connect to the card using serial over USB and change the settings to allow for web access. It was hard because I had never access a product by serial before. Thank goodness that the latest firmware enables the web server by default. All in all, a great product.
Date published: 2021-11-05T00:00:00-04:00
Rated

5

out of

5
by
Kurt
from
Great product
We recently purchased 22 Tripp Lite rackmount UPS units and a Web Management card for each. These are deployed to 7 separate locations. We selected the WebCardLX specifically for the SNMP capabilities. I have a console/monitor that polls our UPS's for the most important metrics, such as power-line state, battery condition, charge level, battery condition, etc., plus gathers serial numbers of both the cards and the UPS's. I found this to be very easy to set up. The documentation was accurate, well-organized, and the polling returns exactly the information I want. I also have the units actively logging events to a syslog server and sending traps on power-fail / power-restored events. The SNMP MIB works as-is with no warnings and with no modification required. I would highly recommend this card for central management and monitoring of organization-wide power,
Date published: 2020-10-19T00:00:00-04:00
Rated

5

out of

5
by
Jon
from
Great add-on for monitoring your UPS
I'm glad I was able to get an add-on card to enable remote monitoring of my UPSs. The card is literally plug-n-play, and does exactly what I need it to do for monitoring purposes. My only grip is the cost of the stand-alone card is kind of pricey, but if you shop around you can find it cheap enough to be worth buying.
Date published: 2021-03-14T00:00:00-05:00
Rated

5

out of

5
by
Bart
from
Not a well-designed interface
This product shows you different controls/options depending on which UPS you use, which seems inexcusable to me. The controls are not laid out thinking about what the users whats to do most often. Several of the main features of the UPS are hidden deep in sub-menus. Tripplite should redesign this from scratch, thinking not about the pile of options they have and how to sort them, but thinking about what options/information the user needs to access the quickest and most often.
Date published: 2020-03-31T00:00:00-04:00
Rated

5

out of

5
by
Dave Manley
from
Great solution for managing server room (SRCOOL12K )
I've used this device to manage SRCOOL12K in my server room with no issues what so ever for 14 months and counting. I've configured the system to power on when the external sensor reaches a set temp, the system shuts off when it cools down to another setpoint. There are also email alerts, everything totally customizable. My 1st device was defective however I worked with support, they replaced... no issues for 14 months. Very happy customer.
Date published: 2020-08-24T00:00:00-04:00