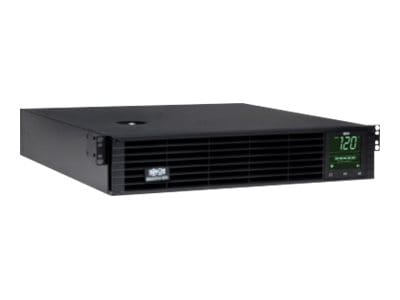 Quick tech specs
Line-interactive UPS offers network-grade power protection for network applications including telecom/security and digital signage
Keeps AC power running during blackouts to allow time for file saves/safe shutdown
uninterruptible power supply
Protects equipment against blackouts/ brownouts/ overvoltages/ surges/line noise
Pre-installed WEBCARDLX network interface supports Auto Probe feature
Tripp Lite is now part of Eaton3 Year w/ Reg
View All
Know your gear
2.2kVA/1.92kW/120V Battery Backup for PC Networks, Security Systems or Digital Signage



The SmartPro® line-interactive SM2200RMXL2UPN UPS system with AVR provides reliable battery backup and AC power protection against blackouts, brownouts, overvoltages, surges and line noise that can damage valuable electronics or destroy data. The eight-outlet 120V battery backup with 0.9 power factor is ideal protection for small networks, wiring closets, security systems, telecom, high-end PC gaming, digital signage equipment and other professional applications, including retail, casino and hotel/motel management.




Reliable, Expandable Battery Backup Keeps You Operational Through Power Outages



Backup support allows you to work through short power failures and gives you enough time to safely save files and shut down your system in case of a prolonged blackout. Backup time varies according to load, but the field-replaceable, hot-swappable internal battery should keep a half load (960W) powered as long as 12 minutes and a full load (1920W) up to 4.5 minutes. For mission-critical applications demanding scalable extended runtime, the UPS supports external battery packs, such as Tripp Lite's BP48V27-2US (sold separately).




Pre-Installed WEBCARDLX Network Interface Offers 24/7 Remote Access for Monitoring and Control



The Java-free HTML5-based WEBCARDLX enables full remote access for site power and UPS status monitoring, configuration, control and email notifications via secure web browser, SNMP, telnet or SSH. It supports 10/100 Mbps auto-sensing for optimum communication with an Ethernet network. Automated alerts help prevent accidental overloads, power loss and downtime. WEBCARDLX allows you to use the Auto Probe feature, which can prevent costly service calls by automatically rebooting non-responsive network devices.




8 NEMA Outlets Protect Your Connected Components



Four 5-15R and four 5-15/20R outlets provide battery backup, 570 joules of surge protection and voltage regulation for your crucial components. Two independently switched two-outlet load banks enable both scheduled and real-time remote rebooting and load shedding.




Automatic Voltage Regulation (AVR) Corrects Low- and High-Voltage Conditions



AVR protects your equipment from incremental hardware damage, data loss and performance problems caused by brownouts and overvoltages. The SM2200RMXL2UPN can correct brownouts as low as 83V and overvoltages as high as 145V back to nominal 120V power continuously, all while keeping the battery fully charged and ready to take over in case of power failure.




Premium Protection from EMI/RFI Line Noise Helps Your Equipment Perform Better



This UPS system filters out disruptive electromagnetic and radio frequency interference that can inflict hardware damage or data loss. This EMI/RFI filtering also helps your connected components perform better and last longer.




Designed for High Efficiency to Help You Save Money and Protect the Environment



A 96% efficiency rating reduces BTU emissions, energy consumption and, ultimately, your energy costs.




Silenceable Alarm and Easy-to-Read LCD Keep You Informed Around the Clock



The front-panel LCD lets you monitor important data, such as load level, power factor, voltage, battery charge and estimated runtimes. It rotates for comfortable viewing in both rack and tower configurations. The audible alarm sounds for power failure, low battery and overloads. You may silence it using the built-in switch or disable it.




Advanced Communications Ports Allow for Automatic Saves and Shutdowns



RS-232 and HID-compliant USB ports connect to a computer running Tripp Lite's free downloadable PowerAlert® software to enable safe unattended file saves and system shutdown in case of a prolonged power failure. The EPO port supports emergency shutdown in large facilities.