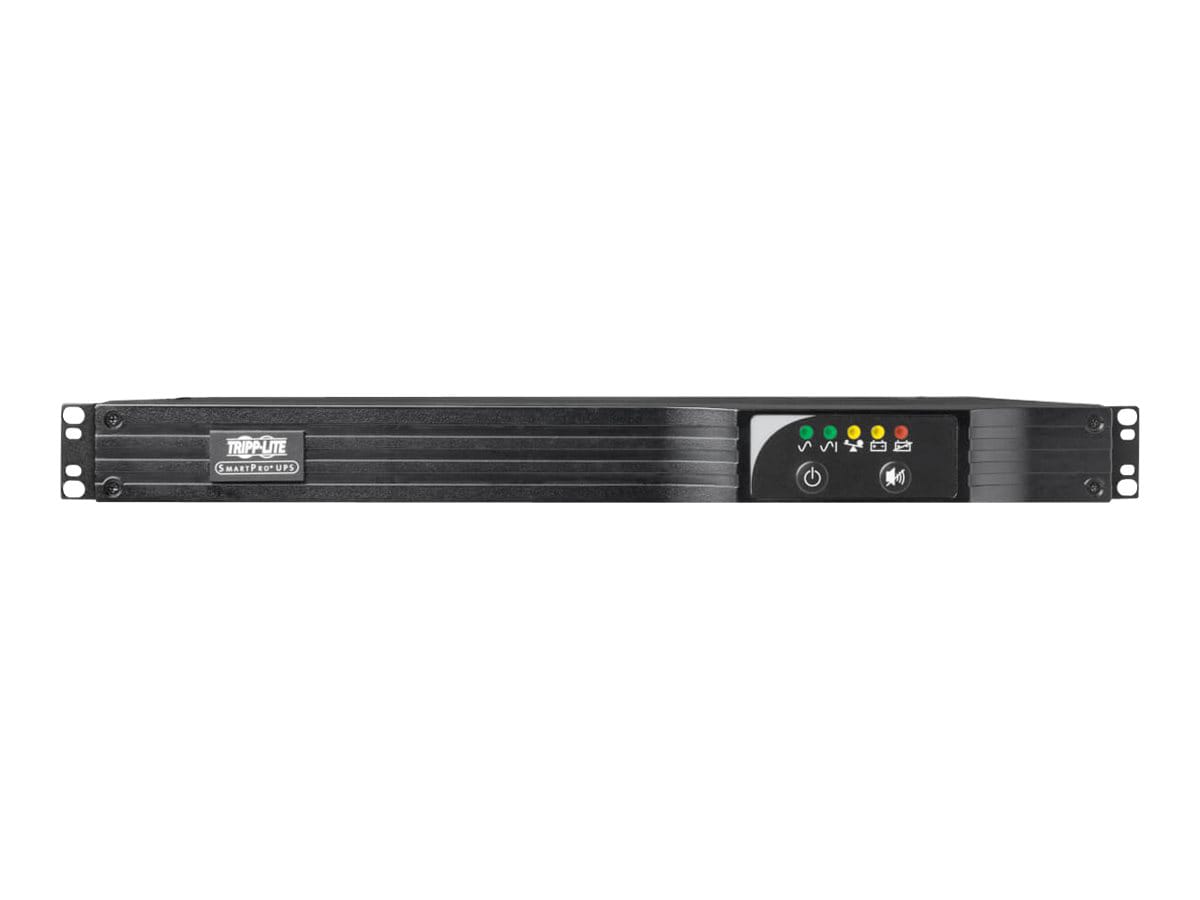 Quick tech specs
Smart Line-Interactive Sine Wave 1U RackMountable Uninterrupted Power Supply w/Network Card Options provides Battery Backup through blackouts voltage fluctuations and surge
Automatic Voltage Regulation (AVR) corrects brownouts and over-voltages without using battery power
146 min runtime half load; 32 min full load
Ideal for servers network and telecom hardware
NEMA 5-15P input; 6 NEMA 5-15R outlets
Tripp Lite is now a part of Eaton
View All
Know your gear
Tripp Lite's SMART500RT1U intelligent, line-interactive rack/tower uninterruptible power supply prevents data loss, downtime and equipment damage due to power outages, voltage fluctuations and transient surges. Requires only one rack space (1U) in a 2 or 4 post rack, with included accessories for upright tower placement. Large internal batteries offer 14.6 minutes half load runtime and 3.2 minutes at full load. Maintains regulated 120V nominal output without using battery power during brownouts as low as 90V. 500VA/300 watt power handling capability is compatible with networking, telecom and other sensitive electronic applications. Includes 6 UPS supported outlets with a single outlet load bank that can be individually controlled via software interface to reboot select equipment on demand or shed less significant loads to extend battery runtime for more critical equipment. Includes 1 surge-only outlet for peripherals not requiring battery backup.
Supports simultaneous remote monitoring of UPS and site power conditions via built-in USB and DB9 monitoring ports. Includes PowerAlert UPS monitoring and unattended shutdown software with complete cabling. Built-in accessory slot supports SNMP with optional SNMPWEBCARD adapter. Emergency Power Off (EPO) interface offers option for instantaneous power-off of UPS and connected equipment in the case of fire or emergency situation. Multi-function audible alarms and set of 5 front panel LEDs offer at-a-glance notification of UPS and line power status. Network-grade AC surge suppression protects equipment from damage and performance problems resulting from transient surges and line noise. Attractive all-black color scheme.
Tripp Lite UPS Smart 500VA 300W Rackmount AVR 120V USB DB9 SNMP 1URM
is rated
4.63
out of
5
by
8
.
Rated

5

out of

5
by
Marc-André
from
Very good product
I use this UPS for 2 Dell Switch and 1 QNAP, it's work very well
Date published: 2018-05-11T00:00:00-04:00
Rated

5

out of

5
by
Steforce
from
Flawless
Flawless in the recording studio. Works well with computers.
Date published: 2014-10-01T00:00:00-04:00
Rated

5

out of

5
by
bigretic
from
good 1u rack mount ups
works good for 1u rack mount. face is a little oddly shaped, sticks out some. load indicator is just green/yellow/red that would be my one complaint but for that price you deal with it.
Date published: 2018-08-16T00:00:00-04:00
Rated

5

out of

5
by
ITGent
from
Great Device!
This is exactly what is needed for a small switch cabinet. Perfect size and fit.
Date published: 2018-11-29T00:00:00-05:00
Rated

5

out of

5
by
MRB9
from
Awesome product for Network racks
This item really fit well in all network cabinets and really gives you the time you need to keep your network up during an outage. Great product.
Date published: 2018-05-03T00:00:00-04:00
Rated

5

out of

5
by
KCHSteveB
from
1U works for brown outs, but not surges!
I used to buy these by the dozen to support a offices that had a vertical Hubble cabinet with only 3U of space total. I have found that APC brand UPS's tend to die around the time that you need to replace the battery. And I mean, the entire unit dies. Trip-Lite's seem to last forever so long as you feed it a new battery every three years or so. Now the bad news. 1) These units can't take a hit. Given a brown out, or any sort of loss of power - they are fine. Give them a surge or spike, and they just SHUT OFF! 2) The management is a joke. Trip-Lite makes a small insert that provides network management. But the overall management system is terrible. And that network card costs more than the UPS itself.
Date published: 2016-09-29T00:00:00-04:00
Rated

5

out of

5
by
flaflash64
from
Great Product - Great Price
I've been using these Tripp Lite Rackmount UPS units for years and found them to be the Best product for the Price and Reliability is second to none. Simply Put, It Just Works !
Date published: 2018-08-30T00:00:00-04:00
Rated

5

out of

5
by
null
from
Easy to install & setup!
The unit was really easy to install. More lightweight than most UPS units but doesn't loose battery life based on that weight. Software is pretty neat! Easy to understand. The only thing I'd say, I wish it came with cage nuts just incase the tech needs to rack mount it.
Date published: 2022-05-11T16:16:19-04:00