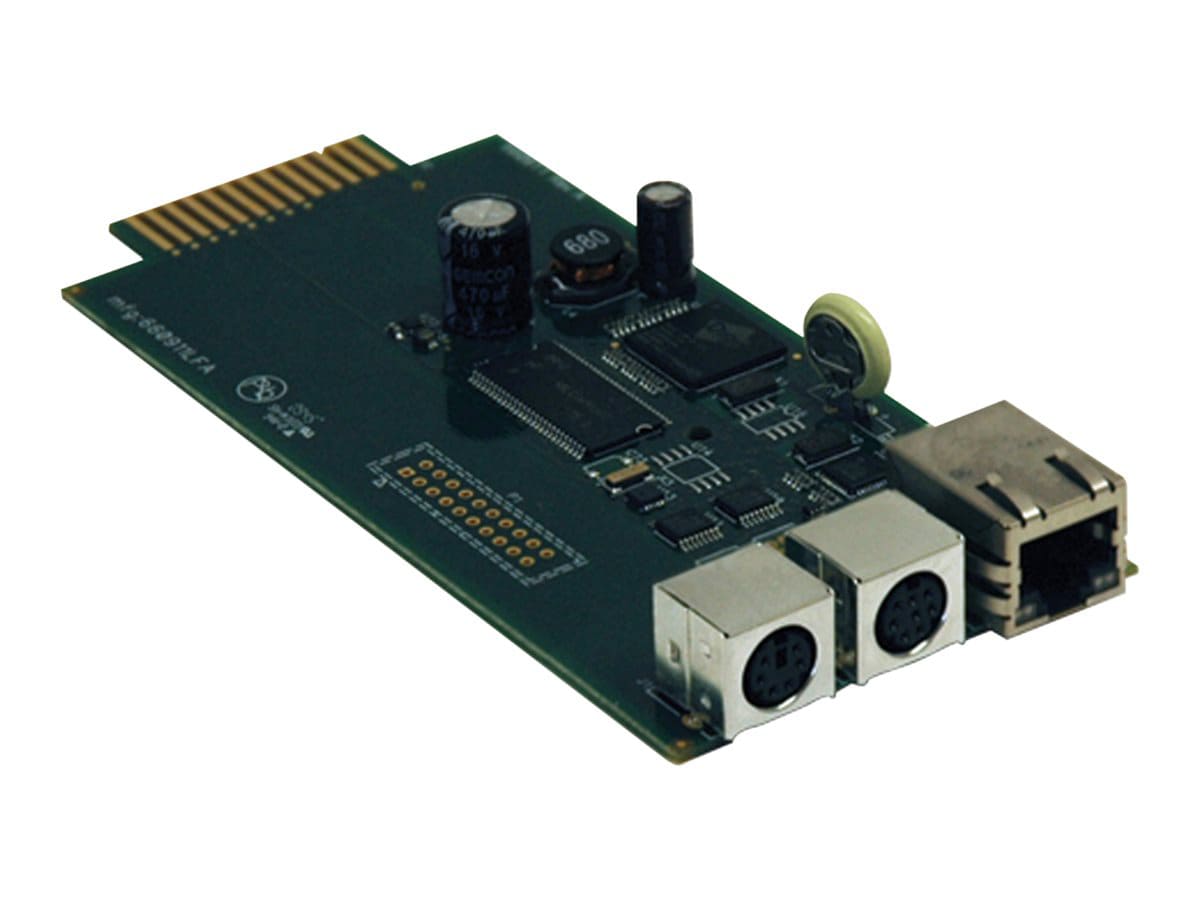 Quick tech specs
SNMP Management Accessory Card for SmartPro or SmartOnline UPS Systems Enables remote UPS management via SNMP PowerAlert Console Launcher SSH or telnet
Monitor and control UPS using an SNMP network management platform PowerAlert Console Launcher SSH or telnet
Reboots unresponsive equipment w/o requiring a site visit
Operate any compatible SmartPro or SmartOnline UPS as a managed device on your network
Keeps logs of power events alerts and electrical data
Tripp Lite 2-year Warranty
View All
Know your gear
Tripp Lite's SNMPWEBCARD allows network users to operate any expansion slot-equipped Tripp Lite SmartPro or SmartOnline UPS as a managed device on the network. Enables remote monitoring and control of UPS and site electrical conditions using the SNMP network management platform or a web browser. Provides remote viewing of site electrical data, UPS status information and self-test logs. Supports selective rebooting of locked network equipment without disrupting power to other devices when used with customized load management receptacles available on select Tripp Lite UPS systems. Optional ENVIROSENSE module provides remote temperature/humidity monitoring and a dry contact interface to control and monitor alarm, security and telecom devices. NEW firmware web-only version 12.06.0060 now available! - supports IPv6. Firmware is not applicable with cards running firmware version 12.04.0047 or earlier. NOTE: Existing 12.04.0048 and 12.04.0049 cards can be upgraded to the 12.04.0055 firmware to provide SNMPv3 support, then to 12.06.0060 for IPv6 support.

• Federal Trade Agreements Act / TAA Compliant for GSA Schedule purchases
• NEW firmware version 12.06.0064 now available!
• Radius support
• Security enhancements
• Data and event logs can be setup to automatically send the log via email or HTTP post when the configurable log size (64-2048) is reached
• New accounting log
• Enhance Remote Syslog capability to define if event, data or accounting entries should be sent
• New CLI interface that allows control and configuration through a network CLI interface, SSH or Telnet, or through a SNMPWEBCARD's serial configuration port
• New event actions
• New Java applet WebUI allowing for more real time feedback
• New individual outlet events
Tripp Lite UPS Remote Monitoring and control via SNMP Web or Telnet
is rated
2.83
out of
5
by
6
.
Rated

5

out of

5
by
Nick
from
Overall unreliable, poor design and Java needs to die.
I have used the Tripp-Lite SNMP Web Card devices to mannage our UPS for almost 8 years and have them installed in 20 devices. The latest firmware revision requires reboot every 6-9 months to keep it operational. Sometimes the web server dies, but you can still reach it from ssh/telnet. The only way to reboot the device and restore connectivity is to physically remove it from the UPS housing. First they need to make the device more reliable and is they are unable to do that, they need to put a reset button on it. Getting to the device at the bottom of the server cabinet is not easy and the dinky screws they use on the faceplate are easily lost. The requirement to have JAVA installed in the browser is unfortunate. With the inherent security risk of having JAVA installed, the steps browser manufacturers are taking to prevent it from running and Oracle's decision to EOL the plugin, Tripp-Lite needs to move to HTML 5.
Date published: 2016-05-23T00:00:00-04:00
Rated

5

out of

5
by
Marc
from
Too much bugs with firmwares
We've 10 snmpwebcard and there's a lot of problem with firmware. At the beginning, we've to reboot the card randomly about 1-2 times a year. We update to the latest firmware, it all works on 8 cards but scrap one card (the card hang up during the process and become unusable) and the other one I've to call the support back to be able to access it again.
Date published: 2016-04-13T00:00:00-04:00
Rated

5

out of

5
by
Derrick
from
Java issues take this from 5 stars to 1
The fact that this card cannot support the current version of java's security restrictions makes it a major point of frustration for my customers. I cannot continue to sell Tripplite UPS in to my customers who are security conscious which is removing your product from being marketable. You are losing to competition over this.
Date published: 2017-02-09T00:00:00-05:00
Rated

5

out of

5
by
Lon
from
What every UPS should have!
This card works very well and has an easy web interface. Using a computer to monitor a UPS is crazy, everything needs to be managed from a network connection. My only complaint is the cost to add this card. Would it really cost that much more to build a network port in every UPS?
Date published: 2012-10-04T00:00:00-04:00
Rated

5

out of

5
by
mar2013
from
Great Product
This is a great product for monitoring. Currently in our data center we attempt to manage everything we can virtually so this product was put to great use in the production environment. The only current issue is, every time we make a settings change we seem to be locked out of the system for a great deal of time. Example, after we updated in "Network" the DNS settings we had to wait about 24 hours before we could log into the system again. The same was true when we updated passwords as well. Not sure if this is suppose to work like this or not. However, aside from the 24 hour lock out period following a change the product works well.
Date published: 2013-03-11T00:00:00-04:00
Rated

5

out of

5
by
Steve
from
Do not buy this web interIace until it is redesigned.
This external control interface should be split into separate legacy and Ethernet products so that the cost can be reduced. The Ethernet interface should be embedded in the standard product and included in the price. At ~$200 this interfaced is well outside the cost range that would be acceptable for most applications using UPS's at <2KW. In my case it added 33% to the total cost of the UPS. The Java implementation of this control interface is cumbersome, finicky, and does not play well in the Windows environment. It requires clearing browser cache, adding the IP address to the Compatibility list (every time cache is cleared), and denying Java updates when it tries to execute. In addition, you must make sure your browser zoom is set to 100% or you will get only a partial view of the page. As of this writing it requires an older version of Java to run. No estimated time for a fix is available. It does not work at all with Chrome at this moment. The Java applet implementation should be thrown out and replaced with a more modern HTML5-based implementation.
Date published: 2016-02-24T00:00:00-05:00
Rated

5

out of

5
by
BuyerBwear
from
Failure and Garbage
Installing and configuring these cards was not hard, however when changing settings like the IP or password, the cards need to restart and sometime they come back and sometimes they don't. Our campus has 12 buildings, which are not connected. Every network closet has at least 1 UPS. Upgrading the firmware is a horrible idea. 4 out of 5 cards will work, the 1 that doesn't becomes bricked and go into recovery mode which looks for a tftp server using a unsigned long address.I would never willingly purchase this brand of UPS systems or web cards again, nor will I recommend this brand. These cards are not worth more than $20 as they only make the monitoring worse and provide false warnings.
Date published: 2014-06-27T00:00:00-04:00
Rated

5

out of

5
by
chilemoore
from
Remote management of my SM2200RMXL2UP
I've been running two SM2200RMXL2UPs for a few months with the SNMP Web Management card which has made remote management possible.
Date published: 2016-12-20T00:00:00-05:00
Rated

5

out of

5
by
ESH
from
works great
software installation was "interesting", but thanks to the excellent support I got, was able to take care of the issue. card works exactly as it should.
Date published: 2017-10-25T00:00:00-04:00
Rated

5

out of

5
by
rxsystems
from
Solid Web Management Card
This card works very well for me. It gives me the information that I need. I was able to easily integrate it with Spiceworks, our IT monitoring software. I also use the Envirosense card and use it to double check our facilities based temperature and humidity monitoring.
Date published: 2012-09-05T00:00:00-04:00