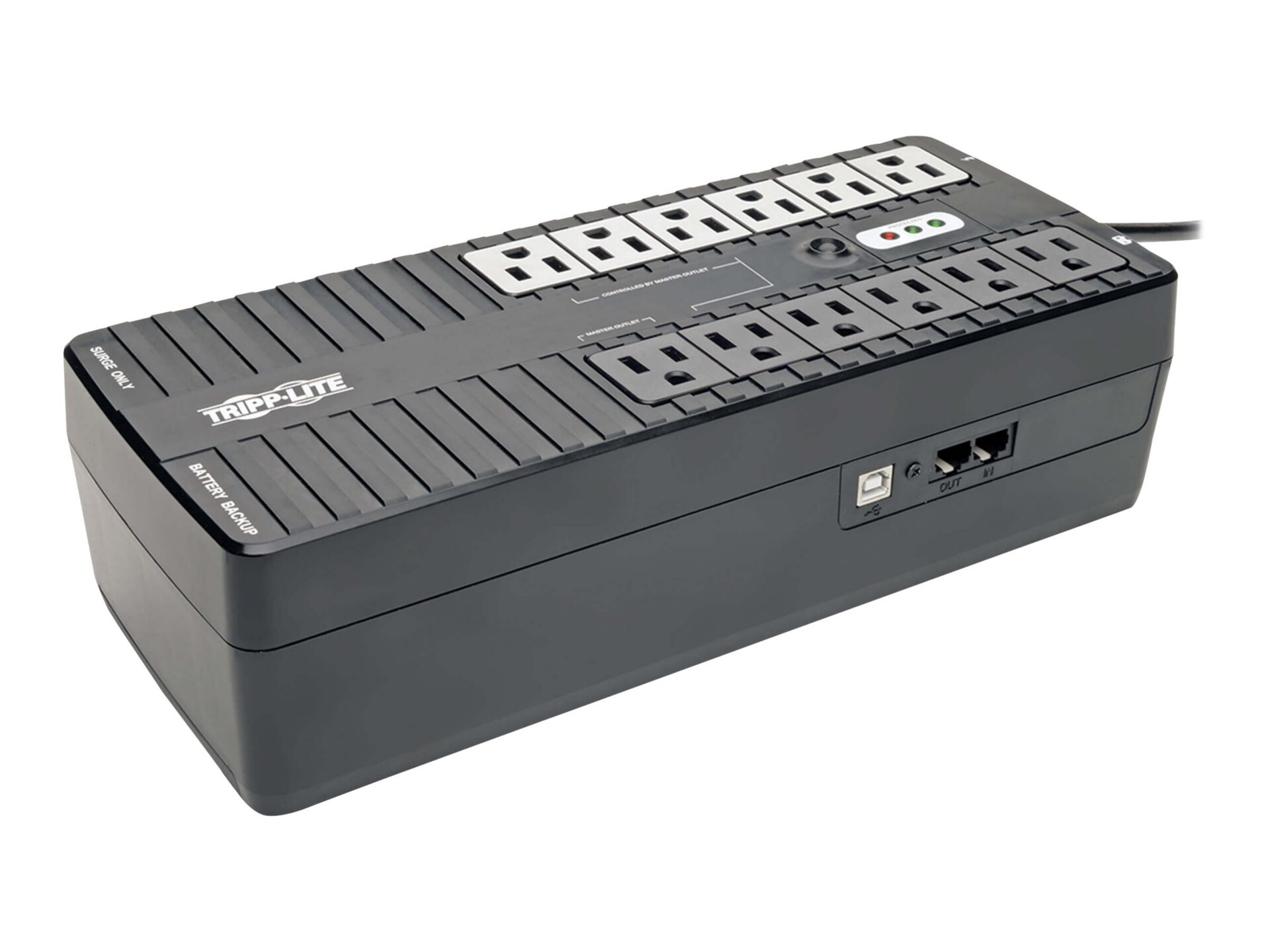 Quick tech specs
ECO750UPS standby green UPS offers complete protection from blackouts,brownouts and transient surges
Maintains AC output during power failures,99% line mode efficiency
green ups/ eco green battery/ eco backup/ eco battery
Built-in ECO outlets automatically power off unnecessary computer accessories like printers scanners and speakers when computer is not in use
Up to 34 minutes runtime for an entry-level PC
3 Year Tripp Lite Warranty and $100,000 Lifetime Insurance
View All
Know your gear
This product is ENERGY STAR qualified for its ability to save customers money while helping to protect the environment.

The ECO750UPS standby green UPS offers complete protection from blackouts, brownouts and transient surges. Supports green energy savings via built-in ECO outlets that automatically power off unused computer accessories like printers or multi-media speakers when the computer is not in use. Full load efficiency rating of 99% also offers energy-savings and cooler operation by limiting UPS power consumption to less than 5 watts! Eco-friendly design meets strict RoHS environmental standards.

How the Energy-Saving Feature Works:
Green Outlet™ technology saves up to $50 on annual energy bills by cutting power to designated energy-saving outlets when the master device (e.g. TV, computer) is turned off, preventing idle devices from wasting energy. Other outlets remain powered to support devices that operate continuously, such as DVRs, routers and broadband modems.

Provides uninterrupted transition to battery-derived AC output during brownouts and power failures with enough runtime to save and shutdown connected equipment without data loss. Offers complete protection in an ultra-compact desktop or wall-mountable housing. Includes 6 battery supported outlets for computer, monitor and four vital system peripherals, plus 6 additional surge suppression-only outlets for accessories not requiring battery support. USB port enables UPS configuration options and unattended system shutdown without data loss in the case of extended power failure.

PowerAlert software is available via free download from the Tripp Lite website. USB cable included. Built-in single line RJ11 phone suppression protects modem, fax machine, cordless phone or other accessories with a dialup/DSL phone connection. Built-in audible alarm and front panel LEDs offer continuous status information regarding line and battery power operation. 750VA/450 watt power handling ability supports entry-level PC systems for up to 45 minutes during power fail conditions. $100,000 connected equipment insurance (USA, Puerto Rico, and Canada Only).

•750VA power saving, ultra-compact GREEN UPS
•99% line-mode efficiency saves energy and operating costs
•4 built-in "ECO" outlets save power by automatically turning off connected accessories when the computer is not in use
•Includes HID-compliant USB port, single line TEL / DSL line surge suppression, space saving right-angle input plug and six surge-only outlets
•Input: NEMA 5-15P (120V 15A) / Output: 12 NEMA 5-15R (120V)
•3 year product warranty / $100,000 Ultimate Lifetime Insurance




Tripp Lite 750VA Standby UPS Eco Green Battery Back Up Compact 120V USB
is rated
4.90
out of
5
by
10
.
Rated

5

out of

5
by
Jan
from
We buy this product again and again
We use this product for all our electronics including computers, monitors and plotters. They usually last between 3 and 5 years, and sometimes longer. They are very easy to use and we will continue to buy.
Date published: 2019-07-08T00:00:00-04:00
Rated

5

out of

5
by
Cpro
from
I love this product!
It saves energy and is easy to use! What more could you ask for!?
Date published: 2011-07-11T00:00:00-04:00
Rated

5

out of

5
by
Jon
from
Good product.
Great ups, runs my equipment easily and operates at lower heat rejection than sny othet ups I have used previously.
Date published: 2016-11-09T00:00:00-05:00
Rated

5

out of

5
by
babblebck
from
LONG LASTING
I have owned this product for a few years now and it has been wonderful. Our house seems to be prone to surges and every time the ECO750UPS does its thing.Although we have very few power outages, when we do it kicks in and gives us plenty of time to shut down the computer. We also have a modem,router and TV on the back up and have never had any issues.Great Product that is long lasting.
Date published: 2012-06-12T00:00:00-04:00
Rated

5

out of

5
by
dajubu
from
Great Product
I've used Tripp-Lite products for years with very few problems, and this UPS is no exception. Recently, we had a power outage that lasted almost 4 hours. I was able to shut down my computer gracefully, then my Tripp-Lite UPS held up my remaining broadband/wi-fi router so we continued to have VoIP phone service and Internet service via smartphone until the power came back on. This UPS is a great value for the dollars spent.
Date published: 2013-09-05T00:00:00-04:00
Rated

5

out of

5
by
CLO56
from
saved the system
This battery backup was a life saver on several occasions, one street over a transformer has blown several times once years ago I believe that caused a computer to crash on me due to an electrical surge, since we have had this several times we had the transformer blow and the system stayed up long enough for us the shut it down and it beeps letting us know of the power outage even of a night when we are sleeping it alarms us of the power failure.
Date published: 2014-10-29T00:00:00-04:00
Rated

5

out of

5
by
Dyanne
from
Reliable
I have actually ordered one for every person in my department. We are a multimedia specialist office so we rely on the energy saving features and surge protection features on a daily basis. Have not experienced any problems with it and i have had mine for a year now. Also, it reduces noise! That is such a great feature to have. Thanks!
Date published: 2013-09-11T00:00:00-04:00
Rated

5

out of

5
by
Nick
from
I love it
I t worked like it was supposed to .I love it .The power wet out and I was able to save my files in time .My unit did its job.
Date published: 2012-10-28T00:00:00-04:00
Rated

5

out of

5
by
TRC-ITguy
from
Great product
This is a reliable, inexpensive solution for all of your protection needs. A great product that I highly recommend.
Date published: 2013-09-06T00:00:00-04:00
Rated

5

out of

5
by
jcflindsey
from
Right out of the box, didn't work
Wanted to replace the basic surge protectors my wife had with a reliable UPS since most of the stuff she had hooked up was a little pricey. Got this brick hooked up and it only half worked. The outlets that didn't give battery protection worked fine, but anything that was on the battery outlets would run for up to 30 seconds max before the power on that side cut out. And I had to fiddle with the power button and reset button just to squeeze that out of it. And for anyone that thinks "Oh, you just needed to charge the battery up" or something like that, ok, left it plugged in for four days straight before trying again. Same deal. So yeah, it's busted, and I'm taking it back for a refund. If I can't get a refund, It's going in the trash. It may have a 3 year warranty, but why would I want to replace it with another one just like it?
Date published: 2012-03-28T00:00:00-04:00