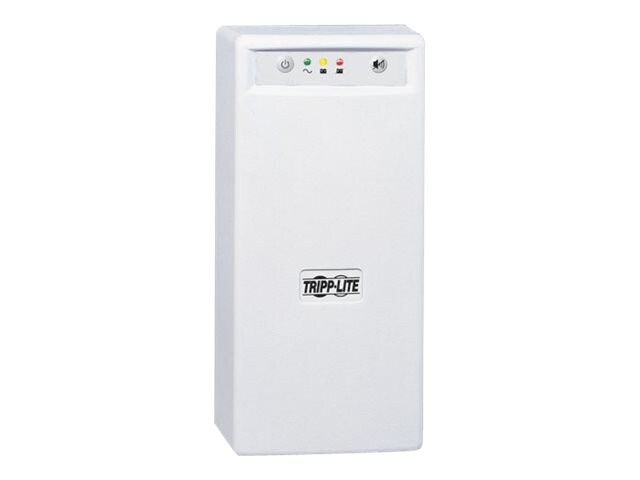 Quick tech specs
Internet Office 6 outlet USB port standby Uninterrupted Power Supply with battery backup and built-in TEL/DSL or ethernet line surge suppression provides power protection for your computer set-up
3 UPS battery supported and 3 surge-only outlets
3-year Tripp Lite Warranty/$100,000 Lifetime Insurance
700VA power capacity maintains your Internet connection allowing you to work online through short blackouts or safely shut down during longer ones
Runtime: 11 min. @ full load 700VA
View All
Know your gear
Tripp Lite's INTERNETOFFICE700 standby UPS system offers surge suppression and long lasting battery support for personal computers, internetworking equipment and other sensitive electronics. Internal UPS circuits support entry level PC systems for up to 45 minutes during power failures and brownouts so that connected equipment can be shutdown without data loss. Offers complete desktop power protection in an attractive gray tower configuration. Includes 3 battery supported outlets for computer, monitor and one vital system peripheral, plus 3 additional surge suppression-only outlets for printers and other system accessories not requiring battery support. USB port enables optional unattended system shutdown without data loss in the case of extended power failure, USB cable included. PowerAlert software available via free download from www.tripplite.com. Built-in RJ11 phone suppression jacks protect modem, fax machine, cordless phone or other peripheral with a standard single line dialup/DSL phone connection. Built-in audible alarm and 3 front panel LEDs indicate line power status, battery power status and battery low/replace status. 700VA / 425 watt power handling ability supports entry-level PCs, network workstations, point-of-sale equipment, small business phone systems, audio/video equipment and home theater systems. Offers 5 minutes battery runtime with a full load of 700VA and 17 minutes with a half load of 350VA. Supports hot swap battery replacement via built-in access panel. 2 year warranty. $150,000 connected equipment insurance (USA and Canada only).

Key Buying Points:
-INTERNETOFFICE700 standby UPS system offers UPS battery support, plus complete AC and dialup/DSL modem line surge suppression
-Supports entry level PC systems for up to 45 minutes during brownouts and power failures to enable a safe system shutdown
-Supports a max load of 700VA/425 watts for 5 minutes
-Supports a half load of 350VA/215 watts for 17 minutes
-Supplies battery derived AC output during brownouts starting at 99 volts, user adjustment allows fine tuning of brownout response to any setting from 83 to 99 volts
-Attractive gray tower configuration
-Includes 3 battery supported outlets, plus 3 additional surge suppression-only outlets, 6 foot AC line cord (all NEMA 5-15)
-USB port enables unattended shutdown without data loss during extended power failures, includes USB cable
-Built-in USB port supports on battery, low battery and power restored messaging
-USB interface supports timed inverter shutoff after unattended shutdown
-PowerAlert software available via free download from www.tripplite.com
-Supports Tripp Lite's WatchDog software application to restore unresponsive programs by automatically restarting them and rebooting completely locked computers by automatically switching UPS power off and back on again (part #75-0071)
-Built-in phone suppression jacks protect modem, fax machine or other peripheral with a dialup or DSL line phone connection (2 wire, 1 line, 260 volt clamping)
-Built-in audible alarm and 3 front panel LEDs indicate UPS and line power status
-700VA / 425 watt power handling ability supports a variety of computer, internetworking, telecom and consumer electronics equipment
-Supports hot-swap battery replacement via built-in access panel
-Compatible with 120V / 60Hz applications for USA, Canada, Mexico and more
-2 year manufacturers warranty
-$150,000 connected equipment insurance (USA and Canada only)

Typical applications:
Entry-level PCs, networked workstations, point-of-sale equipment, small business phone systems, audio/video equipment and home theater systems

Package Includes:
INTERNETOFFICE700 Standby UPS System
USB and phone cable
Instruction manual with warranty information
Contact Sales Assistance
(800) 800-4239
,
Monday-Friday 7am-7:30pm CT
Tripp Lite UPS 700VA 425W Desktop Battery Back Up Tower 120V USB RJ45 PC
is rated
4.83
out of
5
by
6
.
Rated

5

out of

5
by
Jenny B Cheeks
from
Such a workhorse
For all those people (my son and electrician friend) who say those battery backups never work right, I'm here to tell them that they indeed do - you just need to make sure you buy a Tripplite. I purchased this backup approximately 3 years ago (but can't find the documentation to support this for sure) and it has run like a champ and performed like expected all that time. The reason I find myself now replacing it is kind of hard to figure out, though. The (same) electrician came to work on our house 2 weeks ago and was "monkeying" with the breakers in the fusebox. My office equipment was being turned on and off rather frequently during his foray through said box, and at one point, the InternetOffice 700 stayed on for about three hours, until it was completely discharged. At that point, the surge/battery backup "side" gave up the ghost. Currently the surge-protector-only "side" still works and my husband's using it downstairs. So all in all, this was a great unit and it had never let me down up to now. I have now purchased a new Eco550UPS and expect the same great service, and will keep a better eye on the electrician and my office equipment next time.
Date published: 2013-01-03T00:00:00-05:00
Rated

5

out of

5
by
bfutrell
from
Seems to be just what we needed.
This product serves as a temporary power source for a telephone controller during those times when our electricity fails. We replaced the unit. Afterwards I took it home and did an autopsy on the old unit. Possibly we only needed to replace the battery in the old unit, but by that time we had already installed the new unit and I didn't have a new 12-volt to test the old unit with. When I find a serviceable 12-v I'll check. We may then have two of these!
Date published: 2016-08-01T00:00:00-04:00
Rated

5

out of

5
by
Ethel
from
Yes. I would recommend Tripp lite
Well built Easy to use Excellent staff support
Date published: 2016-10-19T00:00:00-04:00
Rated

5

out of

5
by
Ron
from
I ahve bought this product in the past.
I have these Internet Office 700 UPS systems on all of my computers in my home. They work great and are very reliable for both surge protection and preventing loss of data and work during momentary and extended outages.
Date published: 2016-07-14T00:00:00-04:00
Rated

5

out of

5
by
Jeff
from
This product is high quality
This product is very high quality and the only battery back up we will purchase, as it is very important that our computers, printers and such are always protected.
Date published: 2017-01-09T00:00:00-05:00
Rated

5

out of

5
by
slysnide
from
Reliable Battery Back-Up
I live in a small town where power outages are common place. With the Internet Office 700 I have peace of mind. Whether I am on my computer and internet, or simply watching satellite TV, this battery back-up keeps everything running. I can rely on Tripp-Lite to keep things going until I decide to shut them down.
Date published: 2013-06-06T00:00:00-04:00