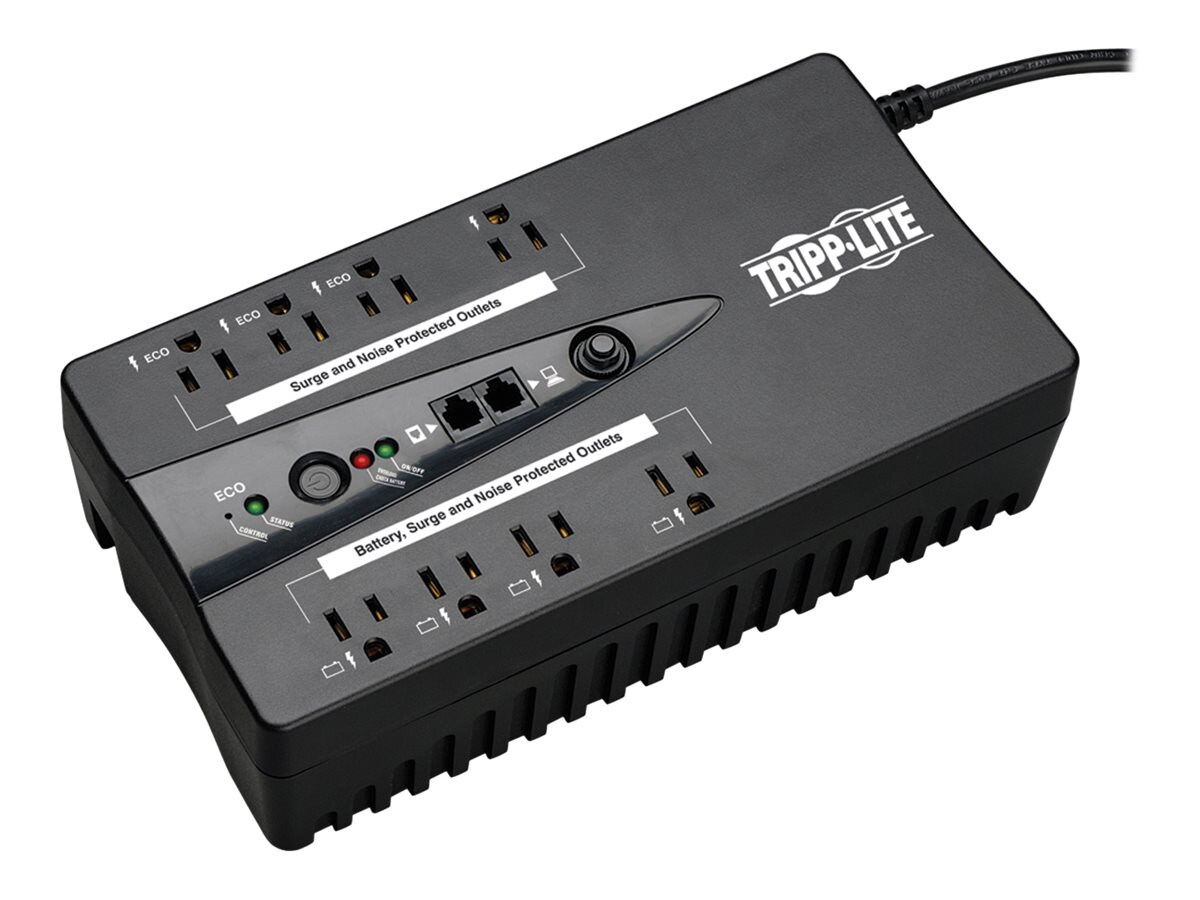 Quick tech specs
Standby Energy-Saving Green Uninterrupted Power Supply with USB and 8 Outlets offers protection from blackouts brownouts and transient surges
Single line RJ11 phone suppression jacks protect dialup/DSL modem fax machine cordless phone
3-year Tripp Lite Warranty/$100,000 Lifetime Insurance
Built-in Eco outlets automatically power off unnecessary computer accessories like printers scanners and speakers when computer is not in use
4 UPS battery supported and 4 surge-only outlets
View All
Know your gear
-550VA power saving, ultra-compact GREEN UPS

-99% line-mode efficiency saves energy and operating costs

-Input: NEMA 5-15P (120V 15A) / Output: 8 NEMA 5-15R (120V)

-3 built-in "ECO" outlets save power by automatically turning off connected accessories when the computer is not in use

-Includes HID-compliant USB port, single line TEL / DSL line surge suppression, space saving right-angle input plug and three surge-only outlets


Tripp Lite's ECO750UPS standby GREEN UPS offers complete protection from blackouts, brownouts and transient surges. Supports GREEN energy savings via built-in "ECO" outlets that automatically power off unused computer accessories like printers or multi-media speakers when the computer is not in use. Full load efficiency rating of 99% also offers energy-savings and cooler operation by limiting UPS power consumption to less than 5 watts! Eco-friendly design meets strict RoHS environmental standards. Provides uninterrupted transition to battery-derived AC output during brownouts and power failures with enough runtime to save and shutdown connected equipment without data loss. Offers complete protection in an ultra-compact desktop or wall-mountable housing. Includes 6 battery supported outlets for computer, monitor and four vital system peripherals, plus 6 additional surge suppression-only outlets for accessories not requiring battery support. Four of the surge-only outlets are designated "ECO" outlets that can be configured to automatically power-off when the computer enters standby mode or is shutdown. USB port enables UPS configuration options and unattended system shutdown without data loss in the case of extended power failure. PowerAlert software is available via free download from www.tripplite.com. USB cable included. Built-in single line RJ11 phone suppression protects modem, fax machine, cordless phone or other accessories with a dialup/DSL phone connection. Built-in audible alarm and front panel LEDs offer continuous status information regarding line and battery power operation. 350VA/180 watt power handling ability supports entry-level PC systems for up to 45 minutes during power fail conditions. 2 year warranty. $100,000 connected equipment insurance (USA, Puerto Rico, and Canada Only)


Tripp Lite 550VA 300W UPS Eco Green Battery Back Up Compact 120V USB RJ11
is rated
4.67
out of
5
by
3
.
Rated

5

out of

5
by
Betty
from
This product does what it says it does
I love my Tripp lite. It has saved me lots of money. Where I live we seem to have a lot of blackouts, brownouts, and surges. I have had to replace several computers because of this. Since I got the Tripp Lite My computer shuts down proper and I have had no problems. I would highly recommend this product to any one.
Date published: 2013-09-09T00:00:00-04:00
Rated

5

out of

5
by
JBush
from
Great Product for Short Outages
I purchased this product as I have short duration outages (2-5 minutes) all the time at my home. There is rarely a day that I com home and do not see the oven clock flashing due to an outage. The TrippLite ECO UPS is the perfect product to keep my desktop and back-up drive running through these outages. I did not need a large UPS with hours of backup time, just something to make sure that things did not get lost when the power flickered. Thanks TrippLite for making an affodable product for the everyday user!
Date published: 2013-09-06T00:00:00-04:00
Rated

5

out of

5
by
TominRaleigh
from
Can't Beat it
I live in Raleigh, NC in one of the highest areas of the city. With my previous surge protection device, I was hit three times in one summer with lightening that completely blew out my surge protector.It protected my equipment, but - I had to go out and buy a new device - or wait until the company sent me the warranty replacement.Now for the past several years- with my Tripp-Lite product - I have not had any problems. I feel so confident with the product, I leave my computer on 24/7 all summer long. You can't beat it !
Date published: 2011-12-19T00:00:00-05:00
Rated

5

out of

5
by
Di in Florida
from
Very satisfied
I've been extremely happy with my ECO550 UPS. It hs never failed me during any of the relatively rare and relatively brief (usually under ten minutes) power outages where I live. I would be pleased to recommend it to my friends who need a good, dependable UPS for their computer and peripherals.
Date published: 2013-09-17T00:00:00-04:00
Rated

5

out of

5
by
dyant
from
ExcelLent UPS
The software is easy to install and it works great. The UPS works great. I have had 3 power failures and a few power surges since I purchased the UPS and it worked great
Date published: 2012-10-29T00:00:00-04:00
Rated

5

out of

5
by
gbchandler
from
Multifeatured UPS exceeds expectations
This UPS is one of many that I have purchased/set-up over time. It is memorable in that it was by far the easiestinstallation of a UPS I ever made.I installed the software on the PC, unplugged all components and plugged them into the UPS, plugged it in, set a few parameters in the software and was finished. It easily supports a PC, wireless router, and a satellite modem.I have been using it for approx. 2 years, and it has saved a PC crash due to commercial power failure innumerable times. It's a great product and I highly recommend it.
Date published: 2011-12-08T00:00:00-05:00
Rated

5

out of

5
by
Denny
from
120 volt 550VA UPS.
We have a lot of power blinks 1-2 second duration. Ive built and sold PC;s for over 20 years so I can't stress how damaging these short power blinks can be to a Computer. So far my Tripp lite UPS has proved to be a PC saver! The second one I bought for my nephew who lives in the same area here has stopped the problem of me resetting up his blue screen crashed Computer. I have tried different brands and I believe Tripp Lite to be more dependable.
Date published: 2016-02-23T00:00:00-05:00
Rated

5

out of

5
by
nbachicha
from
Great stability always saves me when the powers goes down
It's great being the only person in the office with my machine still running while everyone else's machine shuts off due to a power failure. Those are the only times that I remember that I have the tripplite battery backup hooked up to my machine. I like the option of being able to use one side for battery backup and one as a normal surge protector. I don't need my phone using the battery life of tripplite when the power goes out. Thanks for the great product!
Date published: 2011-12-08T00:00:00-05:00
Rated

5

out of

5
by
Campusbob
from
Abundance of outlets
Helped to fit a lot of small, low usage devices on a single outlet. With plenty of backup time to last for a short power outage. If your using it on devices not using a computer you may have to check if it's compatible from the start. One odd thing... How to shut it off independent of it doing it on it own!
Date published: 2015-11-28T00:00:00-05:00
Rated

5

out of

5
by
RickTufano
from
Reliable; Works Every Time
I have been running my ECO550UPS for over 2 years and can verify that it works and works GREAT!I live on the ocean and power outages in my area are frequent. At least twice a month I hear my unit warn me that an instantaneous outage has occurred. Sometimes my lights flicker, but I know that my ECO550UPS has "evened out" the power" and my system is totally uneffected.When the power does go out, the unit beeps to warn me. All my computer equipment keeps running without a glitch and it gives me the opportunity to save files and do an orderly shut down. There has never been a time when this great product did not work or where it ran out of juice before I could attend to things properly. And as I said, I get a LOT of power outages here.I would definitely rate this product 5 stars for reliability, ease of use, price, performance and construction. If you don't have one of these yet, get one! Rick
Date published: 2011-12-09T00:00:00-05:00