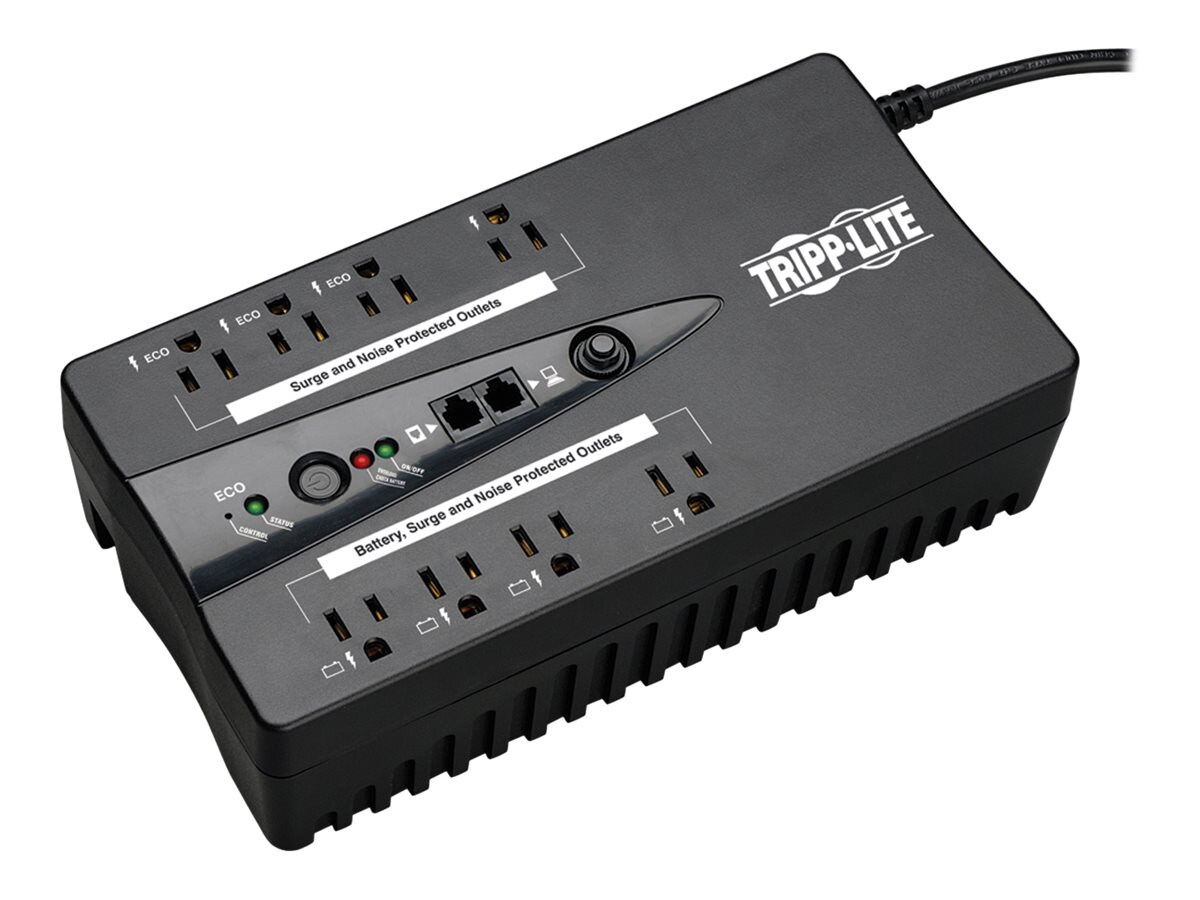 Quick tech specs
tandby Energy-Saving Green Uninterrupted Power Supply with USB and 8 Outlets offers protection from blackouts brownouts and transient surges
Single line RJ11 phone suppression jacks protect dialup/DSL modem fax machine cordless phone
Tripp Lite is now a part of Eaton
Built-in Eco outlets automatically power off unnecessary computer accessories like printers scanners and speakers when computer is not in use
4 UPS battery supported and 4 surge-only outlets
View All
Know your gear
-550VA power saving, ultra-compact GREEN UPS

-99% line-mode efficiency saves energy and operating costs

-Input: NEMA 5-15P (120V 15A) / Output: 8 NEMA 5-15R (120V)

-3 built-in "ECO" outlets save power by automatically turning off connected accessories when the computer is not in use

-Includes HID-compliant USB port, single line TEL / DSL line surge suppression, space saving right-angle input plug and three surge-only outlets


Tripp Lite's ECO750UPS standby GREEN UPS offers complete protection from blackouts, brownouts and transient surges. Supports GREEN energy savings via built-in "ECO" outlets that automatically power off unused computer accessories like printers or multi-media speakers when the computer is not in use. Full load efficiency rating of 99% also offers energy-savings and cooler operation by limiting UPS power consumption to less than 5 watts! Eco-friendly design meets strict RoHS environmental standards. Provides uninterrupted transition to battery-derived AC output during brownouts and power failures with enough runtime to save and shutdown connected equipment without data loss. Offers complete protection in an ultra-compact desktop or wall-mountable housing. Includes 6 battery supported outlets for computer, monitor and four vital system peripherals, plus 6 additional surge suppression-only outlets for accessories not requiring battery support. Four of the surge-only outlets are designated "ECO" outlets that can be configured to automatically power-off when the computer enters standby mode or is shutdown. USB port enables UPS configuration options and unattended system shutdown without data loss in the case of extended power failure. PowerAlert software is available via free download from www.tripplite.com. USB cable included. Built-in single line RJ11 phone suppression protects modem, fax machine, cordless phone or other accessories with a dialup/DSL phone connection. Built-in audible alarm and front panel LEDs offer continuous status information regarding line and battery power operation. 350VA/180 watt power handling ability supports entry-level PC systems for up to 45 minutes during power fail conditions. 2 year warranty. $100,000 connected equipment insurance (USA, Puerto Rico, and Canada Only)


Tripp Lite UPS 550VA 300W Eco Green Battery Back Up Compact 120V USB RJ11
is rated
4.70
out of
5
by
12
.
Rated

5

out of

5
by
Bonnie
from
I would buy again
To surge protect my home computer
Date published: 2020-01-16T00:00:00-05:00
Rated

5

out of

5
by
Ray
from
A nice, useful product.
I use it as the battery backup for my Internet, WI-FI, and Computer. Nice to keep these up and running if there is ever a power outage.
Date published: 2022-02-04T00:00:00-05:00
Rated

5

out of

5
by
Campusbob
from
Abundance of outlets
Helped to fit a lot of small, low usage devices on a single outlet. With plenty of backup time to last for a short power outage. If your using it on devices not using a computer you may have to check if it's compatible from the start. One odd thing... How to shut it off independent of it doing it on it own!
Date published: 2015-11-28T00:00:00-05:00
Rated

5

out of

5
by
Betty
from
This product does what it says it does
I love my Tripp lite. It has saved me lots of money. Where I live we seem to have a lot of blackouts, brownouts, and surges. I have had to replace several computers because of this. Since I got the Tripp Lite My computer shuts down proper and I have had no problems. I would highly recommend this product to any one.
Date published: 2013-09-09T00:00:00-04:00
Rated

5

out of

5
by
Happy Retiree
from
My EC0550UPS has great features.
I have been using my EC0550UPS for about 15 months and really appreciate it's dependability. It gives me plenty of time to allow a smooth shutdown after a power outage. I would reccomend this unit as a very good investment in backup power systems.
Date published: 2012-10-29T00:00:00-04:00
Rated

5

out of

5
by
Raj
from
Great product
Use this as a backup for our computer network at my job and it works great. It was easy to install and we love that the options for surge and battery backup are separate. The other ports are great too.
Date published: 2023-11-09T00:00:00-05:00
Rated

5

out of

5
by
Joe
from
Yes
Easy to install , no tools needed
Date published: 2022-07-12T00:00:00-04:00
Rated

5

out of

5
by
Rick
from
Great little unit
Just like all Tripp-Lite products we buy for our customers, you can rely on the quality of the product. In nearly 30 years, we've supplied over a thousand Tripp-Lite UPS systems and we are always happy with their product quality. This particular unit is perfect for keeping power to small items. Great cost point too.
Date published: 2023-08-06T00:00:00-04:00
Rated

5

out of

5
by
No worries
from
Great Product for Critical Uptime
Best Product, Best Price and Best Service all the qualities you can expect form a Tripplite product. It is one decision that will give you a peace of mind concerning your business or home protection.
Date published: 2021-10-22T00:00:00-04:00
Rated

5

out of

5
by
DAVID
from
Recommended by PC Solutions!
We use the UPS unit as a backup power source for our each of the computers in our small office. We are located in a rural area where power levels are not always consistent, so besides being a backup in times of outages, the units protect our equipment from power variations. Although we don't use the unique feature of a few outlets with the capability of shutting down non-essential equipment when not in use, it's nice that it's available. If a user doesn't pay attention to how those particular energy-saving outlets work, they may be disappointed when an essential piece of equipment shuts down during the workday (when they go out to lunch, for instance).
Date published: 2020-03-12T00:00:00-04:00
Rated

5

out of

5
by
Rolando
from
A Good Product, But Its Supporting Software Has Known Issues
I use the Tripp-Lite ECO550UPS battery backup to protect my Dell-7040 micro PC, the two monitors connected to it, and the charger for my cell phone in the event of a power surge or a complete blackout. I like that it is compact and the power saving feature, which automatically turns off power to the monitors and the cell phone charger a few minutes after I turn off the PC. I previously had to turn them off manually. I don't like the Power Alert Local software because whenever I run it a Command Prompt window opens saying the following: "WARNING: Could not open/create prefs root node Software\JavaSoft\Prefs at root 0x80000002. Windows RegCreateKeyEx(...) returned error code 5." I reported this issue to Tripp-Lite and they responded saying that this happens under certain conditions and that I should ignore it since it has no impact on the proper operation of the software. I did some investigation and discovered that this issue has existed for a very long time, but it still hasn't been corrected. Although I love the design of this product and would have rated it a 5 stars, I have to reduce the rating to a 3 stars for the lack of support to its software.
Date published: 2022-04-06T00:00:00-04:00
Rated

5

out of

5
by
Daniel
from
Great Product
Works like a charm and is very easy to set up. Have yet to have a problem
Date published: 2023-01-23T00:00:00-05:00