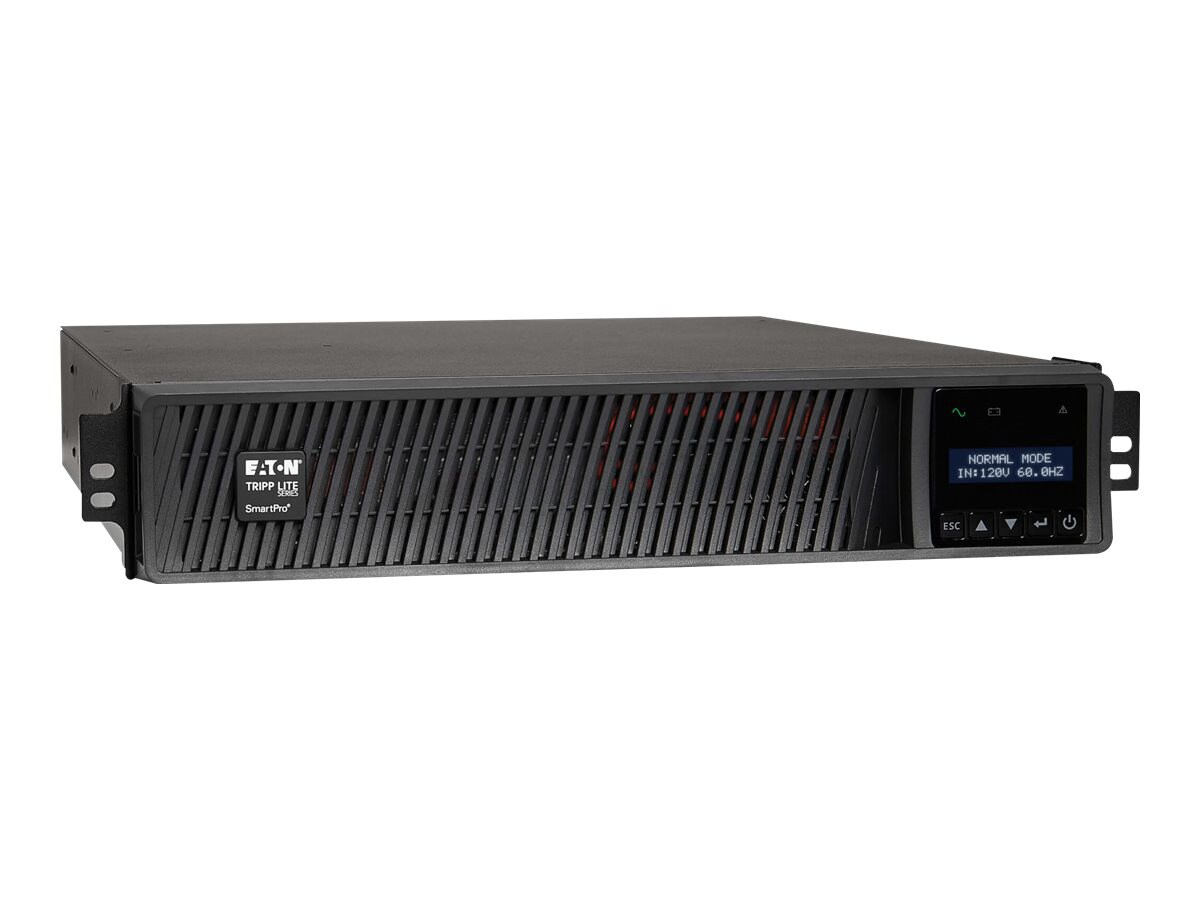 Quick tech specs
Provides complete battery backup/pure sine wave power output for servers/switches/other IT equipment
Unity power factor ensures max power possible at each power rating
2-line front-panel LCD with 10 selectable screens reports detailed UPS/site power info
Keeps equipment running during outages to allow time for file saves/shutdown
ENERGY STAR 2.0-certified to save electricity/lower cost
Tripp Lite is now part of Eaton
View All
Know your gear
3kVA/3kW/120V Battery Backup for Distributed IT, Telecom or Enterprise Deployments
This rack-mount line-interactive UPS system provides reliable battery backup and AC power protection against blackouts, brownouts, surges and line noise that can damage your valuable IT equipment or destroy data. The SMART3000RMXL2U is ideal power management for high-end in-rack networking equipment, including servers, VoIP phones, data storage and PoE switches. Unity power factor ensures the most watts possible at each power rating, so you can connect more equipment.

Reliable, Expandable Battery Backup Keeps You Operational Through Power Outages
The field-replaceable, hot-swappable VRLA battery modules allow you to work through short power failures and give you enough time to safely save files and shut down your system in case of a prolonged blackout. Switchover from line to battery power happens within milliseconds to maintain continuous operation of connected equipment without interruption or rebooting. Extra runtime is available by connecting up to four optional extended battery modules (BP72VRM2U, sold separately).

Optional LX Platform Network Management Card Allows Remote Access 24/7
The WEBCARDLXE network interface (sold separately) enables full remote configuration and management, including load shedding, reboots of connected equipment and safe shutdowns. The IP-based Auto Probe feature ensures continuous network uptime by communicating with other network devices, detecting lost connectivity and automatically rebooting IT equipment. Optional EnviroSense2 modules (E2MT, E2MTDO and E2MTHDI, all sold separately) provide a variety of environmental monitoring and control options.

NEMA 5-20R Outlets Protect Your Connected Components
One L5-30R and six managed 5-20R outlets provide connected equipment with pure sine wave AC output and allow you to monitor power consumption down to the outlet group level. Power provided by these outlets is filtered to protect connected equipment against damaging surges and line noise. Four outlets are grouped into two programmable load banks that let you shed non-critical loads to extend runtime for critical loads. Front and rear cooling fans help protect equipment from overheating.

Automatic Voltage Regulation (AVR) Corrects Low- and High-Voltage Conditions
AVR protects your equipment from incremental hardware damage, data loss and performance problems caused by brownouts. The SMART3000RMXL2U maintains regulated 120V nominal output during brownouts and overvoltages from 80V to 151V while keeping the battery fully charged and ready to take over in case of power failure.

Premium Protection from EMI/RFI Line Noise Helps Your Equipment Perform Better
This UPS system filters out disruptive electromagnetic and radio frequency interference that can inflict hardware damage or data loss. This EMI/RFI filtering also helps your connected components perform better and last longer.

ENERGY STAR-Certified to Help You Save Money and Protect the Environment
By meeting strict U.S. Department of Energy and U.S. Environmental Protection Agency requirements, this ENERGY STAR 2.0 UPS system provides high operational efficiency to signal a reduction in BTU emissions, save on utility and cooling costs and help protect the environment.

Intuitive Front-Panel Interface for Convenient UPS Operation and Monitoring
The two-line front-panel LCD monitoring screen features 10 selectable screens that allow quick access to a wide range of detailed UPS and site power information. LEDs show UPS status: a green light means utility power is on, an orange light means the UPS is in battery mode and a red light indicates an active alarm or fault. The control panel rotates to accommodate both rack-mount and tower configurations.
Tripp Lite UPS 3000VA 2880W Smart Rackmount AVR 120V USB DB9 SNMP 2URM
is rated
4.90
out of
5
by
18
.
Rated

5

out of

5
by
Hector
from
I would buy this product again
So far so good. I upgraded my server room equipment and this unit is great so far and I am happy with this product. We have had few power outages and this has saved us from unwanted server shutdowns. Very happy with this product.
Date published: 2020-01-17T00:00:00-05:00
Rated

5

out of

5
by
Román
from
total sarisfaction, I will be buying this equipment to prote
The equipment is used in the protection of servers, it is a very good equipment that complies with the aforementioned in terms of operating time without electrical current. without a doubt I will be acquiring more equipment with the brand.
Date published: 2021-07-15T00:00:00-04:00
Rated

5

out of

5
by
ncicwood
from
Reliable, easy to install
I have no issues with this unit. I bought two of them and they're running perfectly fine. I have yet to install the SNMPWEBCARD in each of them but with the ease of use and simple interface, I'm sure this will go smoothly as well. I opted for TrippLite over APC mostly due to the value provided. APC costs more and does the same job.
Date published: 2013-05-27T00:00:00-04:00
Rated

5

out of

5
by
Jose
from
For his Quality
Exelent device!!
Date published: 2019-06-27T00:00:00-04:00
Rated

5

out of

5
by
Sniper_kingxx
from
Awesome reliable product every time (10+ years customer)
I use and trust Tripp-lite overall product line.
Date published: 2018-04-08T00:00:00-04:00
Rated

5

out of

5
by
88
from
Sleek, simple, and just works
Replaced an older different brand with this Tripp-Lite. This product had minimal setup or configuration. Nothing complex everything just works.
Date published: 2017-05-26T00:00:00-04:00
Rated

5

out of

5
by
Sachin
from
I would definitely buy the products
The tripplite products are great, not very bulky and very easy to install. We are using at our warehouse site and it has been great so far.
Date published: 2022-07-02T00:00:00-04:00
Rated

5

out of

5
by
IT Pro
from
Winner!
Definitely good for servers and IT related products. Highly recommend for a small business or use multiples for large business.
Date published: 2022-07-18T00:00:00-04:00
Rated

5

out of

5
by
Tripp-Lite UPS Lover
from
Buy!
Reliable product, great for small business. Will definitely buy more.
Date published: 2022-07-18T00:00:00-04:00
Rated

5

out of

5
by
Dan
from
Would definitely buy it again.
Our appliaance resides in an unstable power environment due to the power grid. It has lasted through numerous lightning storms and brown outs.
Date published: 2022-04-29T00:00:00-04:00
Rated

5

out of

5
by
Bret in IT
from
This product works great.
This product is everything that they said it would be. I highly recommend.
Date published: 2022-04-28T00:00:00-04:00
Rated

5

out of

5
by
IT World
from
Buy, Buy, Buy!
If you haven't already, buy one! Or two, or three, or however many you need! You won't be disappointed in the performance or reliability!
Date published: 2022-07-18T00:00:00-04:00
Rated

5

out of

5
by
IT Pros
from
Reliable & Great Product!
Works as described. Reliable product. We have purchased over 30 of these for different customers and have never had an issue out of any of them.
Date published: 2022-07-18T00:00:00-04:00
Rated

5

out of

5
by
IST Services
from
Winner, Winner!
Awesome product. Reliable. Does exactly what it is supposed to do. Works great for small businesses or many for large businesses. We've used these in both and never had any issues.
Date published: 2022-07-18T00:00:00-04:00
Rated

5

out of

5
by
IST
from
I have bought this product again and again & will continue!
If you're looking for a good, reliable UPS, this is the one you need! You won't be disappointed.
Date published: 2022-07-18T00:00:00-04:00
Rated

5

out of

5
by
Scott
from
Good fit for us
Fits better in a rack than most, easy to set up. Would like a better centralized management option, and be able to do more. but a nice price point if you're OK without those features.
Date published: 2023-03-10T00:00:00-05:00
Rated

5

out of

5
by
Armando
from
Si
Es un buen equipo confiable y robusto
Date published: 2021-03-27T00:00:00-04:00
Rated

5

out of

5
by
Luis
from
Excelente producto
Es un producto muy bueno cumple.con las necesitas
Date published: 2022-10-29T00:00:00-04:00