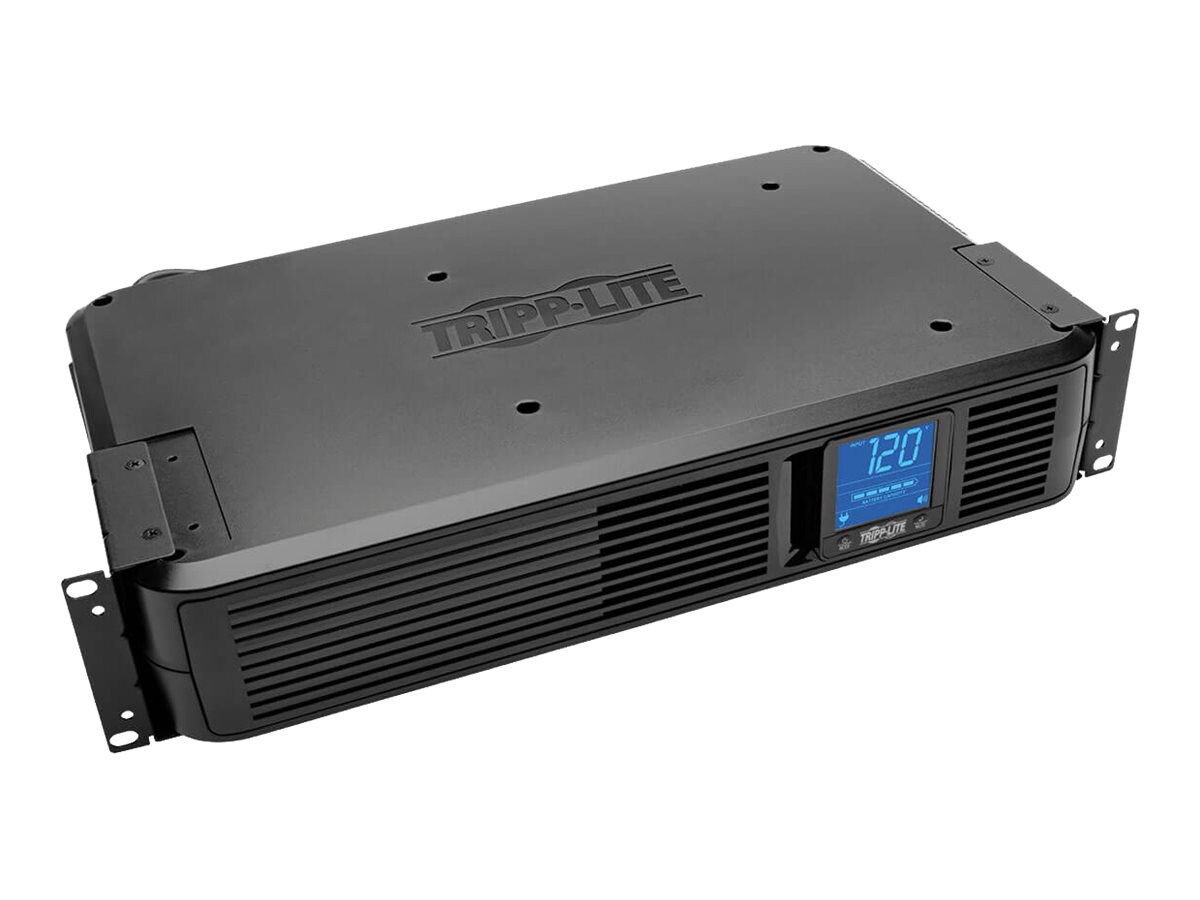 Quick tech specs
Smart Line-Interactive Sine Wave Uninterrupted Power Supply provides Battery Backup through blackouts/voltage fluctuations and surge
Automatic Voltage Regulation corrects brownouts/ over-voltages w/out using battery power
High 98% efficiency in line power mode
Tripp Lite is now a part of Eaton
Ideal for desktop computers and audio/visual equipment
Supports a half-load up to 12 min and a full load (900W) up to 4 min
8 protected NEMA 5-15R outlets
View All
Know your gear
The SMART1500LCDXL SmartPro LCD 120V, 1500VA/900W Line-Interactive Uninterruptible Power Supply provides battery backup and AC power protection against blackouts, brownouts, power surges and line noise that can damage electronics or destroy data. Ideal for backing up your desktop computer or audio/visual components, this line-interactive UPS switches to battery backup mode in milliseconds to keep your connected equipment running long enough to save files and shut down safely with no data loss.

Eight NEMA 5-15R outlets protect against surges, as well as provide up to 12 minutes of UPS battery support at half-load (450W) and 4 minutes of support at full load (900W). You can get even more runtime by connecting an optional BP24V15RT2U external battery pack.

Automatic voltage regulation (AVR) corrects severe undervoltages as low as 75V and overvoltages as high as 147V without using any battery power. EMI/RFI noise filtering improves your equipment's performance and prevents damage. A 1038-joule surge suppression rating protects your equipment from harmful power surges.

Space-saving NEMA 5-15P right-angle plug with 6-foot cord connects to any NEMA 5-15R socket. Large rotatable LCD screen shows real-time input voltage, load, AVR, remaining battery runtime and battery statuses at a glance. With Tripp Lite's PowerAlert software (available via free download), the SMART1500LCDXL enables safe unattended system shutdown and file saves in case of a prolonged power failure.


Tripp Lite UPS 1500VA Smart LCD AVR 120V Ext Run USB DB9 RJ11 RJ45 2U RM
is rated
4.80
out of
5
by
23
.
Rated

5

out of

5
by
william
from
all good
Installed in a new home network rack. Simple install, good feedback as to status and charge. If this keeps up I'll have to buy another one for the game server.
Date published: 2019-09-27T00:00:00-04:00
Rated

5

out of

5
by
Eric
from
Great UPS!
Use as backup for my computer system. Works as expected. Computer load is small amount of capacity. Should run for 30 minutes or so on UPS.
Date published: 2020-05-04T00:00:00-04:00
Rated

5

out of

5
by
Ronald
from
I would but this product again.
Replacing a aging UPS that had died for multi server rack. Like the display so you can see the load on the UPS.
Date published: 2020-06-15T00:00:00-04:00
Rated

5

out of

5
by
Jason
from
40 minutes with Network, 8 Camera System, NAS, and PC.
My home Network (2 AP's, Router...), 8 Camera System w/NVR, NAS, and Computer is connected to this UPS. We installed the UPS and had a power outage the next day and was able to stay up and running for about 40 minutes. It worked well and is connected to Synology NAS, which emailed me within 30 seconds of the power outage. If I were to change anything, I may have went with one that connected through Ethernet.
Date published: 2020-08-22T00:00:00-04:00
Rated

5

out of

5
by
Al
from
Quite Heavy, but worth it
Build quality seems good, comes with rack mounting brackets. An essential part of our mobile broadcasting kit.
Date published: 2022-04-12T00:00:00-04:00
Rated

5

out of

5
by
Richard
from
Great extended UPS
I bought this extended UPS while I was searching for a replacement for our old unit that were EoL. I chose this particular UPS because I could attach an extended 24V battery. The battery extends the uptime long enough with the server load for the building generator to kick in. I have had uninterrupted service even while the casino was down. Servers, internet and IP phones still up while the rest of the casino was off. Working at 24/7 facility using Tripp-Lite means I do not have to rush into work after a electrical interruption. I have since bought smaller Tripp-Lite units for the desktop users to replace their outdated UPS. Then I can register them all in one place and support is fast and efficient.
Date published: 2021-07-03T00:00:00-04:00
Rated

5

out of

5
by
Brian from ITsavvy
from
Awesome during power outage!
We have one for the entertainment center wall and another in the office for network gear. It's great during a power outage to still have internet and TV for any weather news!
Date published: 2022-03-12T00:00:00-05:00
Rated

5

out of

5
by
Mike
from
Excellent solution for SoHo server.
I run a satellite SoHo with Enterprise grade hardware. Having a battery backup to begin with is a relief. This allows me to protect our Firewall, Server, Switch and WiFi router from outages, surges and brownouts. I bought this one because it can handle extended runtime with an expansion pack. With everything connected, I get about 15 to 35 minutes of runtime depending on load.
Date published: 2018-10-27T00:00:00-04:00
Rated

5

out of

5
by
Big D
from
Wonderful product, with amazing performace.
Thank you so very much for a great product and wonderful protection plan for my equipment!
Date published: 2018-12-15T00:00:00-05:00
Rated

5

out of

5
by
Seth
from
Easy Install. Great Capacity.
Does what it needs to. Nice install into a rack. Wish it had a replaceable battery.
Date published: 2017-09-20T00:00:00-04:00
Rated

5

out of

5
by
Larry E
from
Works well
I have this unit rack mounted in a 15U cabinet. Works well, but a little bit noisier than my Smart 1500LCDT unit.
Date published: 2018-01-28T00:00:00-05:00
Rated

5

out of

5
by
Eman
from
bought as an upgrade
It was relatively easy to install. We are getting ready for the summer heat in California and power loss is something we have to deal with. I will let you guys how it goes.
Date published: 2018-05-08T00:00:00-04:00
Rated

5

out of

5
by
David
from
Yes
The units protecting our automated test equipment. One of our test systems computers hard drives crashed a while back because of powers disruption. Ended up losing all our configurations and settings as well even though the hardware had standard protection it did not hold. With your UPS units we have reduced a potential disruption, and hardware damage risk.
Date published: 2023-08-14T00:00:00-04:00
Rated

5

out of

5
by
Local Travis
from
Good stuff
Hardware works great, not an issue that I could see
Date published: 2022-09-20T00:00:00-04:00
Rated

5

out of

5
by
Don
from
Great UPS
I really like the SmartPro, I have a couple of more of them one is three years old and it is still running strong. I find the ability to add an extra battery pack to it fantastic.
Date published: 2022-07-28T00:00:00-04:00
Rated

5

out of

5
by
Ed
from
Works great
I have this in my rack to keep my home automation equipment going.
Date published: 2022-05-06T00:00:00-04:00
Rated

5

out of

5
by
josh
from
Its a good solid UPS!
This is a great product that works very well. Easy to set up and configure.
Date published: 2021-02-04T00:00:00-05:00
Rated

5

out of

5
by
John
from
I love the tripplite ups system
Tripplite ups main unit love the small size for 13 inch rack
Date published: 2021-03-31T00:00:00-04:00
Rated

5

out of

5
by
Brian
from
I will definitively purchase TRIPP-LITE products in the futu
Am a photographer, my images are on a external hard drive. Can't lose power while processing an image. Need UPS. Purchased TRIP-LITE SmartPro. Works great. Tech support is even better.
Date published: 2021-03-22T00:00:00-04:00
Rated

5

out of

5
by
Jeffrey
from
Highly recommended
Easy setup and installation. Added the external battery for great backup run times.
Date published: 2021-05-28T00:00:00-04:00
Rated

5

out of

5
by
Andrew
from
Nice solid UPS for protecting your sensitive equipment.
We have purchased 8 of these SmartPro LCD 120V 1500VA 900W Line-Interactive UPS, AVR, Extended Runtime units. They have helped not only protect our equipment from power surges and brownouts but have also filtered the power coming to our equipment. We are very happy with these UPS units and plan to purchase more in the future. Tripp-Lite makes great, well-built, equipment that performs as advertised. We depend on Tripp-Lite to keep us running smoothly.
Date published: 2020-09-28T00:00:00-04:00
Rated

5

out of

5
by
Michael
from
I wish that this was a sinewave model for the same price!
I have always liked Tripp Lite products. It was time to add another SmartPro 1500 UPS to my network, but I realized that the newer high efficiency power supplies are requiring "sine wave" power in order for them to operate. I was forced to return this unit reluctantly, and I looked at Tripp Lite's offerings and noted that their pricing is far higher for the equivalent performance as other brands. It is a shame, as my still currently running prior unit has gone through 4 battery changes after 11 years and is still going strong. Tripp Lite, I hope that you can re-engineer your power supplies to offer sinewave power for a comparable price as the competition. Love the product, but the price for sine wave is not matching the competition.
Date published: 2020-05-24T00:00:00-04:00
Rated

5

out of

5
by
Carlos Costa
from
yes, very good
we like it a lot, the fit was perfect in the rack and it has a good performance of time, when the power goes down it activates qui
Date published: 2023-05-13T00:00:00-04:00