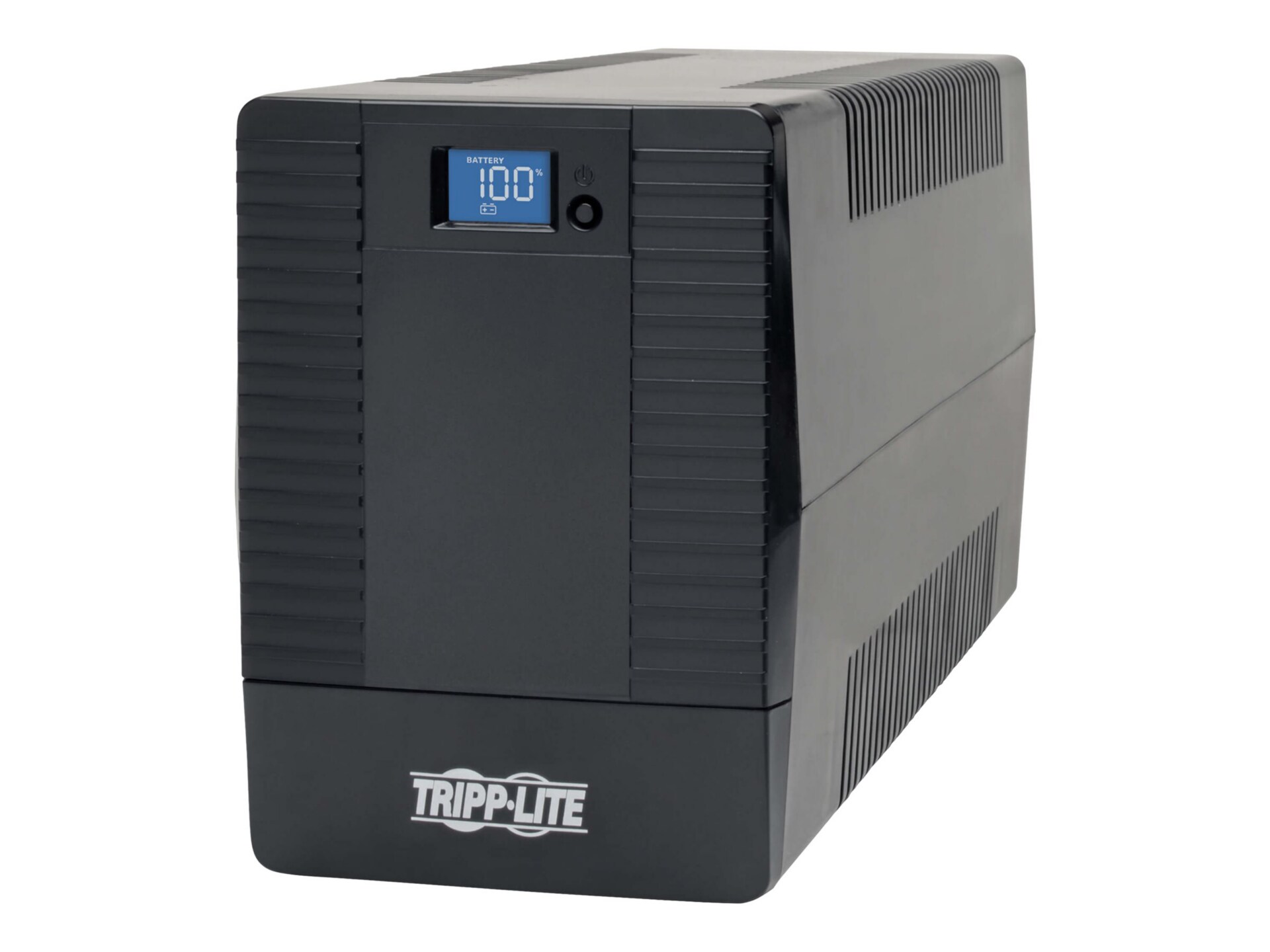 Quick tech specs
Line interactive uninterrupted power supply provides battery backup through blackouts/ voltage fluctuations and surges
Automatic Voltage Regulation corrects brownouts/ over-voltages without using battery power
NEMA 5-15P input plug and 8 NEMA 5-15R outlets
3 Year Tripp Lite Warranty and $200,000 Lifetime Insurance
Ideal for PCs/ home theater systems/ networking equipment and more
4 min full load runtime (940 watts)/ 11.4 min half load runtime (470 watts)
USB/ DSL/ TEL/ AVR
View All
Know your gear
Tripp Lite's OMNIVS1500XL line interactive UPS system offers voltage regulation, surge suppression and long lasting, expandable battery support for personal computers, internetworking equipment and other sensitive electronics. Internal UPS circuits support entry level PC systems for up to 75 minutes during power failures so that connected equipment can be shut down without data loss. Automatic Voltage Regulation (AVR) circuits regulate brownouts as low as 75 and overvoltages up to 147 volts back to usable 120V levels without using battery power. Offers complete desktop power protection in an attractive black tower configuration. Includes 6 battery supported outlets for computer, monitor and one vital system peripheral, plus 2 additional surge suppression-only outlets for printers and other system accessories not requiring battery support. USB port enables optional unattended system shutdown without data loss in the case of extended power failure, USB cable included. PowerAlert software available via free download from www.tripplite.com. Built-in dataline suppression offers protection for equipment with single line TEL/DSL or network ethernet connection. Audible alarm and 4 front panel LEDs indicate line power, battery power, battery low/replace status and voltage boost operation. 1500VA power handling ability supports entry-level PCs, network workstations, point-of-sale equipment, small business phone systems, audio/video equipment and home theater systems. Offers 5 minutes battery runtime with a full load of 1500VA and 14 minutes with a half load of 750VA. Supports hot-swappable battery replacement via built-in access panel. Extended runtime available with optional BP24V14 external battery pack.

Features:
OMNIVS1500XL Uninterruptible Power Supply offers voltage regulation, surge suppression and long lasting battery support

Supports entry level PCs up to 75 minutes during blackouts to enable shutdown without data loss

Regulates brownouts as low as 75 and overvoltages to 147V back to usable 120V nominal levels without using battery power

6 UPS battery supported outlets, plus 2 additional surge suppression-only outlets

USB port and cable enables UPS monitoring and unattended shutdown in the case of extended power failure

PowerAlert software available via free download from www.tripplite.com

Dataline surge suppression protects standard dialup/DSL or ethernet line connection

Audible alarm and 4 front panel LEDs offer complete UPS and line power status information

1500VA power handling ability supports a variety of sensitive electronic equipment

5 minutes full load runtime (1500VA), 14 minutes half load runtime (750VA)

Runtime is further expandable with the addition of BP24V14 external battery pack

Supports hot swappable battery replacement via built-in access panel

$200,000 connected equipment insurance (USA and Canada Only)

2 year warranty

Package Includes:
OMNIVS1500XL Line Interactive UPS
USB and telephone cable
User manual with warranty information
Tripp Lite UPS 1500VA 940W Battery Back Up Tower AVR 120V USB RJ11 RJ45
is rated
4.86
out of
5
by
7
.
Rated

5

out of

5
by
The tall guy from IT
from
Good unit
We have deployed about 5 OmniVS UPS-es in our company.So far they cover greatly the servers.
Date published: 2016-02-23T00:00:00-05:00
Rated

5

out of

5
by
SchertzDan
from
Good UPS for Multiple computers
This product was easy to setup for multiple computers and software was easy to use to have one connected by USB but trigger several to shutdown when power fails.
Date published: 2012-09-01T00:00:00-04:00
Rated

5

out of

5
by
Cascadilla
from
Has worked flawlessly
This has worked perfectly--the few times I have had a power interruption I have had plenty of time to shut down and protect data. My only complaint is the lack of Mac compatibility for the software that monitors the battery.
Date published: 2013-09-06T00:00:00-04:00
Rated

5

out of

5
by
Norman MacPherson
from
excellent UPS for my physics+chemistry R&D lab.
As expected.
Date published: 2018-05-17T00:00:00-04:00
Rated

5

out of

5
by
Julez
from
Over 5 years old now
I've had my OMNIVS1500XL for over 5 years now. I have two desktops, a router, modem and a monitor all on battery power. I don't need a long duration for it as we have a home generator as well. But this thing just keeps on trucking.I'm writing this review as I had to look up the battery replacement number for the UPS as I've yet to replace the battery and have been meaning to for the past year, just in case.Conditions it stays in are just a home office, but we average a good 7-10 brief 1-2 minute power outages a year easy.The only negatives I can come up with is that the beeping when it switches over to battery is loud (wish there was a way to just mute it as I couldn't care less to know when it switches to battery). And then the fan can kick in and be relatively noisy, but nothing that's unbearable like some have stated.Also TrippLite support is always awesome.
Date published: 2014-11-06T00:00:00-05:00
Rated

5

out of

5
by
tuckg001
from
Plugged in UPS to hear an annoying fan noise.
Plugged in UPS to hear an annoying fan noise. Now I get to pack it back up and drive to the shipping store.
Date published: 2013-01-26T00:00:00-05:00
Rated

5

out of

5
by
Lab guy
from
Meets my needs
I purchased this because an expensive laboratory device was occasionally generating error messages that the manufacturer told me were due to voltage drops in the line. We also occasionally have brief outages. I haven't seen the error message again since purchasing this unit. Fortunately, the only time I've used the unit as a power backup was when we had a planned power outage. In that instance, the unit provided power for longer than I expected. In summary, I've only had it for 6 months, but it's met all of my needs.
Date published: 2017-09-09T00:00:00-04:00
Rated

5

out of

5
by
Shubunkin
from
Excelent price and performance...!!!
One of the best no break over all that i have and manage. Simply to use, very robust and his AVR regulates from high to low volatages in a wide range. I use to power and protect a SMB rack that combines 1 microtower server + 1 x 24 ports PoE swich and 1 x cable modem in a telco rack. Simply works great...!!!
Date published: 2017-08-23T00:00:00-04:00
Rated

5

out of

5
by
bradley01
from
This is a good, solid UPS with several great features.
The OMNIVS1500XL has plenty of power for PC applications, even when running a high-end gaming system. Six powered outlets and two surge-protected output cords are ample, and in addition to the usual telephone/network surge filters and the USB controlled shutdown port, there is a variable threshold adjustment to reduce the sensitivity of the unit to power dips and line noise. The real plus, though, is the option to plug in an external battery pack to extend the backup time. All in all, another great product from TRIPP-LITE!
Date published: 2012-04-21T00:00:00-04:00
Rated

5

out of

5
by
Valveman11
from
Overall a great product
I have had this UPS for several years, and it has just been fantastic. Power outages are just not something that I worry about anymore when I'm on my computer.Many have complained about the clicking noise coming from the fan. That seems to be a result from how the unit controls the speed of the fan and is not a fault of the unit.As an experienced electronics technician, the solution for me was simple. WARNING: Attempting this fix will void the warranty!I first unplugged and powered down the unit. I simply disassembled it and soldered a small 10uf capacitor across the power wires going to the fan. The click was gone, and I have never had a problem since then.
Date published: 2013-06-05T00:00:00-04:00