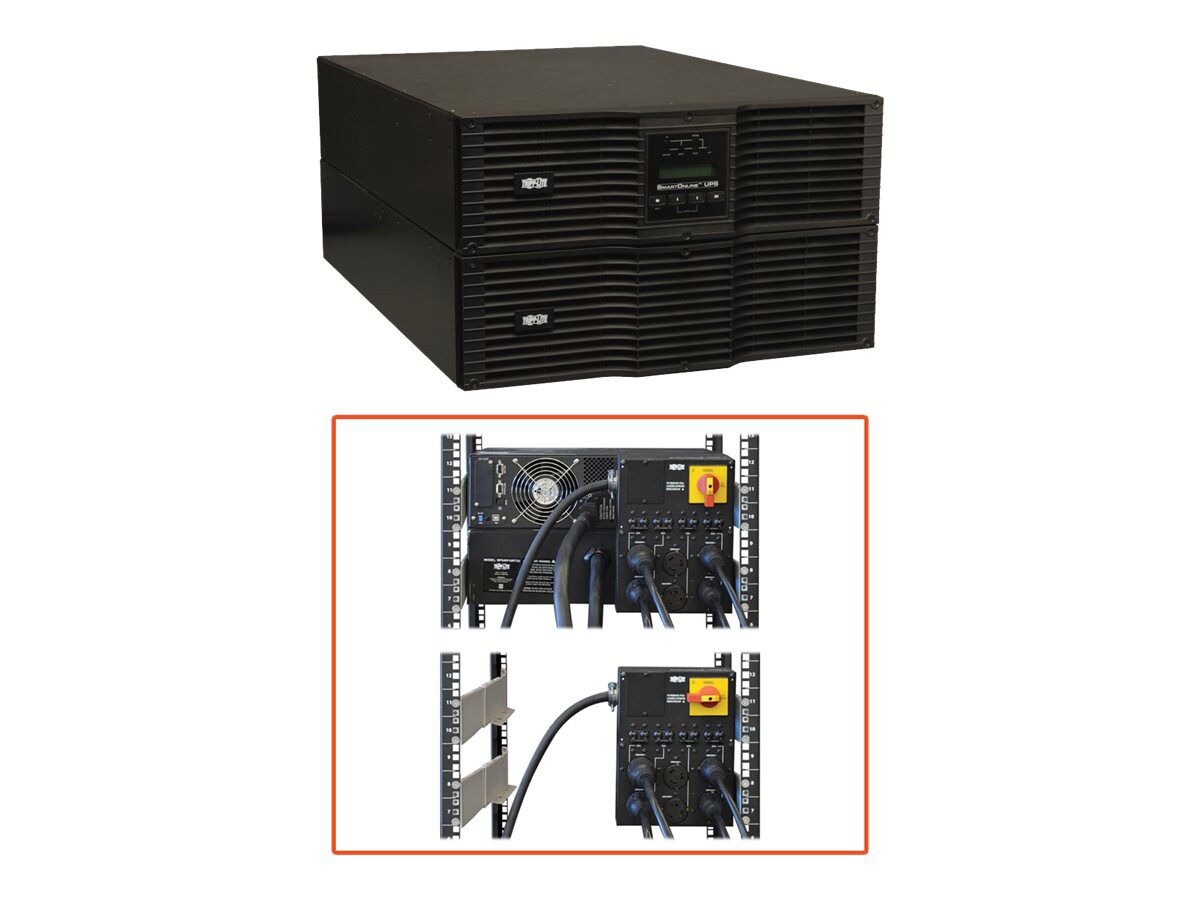 Quick tech specs
Smart Online Double-Conversion 6U RackMountable Extended Run Uninterrupted Power Supply 10000VA 9000W with Bypass Switch provides Battery Backup through blackouts voltage fluctuations and surge
Hardwire 200-240V 50/60Hz input (3 wire); 2 L6-30R and 4 L6-20R outlets
2 Year Tripp Lite Warranty/$250,000 Lifetime Insurance
Ideal for critical network applications in data centers computer rooms network closets and industrial locations
USB RS232 and EPO ports; Network card slot options
View All
Know your gear
SU10000RT3U is a 10, 000VA (10kVA) on-line, double-conversion UPS system for critical server, network and telecommunications equipment. Installs in only 6 rack spaces (3U power module and 3U battery pack); maximum installed rack depth of 32.5 in.

PRODUCT FEATURES:

Expandable battery runtime with optional BP240V10RT3U external battery packs;
Full-time sine wave 200, 208, 220, 230, or 240V +/-2% output;
Uninterruptible Power Supply (UPS) actively converts raw incoming AC power to DC, then re-converts output back to completely regulated, filtered AC output;
Operates continuously without using battery power during brownouts to 156V and overvoltages to 276V;
Standard 3-wire 208V hardwire input connection;
NEMA L6-30R and L6-20R output receptacles;
Detachable input-output PDU module with manual bypass switch enables hot-swap UPS replacement without disrupting power to connected equipment;
Network-grade AC surge and noise suppression;
Zero transfer time between AC and battery operation;
Network management interfaces support simultaneous communications via RS-232, contact-closure port and optional SNMPWEBCARD slot;
Supports simultaneous detailed monitoring of equipment load levels, self-test data and utility power conditions via all 3 network interfaces;
Includes PowerAlert monitoring software and complete cabling;
Emergency Power Off (EPO) interface;
Front panel LEDs offer at-a-glance confirmation of line power status, battery power status, AC-to-DC conversion, DC-to-AC conversion, bypass mode and output power status;
Detailed LCD panel with scroll buttons offer detailed diagnostic test information at startup and during self tests, plus real-time data on input and output voltage, frequency (Hz), load percentage and battery charge level;
Audible alarm;
Self-test;
Fault-tolerant auto-bypass mode;
4-post rackmount accessories and 2-9USTAND tower kit included;
2POSTRMKITWM 2-post rackmount hardware accessories available;
Field replaceable, hot-swappable power module and external battery packs;
Attractive all-black color scheme.