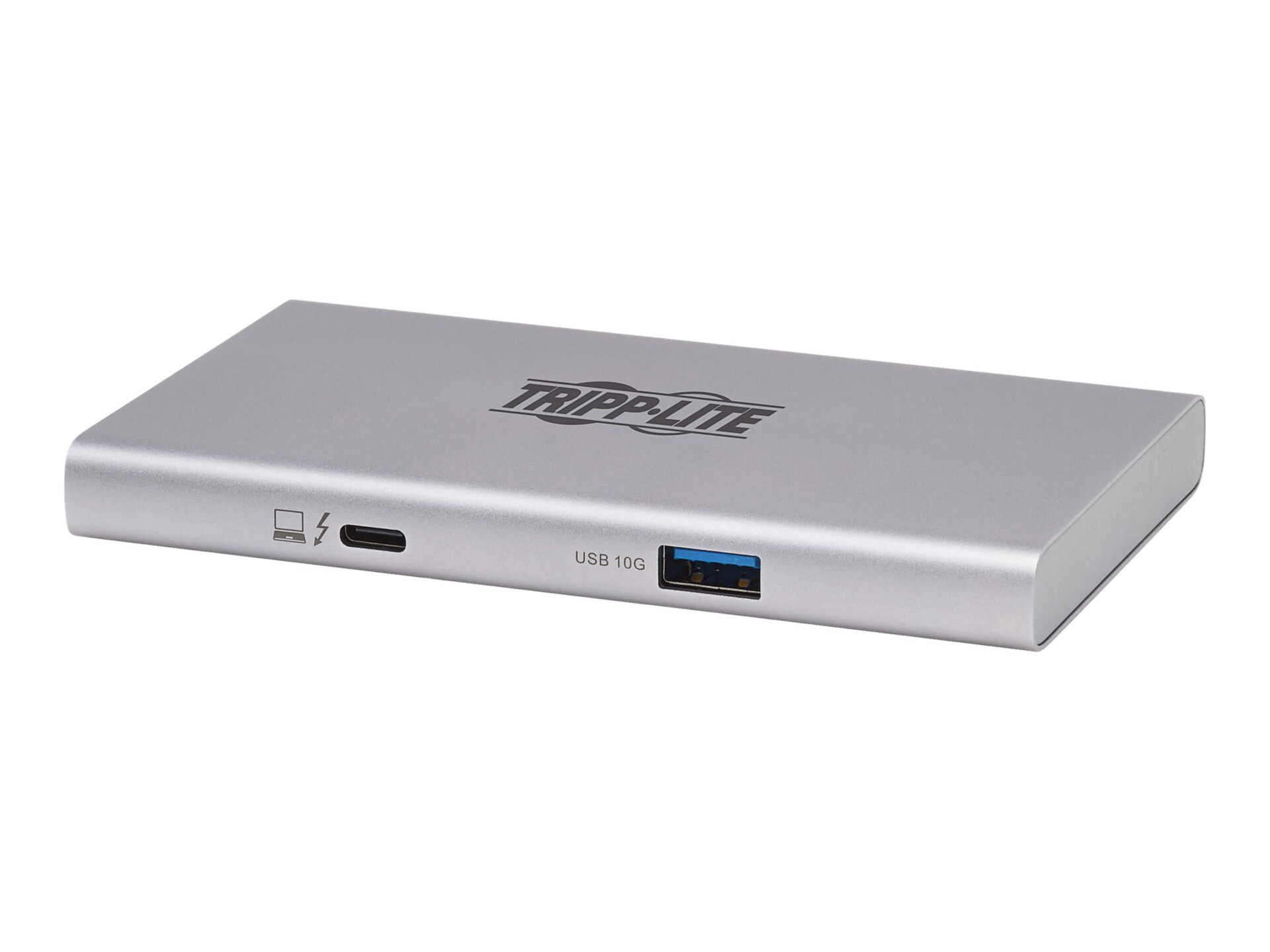 Quick tech specs
Connects 10G Ethernet network equipment in industrial/harsh environments subject to vibration/humidity/extre- me temps
Supports 60W PoE to save you expense/effort of powering PoE devices individually
Blue PVC jacket easy to identify quickly in field devices/controllers/swit- ches
M12 Connector end IP68-rated to resist dust/endure immersion in 15 m of water up to 60min
UL CMR-LP certified to meet high-temperature safety standards in PoE applications
Tripp Lite is now a part of Eaton
View All
Know your gear
Thunderbolt 4 Hub Turns Your Laptop or Computer into a 4-Port 8K Workstation

Tripp Lite's versatile MTB4-HUB3-01 dramatically expands the potential of your desktop computer or laptop by adding four ports to its Thunderbolt 4 or Thunderbolt 3 port. It goes further than a USB-C hub, offering three Thunderbolt 4 ports that support 8K video and 40 Gbps data transfer speeds. All three ports are backward compatible with Thunderbolt 3 and USB-C monitors as well. A USB 3.2 Gen 2 port allows speeds up to 10 Gbps.

Thunderbolt 4 Supports Blisteringly Fast 40 Gbps Data Transfer Speeds

The Thunderbolt 4 hub supports bidirectional speeds up to 40 Gbps, which is eight times faster than USB 3.0, four times faster than Thunderbolt 1 and twice as fast as Thunderbolt 2. With dual 20 Gbps channels moving data both directions at the same time, the MTB4-HUB3-01 is perfectly suited for video playback or Zoom meetings on one monitor and video editing or document sharing on another. Because Thunderbolt 4 supports minimum PCIe (PCI Express) data rates of 32 Gbps (twice that of Thunderbolt 3), transferring large RAW video, Photoshop images or CAD files takes hardly any time at all.

Transmits Crystal-Clear 8K and 4K Video for Professional Editing and Digital Signage

When connected to a Thunderbolt 4 source, the hub supports one 8K monitor (7680 x 4320 at 30 Hz) or two 4K monitors (3840 x 2160 at 60 Hz). With dual monitors, you can display the same image on both, extend your host desktop across them, or combine all screens into one large display as a video wall. The Thunderbolt 4 ports also accept Thunderbolt 3 and USB-C monitors for trade shows and video presentations.

Note

: Source device must support DisplayPort 1.3 to achieve 8K resolution.

Cascade up to 6 Thunderbolt Devices at Once

The hub's three Thunderbolt 4 ports let you connect three devices directly and cascade another three for six connected devices in total. Add 4K and 8K displays, hard drives, RAID memory, SD card readers, audio speakers and even additional docks and hubs to your original source device. The hub's 40 Gbps data speed is shared among all ports and connected peripherals and displays.

USB Port Connects Thumb Drives and Other USB Peripherals

The USB-A hub port supports USB 3.2 Gen 2 speeds up to 10 Gbps, which is twice as fast as USB 3.2 Gen 1. It accepts high-speed USB peripherals, such as external hard drives, giving you access to essential data storage. It also supports downstream charging of mobile devices up to 900mA (0.9A) and is backward compatible with previous USB generations.

Smart Power Function Allocates Power to Connected Devices Efficiently and Safely

The hub features a 20V 5A (100W) power input and can provide 60W to charge the source device, such as a Chromebook, MacBook Pro or iPad Pro. Each Thunderbolt 4 port supports up to 15W downstream charging for connected devices. The USB-A port supports 0.9A. The hub determines how much power is required by each port and allocates the power accordingly.

Note

: This hub does not support PD Charging.

Ready to Use Right from the Package, So You Can Plug and Play Immediately

The plug-and-play Thunderbolt 4 hub is specifically designed for Windows devices compatible with Thunderbolt 4 or macOS devices running Thunderbolt 3. It requires no extra software to be downloaded and installed. Simply connect the included Thunderbolt 4 cable to your computer's Thunderbolt port.
Contact Sales Assistance
(800) 800-4239
,
Monday-Friday 7am-7:30pm CT