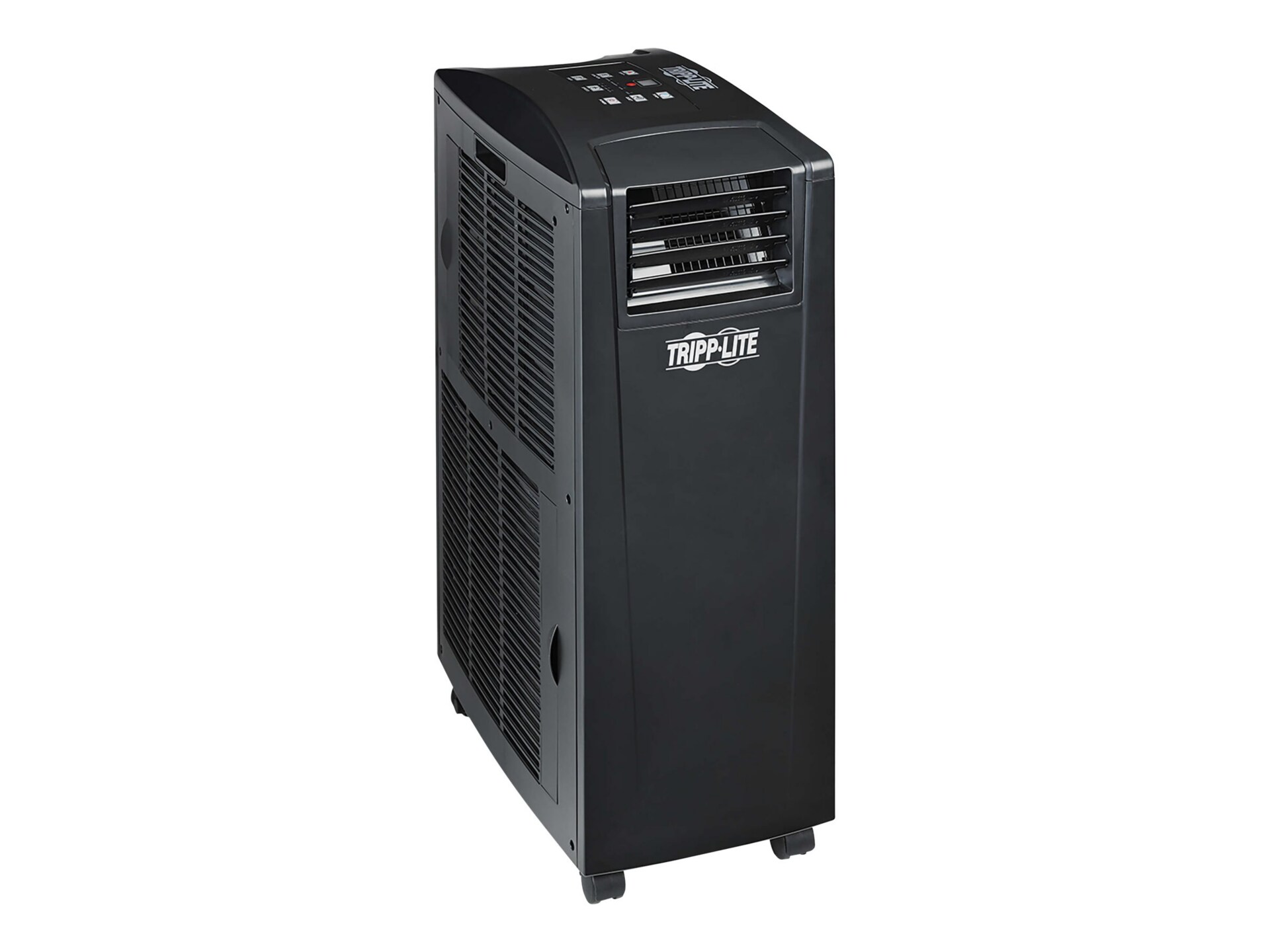 Quick tech specs
Portable air conditioning/cooling unit for rack enlcosures in server rooms/ data centers/ network closets
Self contained w/ built-in evaporator eliminates the need for a drain tube/pan
Spot Cooling Unit/ Cooling Unit Air/ Air Conditioner/ Cooling Fans/ Cooling Power/ Portable Cooling Unit
2 Year Tripp Lite Warranty
Provides 12,000 BTU (3.5kW) of cooling capacity and filters/ dehumidifies air
Plugs into a standard 15-amp outlet (5-15R)
Restarts automatically after power failure
View All
Know your gear
SRCOOL12K Portable Air Conditioning Unit
Tripp Lite's SRCOOL12K is a new-generation air conditioner designed for supplemental area cooling, emergency cooling and off-hour cooling applications. Efficient, compact, self-contained and portable, the 120V, 60 Hz SRCOOL12K is ideal for use in data centers, server and wiring closets, IT environments, home and small business offices, conference rooms, warehouses, entertainment centers or other venues with heat-sensitive equipment, particularly in areas that facility air conditioning can't reach. The SRCOOL12K not only adjusts ambient room temperatures, but can also dehumidify and filter the air, providing better air quality for enhanced equipment performance with minimal noise and power consumption. The SRCOOL12K uses environmentally friendly R410a Freon, which complies with EPA standards for 2010 and beyond, and is accepted worldwide.

Designed for quick, simple installation, the SRCOOL12K plugs into a standard 5-15R outlet with no adapter required. Both a standard louvered vent (for general room cooling) and a directional ducted cooling vent (to direct cold air where most needed) are provided. A directional exhaust duct safely removes hot air from the room. The built-in dehumidifier expels condensed water through the exhaust duct, with no need for a drain tube, drain pan or water collection tank.

The SRCOOL12K meets the needs of the most demanding applications with 12,000 BTU of cooling power. A built-in timer enables the unit to be programmed for unattended startup and shutdown. Controls and displays are conveniently mounted on the top panel. An included window/drop ceiling kit provides multiple installation options.

Key Features
•Compact, portable, self-contained design; ideal for IT, industrial, commercial and similar applications
•Quick and easy installation with louvered or directional cooling vent; window/drop ceiling kit included
•12,000 BTU of cooling power
•Cools in confined spaces where facility air conditioning can't reach
•Dehumidifies and filters air to promote more efficient equipment performance
•No drain tube, drain pan or water collection tank required
•Built-in timer for automatic unattended startup and shutdown
•Quiet operation with minimal power consumption
•Uses environmentally friendly R410a Freon
•Convenient top-mounted controls and displays
•120V AC input, 60 Hz frequency compatibility
•Plugs into a standard 5-15R outlet—no adapter required
Tripp Lite Portable Cooling Unit Air Conditioner Conditioning 12K BTU 120V
is rated
4.59
out of
5
by
54
.
Rated

5

out of

5
by
Rob
from
Quick response on problems has been impressive.
We have had the unit for 7 months. Our first unit was making a unnatural sound. We contacted product support and the shipped us a replacement. It is working perfectly. Thanks.
Date published: 2015-12-03T00:00:00-05:00
Rated

5

out of

5
by
Brandon
from
This units cools great
This unit works great. It's nice to have a unit that doesn't need a drain connected. We use this unit 24/7/365 and it still cools like the first day we installed it.
Date published: 2014-10-29T00:00:00-04:00
Rated

5

out of

5
by
PxPx
from
SRCOOLNET
When is the SRCOOLNET accessory for this AC Unit coming out I can't find anything on it.
Date published: 2013-10-14T00:00:00-04:00
Rated

5

out of

5
by
Fierce
from
Very happy so far!
We use it in a 7x7 enclosed room with 5 servers in it. There is also a pc, battery backup, and a switchboard in the room. It was easy to install. The included vent kit goes neatly up into the drop ceiling without issue. It has been running like a champ since it was installed. Have had running about 9 months so longevity is to be determined. Very pleased with the product so far. Easily keeps the room at our set point of 76F; even through the hot summer when the room was extra hot. Great product.
Date published: 2015-12-08T00:00:00-05:00
Rated

5

out of

5
by
fix-it dude
from
This unit works well.
This unit was installed 2 years ago and has not required any tweaking. It cools a small server room down and does it effortlessly.I would highly recommend this unit.
Date published: 2014-10-01T00:00:00-04:00
Rated

5

out of

5
by
NorCalSurfgoddess
from
Brrrrr Dogs Cold
I have a Server room in an old building and it is in the interior of the floor so no windows or any way to vent the heat.This device has a vent system that lets you vent through a drop ceiling.We installed it in a 300 sq ft server room with 4 servers and 5 workstations running 24/7 and the room is at a constant 65 measured at the server rack!
Date published: 2013-06-14T00:00:00-04:00
Rated

5

out of

5
by
Zero Cooling
from
Plastic Garbage
We have gone through 3 of these units. The plastic blowers fly apart and wreck everything inside.
Date published: 2017-01-31T00:00:00-05:00
Rated

5

out of

5
by
Jason the Grower
from
Happy with my purchase
This product has done what I purchased it for: keep a small-ish room cool. I had to send in my unit to be warranty replaced about 8 months into it's life.....and the warranty replacement they sent me didn't work either....but the next replacement did work and is still working great for me. I like the slim design (doesn't take up too much room) and I like the ducting that you can use to direct the cold air where you want it to go. I also like the auto-restart feature that remembers what I had the temperature set at EVEN AFTER 7 DAYS OF OUR POWER BEING OUT!!! :) Not a bad unit...I would probably buy it again. A little spendy, but appears to be a bit more durable than other portable AC units.
Date published: 2015-12-03T00:00:00-05:00
Rated

5

out of

5
by
wylertay
from
Excellent AC Unit
We have been running the SRCOOL12K for over a year, and it has run flawlessly. Despite building AC, we still experience heat buildup in our server room. This unit has done an excellent job of taking the edge off and keeping our server room cool. It runs 365 days a year and 24x7.Honestly, I think it would be a great spot AC unit for the home it works so well. It runs much better than some of the cheap portable units you see at Costco.
Date published: 2013-09-05T00:00:00-04:00
Rated

5

out of

5
by
Mike
from
Great un with excellent support!it
Our first unit worked for almost a year with no issues and cooled our server room exactly as expected. The compressor broke, but I'm still giving this unit 5 stars because Tripp Lite customer service was great with sending a replacement very quickly with little hassle. The second unit has been going strong!
Date published: 2015-12-03T00:00:00-05:00