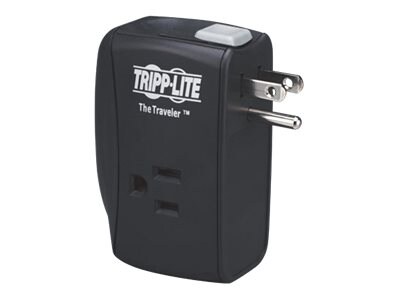 Quick tech specs
Direct Plug-in surge suppressor offers complete AC and phone line surge suppression for laptops electronic notepads personal organizers and other portable electronic devices from dangerous power surges spikes and line noise
Set of RJ11 telephone line suppression jacks protect tel dial-up and DSL modem lines fax machines cordless phones
Lifetime Tripp Lite Warranty
Ideal for home office workstations client office dorm and hotel rooms
Travel/ Portable Power Strip/ 15 A/ 1050 Joules
View All
Know your gear
Tripp Lite's portable TRAVELER surge suppressor offers complete AC and phone line surge suppression for laptops, electronic notepads, personal organizers and other portable electronic devices. Compact portable housing weighing less than 4 ounces neatly fits into laptop travel cases. Retractable plug prevents scratching of expensive portable electronics. Set of RJ11 telephone line suppression jacks protect dialup and DSL modem lines. TRAVELER offers 2 total outlets in a space saving direct plug-in format and diagnostic LEDs to warn of wiring problems and suppressor damage.


Tripp Lite Notebook Surge Protector Wallmount Direct Plug In 2 Outlet RJ11
is rated
4.57
out of
5
by
23
.
Rated

5

out of

5
by
KCGA
from
null
This surge protector seems to be very poorly manufactured and is an item you might expect to find in a dollar store.
Date published: 2007-09-04T00:00:00-04:00
Rated

5

out of

5
by
Neil
from
Just what I needed to protect my expensive electronics.
I have a coffee maker that draws a lot of power away from a Sonos speaker I have plugged into the same outlet. The Tripp-Lite protector gives me comfort that my expensive speaker will be protected.
Date published: 2020-07-24T00:00:00-04:00
Rated

5

out of

5
by
Chris
from
Total Protection
I purchased this for the insurance. My last surge protector from Monstor destroyed the circuit board on my pellet stove, and the company will not answer my emails. ThanksTripp Lite!
Date published: 2020-04-19T00:00:00-04:00
Rated

5

out of

5
by
Jay
from
Plan to buy more.
I purchased three of these to protect sensitive equipment from surges. Power company wants too much to put in whole house protection so these were highly rated and much more economical. The higher the Joule rating the better. Has two outlets and indicator lights to confirm operation.
Date published: 2020-05-24T00:00:00-04:00
Rated

5

out of

5
by
Airborne6176
from
GREAT AC plug for PC Users on the go...
Very nice, compact AC plug for when you need just an extra AC outlet while you are traveling or have to share one outlet w/ someone else. It works as advertised (powering my dv5 and/or tx2) and fits in my notebook case(s) w/o problems, as the AC plug itself is retractable to save space. Have yet to test out the surge protector feature, however. I'm sure this item will do the job for on-the-go situations to supply you PC w/ power and have space to spare for other gear. Highly recommended!
Date published: 2010-01-30T00:00:00-05:00
Rated

5

out of

5
by
Robear
from
"Traveler" doesn't travel far enough
Convenient and essentially as advertised with one big negative. This "Traveler" should be called "North American Traveler" as it does not work on 220/240 voltage. HP's and everybody else's laptops and minis as well as other appliances now are dual voltage. You'll need a plug adapter, but that's all. However, this surge protector only works on US/Can 110 voltage. In an age of email and Skype a laptop or mini, is indispensible on a foreign business trip and a great convenience on an overseas vacation. I was careless enough to not read the specs and to assume that the Traveler was a real traveler, but I was wrong. The TrippLite Traveler blew in a shower of French sparks. Fortunately, my HP laptop is OK as; the Traveler gave its life for my computer. IMO HP should sell an item like this for World wide use not just domestic.
Date published: 2010-01-28T00:00:00-05:00
Rated

5

out of

5
by
KYFP
from
Confident traveling
Easy to use. Lightweight. Retracting plug prongs make it more portable.
Date published: 2008-11-27T00:00:00-05:00
Rated

5

out of

5
by
cherbob
from
Tripp Lite Travelor Surge Protector
I have had no problems with this, and am very content with purchasing. I now feel safe when plugging in my laptop while working out on my porch or away from home. I would definitely recommend that anyone with laptop have one.
Date published: 2010-03-09T00:00:00-05:00
Rated

5

out of

5
by
Harleybabe5772
from
tripp traveler surgwe protector
Bought this to take with my lap top on motorcycle trips, Nice and compact
Date published: 2008-12-02T00:00:00-05:00
Rated

5

out of

5
by
SirTravelsalot
from
Great alternative to a power strip
I have had my Tripp Lite Protector for three years now and am very pleased with it. The size makes it very easy to carry in a computer case or back pack. I travel and camp alot and find myself in lots of hotel rooms and places where the AC is questionable. This device acts as a surge protector, line conditioner and power strip. The LED's give a visual representation of how smooth the AC is. The only reason that I did not give this device a five star rating is that sometimes the retractable lock slips when inserting it into an outlet. This is an inexpensive peice of mind when it comes to protecting your expensive electronics.
Date published: 2008-11-27T00:00:00-05:00
Rated

5

out of

5
by
mhtoter
from
Tripp Lite Traveler Surge Protector
Excelent little pocket size protection. I have had this for a couple of years now with out any problems or malfunctions. Highly Reccomended!
Date published: 2008-11-27T00:00:00-05:00
Rated

5

out of

5
by
sanyewest
from
must have
this is a great thing to have when ur on the road i got 2 of those so i all ways have one if i need it this is a must have
Date published: 2013-12-17T00:00:00-05:00
Rated

5

out of

5
by
SKND
from
Love this tiny protector
Such a great product! I have owned this tiny power surge protector for about 18 months and don't leave the house with my laptop or tablet with taking this protector and power plug. Highly recommend a purchase of one if you want to protect your electronic device!
Date published: 2013-09-06T00:00:00-04:00
Rated

5

out of

5
by
Herb
from
I really needed this
This protector was perfect for my needs. Compact but powerful. I love it.
Date published: 2017-10-12T00:00:00-04:00
Rated

5

out of

5
by
jdrewf
from
excellent protection for travel and home use
Perfect balance of design and features for travel protection. I travel for business and spend a lot of time in hotels rooms and use the traveler to protect my work laptop computer. The compact design makes it perfect for travel where space is always at a premium. It functions without problem. Especially reassuring is the maker, Tripp-Lite, giving me peace of mind my computer and critical data are well protected. I like the traveler enough to purchase one for my personal computer.
Date published: 2014-10-02T00:00:00-04:00
Rated

5

out of

5
by
Chuck
from
Simple and convenient
Bought this protector for our cordless phones. Recent on/off power outage fried all the phone batteries. This one is compact and also protects the phone line in addition to electrical power. A week after installing, we experienced another on/off outage with these installed. The main phone did not need to be reset for the first time ever after one of those occurrences.
Date published: 2016-08-06T00:00:00-04:00
Rated

5

out of

5
by
bwweather
from
Rugged and Durable
I just bought this product, and I feel that it is a rugged and durable enough product for travelling.
Date published: 2012-05-06T00:00:00-04:00
Rated

5

out of

5
by
Grosenthal13
from
This product has excellent protection for travel use and is easy to use for my protection of computer when traveling.
I appreciate the simplicity and safety I get from the use of this product for the use of my computer when traveling and going places outside my home. It is great in airports, hotels, convention centers and across the united states, canada, all the places I travel on business or pleasure year round. I would not use my laptop without it outside my home!
Date published: 2012-04-10T00:00:00-04:00
Rated

5

out of

5
by
grandmamarsha6
from
EASY TO USE
This is a great product for use at the cabin and at home, packs easily and travels well. I take it with me wherever my laptop goes!
Date published: 2014-10-29T00:00:00-04:00
Rated

5

out of

5
by
Eric
from
a great product
works great. easy to carry along while traveling. glad to have it in hotel rooms with me.
Date published: 2015-03-16T00:00:00-04:00
Rated

5

out of

5
by
Todd
from
Travel Protection
This is well built and very portable. Although I use it for travel, I also take my laptop from room to room in my house and this easy to move suppressor is just what I needed. The retractable prongs and the double outlet lets me plug other electronic devices and have additional surge protection. It's easy to pack for travel and takes up very little room no matter where you pack it.
Date published: 2013-09-05T00:00:00-04:00
Rated

5

out of

5
by
Rozi
from
Very Useful Protection
This compact and useful surge protector has been in my travel bag for several years. It is compact and the retractable prongs make it easy to stash. Having multiple outlets on such a small device is a bonus.
Date published: 2013-09-11T00:00:00-04:00
Rated

5

out of

5
by
Lynn
from
Yes
I purchased the Tripp-Traveler portable surge protector, to protect my new Sensaphone 400. I had to replace my previous Sensaphone 1104, which I had for 10 years due to electrical surge. I am most enthusiastic about the size and the protection provided
Date published: 2019-07-17T00:00:00-04:00