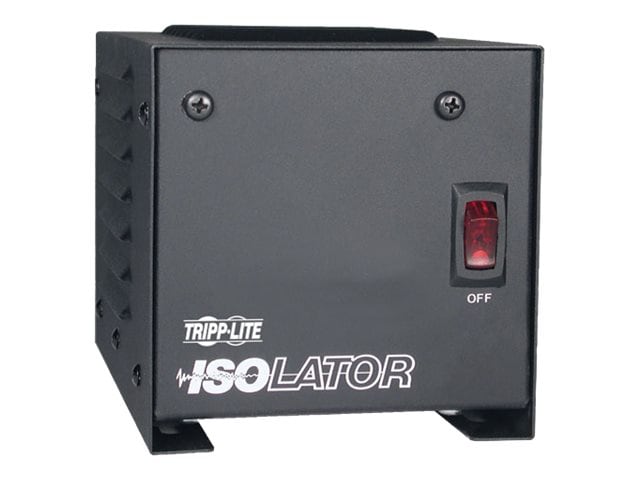 Quick tech specs
Isolation transformer-based power conditioners offer complete line isolation/ continuous noise filtering and enhanced normal and common mode surge suppression
TAA Compliant for GSA Schedule purchases
2 Year Tripp Lite Warranty
Supports combined loads up to 250 watts continuous/2.1A at 120V
2 outlets/ 6-ft. power cord/ Surge Suppressor/ Power Conditioner/ surge protector/ NEMA5-15R output receptacles/ circuit breaker overload protection/ lighted power switch/ NEMA 5-15P input
View All
Know your gear
Tripp Lite Isolator series isolation transformers offer complete line isolation, continuous noise filtering and enhanced common mode surge suppression. Internal low-impedance isolation transformer component with Faraday Shield offers 100% isolation from the input AC line. Secondary neutral to ground bonding eliminates common mode noise, providing an isolated ground reference for sensitive equipment and an inexpensive alternative to the installation of dedicated circuits and site electrical upgrades. Removes EMI/RFI noise, utility switching transients, background spikes generated by other on-site loads and utility or lightning related surge conditions. Additional surge suppression components placed at both the line input and transformer output combined with full line isolation offers continuous line filtering of a full range of power line noise in all modes. Active transformer filtering with no wearable parts is uniquely able to reduce surges in the worst of power environments to harmless levels. Reduces 6000V IEEE587 Cat AandB ring wave and combination wave test surges to only 0.5V common mode.

Model IS250 offers 250 watts capacity with 2 widely spaced output receptacles, a 6-ft power cord, circuit breaker overload protection and lighted power switch. Rugged all-metal unit housing ships ready for upright tower or wallmount placement in industrial, medical, office or network environment.


Tripp Lite Isolation Transformer 250W Surge 120V 2 Outlet 6ft Cord TAA GSA
is rated
5.00
out of
5
by
4
.
Rated

5

out of

5
by
brandonjchase
from
Noticeably reduced the level of floor noise in my studio monitors
Power in a home studio can be a nightmare. You have pipes in the walls, cable wires, and usually at least a little, if not a lot, of "dirty" power. I've been using Furman power conditioners and was getting irritated by the white noise I was getting, so I decided I'd try something else out. I just purchased the IS250 and as soon as I plugged my JBL LSR4326P monitors into it, I could hear a noticeable difference in the "floor noise". I definitely recommend this product to anyone wanting to clean up their power. I think it's a must when it comes to audio.
Date published: 2013-06-06T00:00:00-04:00
Rated

5

out of

5
by
Rmac58
from
Does the job.
I had a hum in my new sub-woofer. After much searching, I narrowed my problem down to a house electrical issue. All circuits had the same problem. Once plugged in, no more hum.There are two outlets on this item, so when I add another sub-woofer, I'll use the currently open outlet.This is a well built unit that has worked flawlessly.
Date published: 2012-06-13T00:00:00-04:00
Rated

5

out of

5
by
Gary
from
A will built isolation transformer.
I'm not using this isolation transformer for audio purposes, But for using on my electronics test bench. To get TestBench isolation I had to do minor rewiring in order not to damage my oscilloscope and potentially other equipment. If you want TestBench isolation there are good videos on YouTube explaining why it should be done and how it should be done.
Date published: 2017-02-23T00:00:00-05:00
Rated

5

out of

5
by
Zed
from
Worked For Me
Bought it for my vintage guitar amps because of neon ballasts in my house, it took the noise away and I am very happy. Great product.
Date published: 2017-06-27T00:00:00-04:00
Rated

5

out of

5
by
marty39
from
Not for cleaning up generator output
I have a standby natural gas fired generator in my home that runs when utility power is down. It runs a 20 minute test every week. During those 20 minutes, the UPSs (uninterruptible power supplies) on our computers keep switching back and forth to battery power, even though the frequency and voltage from the generator are correct.I thought an isolation transformer would clean up the output of the generator so that the UPSs would not switch to battery power. Wrong. An isolation transformer can eliminate spikes and high frequency distortion components, but (because the magnetic properties of iron are nonlinear) it generates distortion itself. The UPSs work better without the isolation transformer.
Date published: 2013-09-05T00:00:00-04:00
Rated

5

out of

5
by
Eymard
from
I would by this product again
Works as advertised!
Date published: 2019-06-18T00:00:00-04:00
Rated

5

out of

5
by
Gerard Halfyard
from
Great Product!
I own a mobile DJ company and Tripplite is an incredible product to protect my sensitive electronic equipment.
Date published: 2017-10-28T00:00:00-04:00
Rated

5

out of

5
by
Jim
from
Perfect Little Isolator At An Excellent Price!
Perfect isolator for old radio restoration (after slight modification). Looked at several before this purchase and liked this model as well as the price. Have been using it for some time now and it makes those dangerous hot chassis so much safer (again, after slight modification).
Date published: 2019-01-12T00:00:00-05:00
Rated

5

out of

5
by
Bob
from
Best for dirty power and expensive audio configuration.
Zero noise for my 7.2 audio setup. The power is bad in my house and the iso-trans from Tripplite was the answer.
Date published: 2018-05-23T00:00:00-04:00