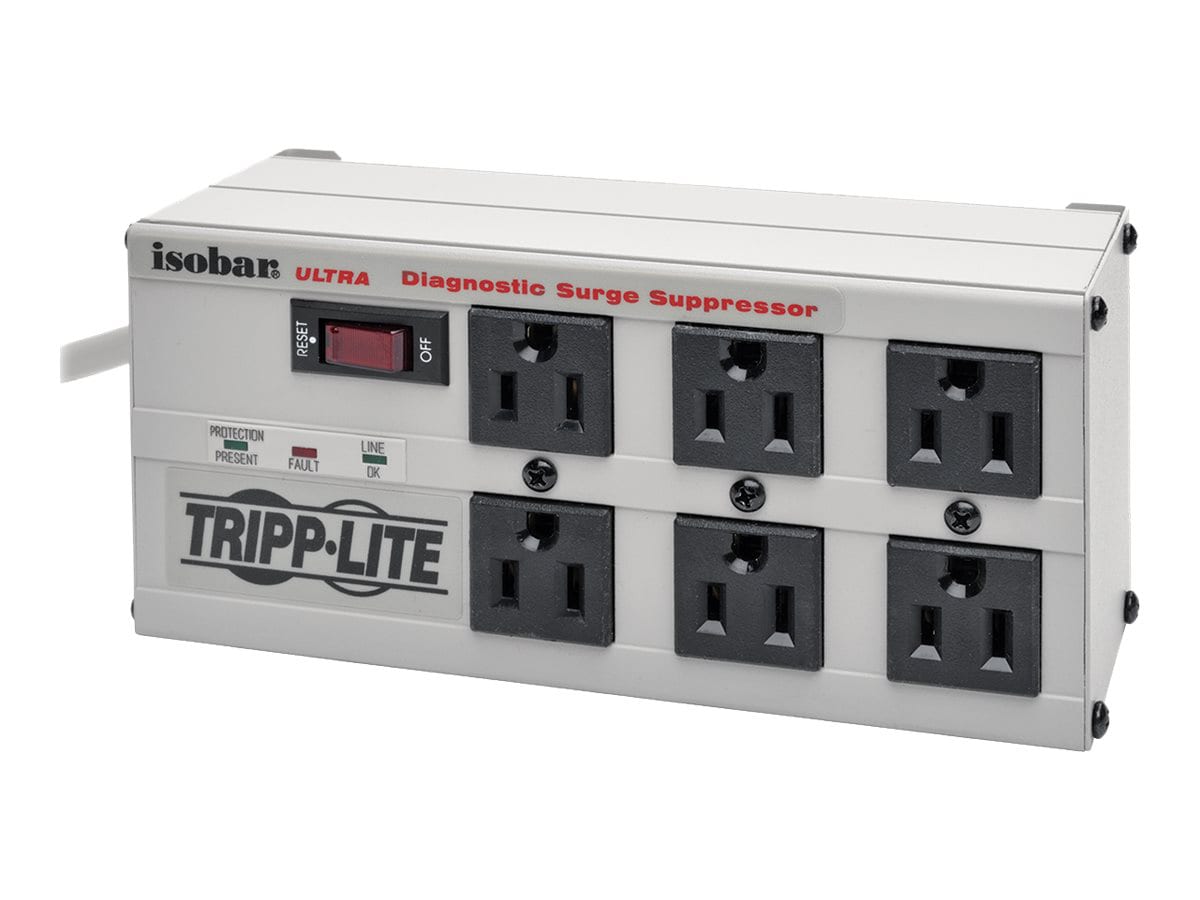 Quick tech specs
Premium protection for your A/V components network hardware retail displays appliances power tools and other electronics against even the strongest surges and spikes
12A circuit breaker protects outlets and shuts down connected equipment in the event of an overload
Lifetime Tripp Lite Warranty
Surge suppressor for network workstations telecom systems point-of-sale equipment and audio/video systems in home office and industrial environments
Power Strip/ Right-angle NEMA 5-15P plug
View All
Know your gear
For more than 20 years, America's leading companies have trusted Tripp Lite's Isobar Premium surge and noise protectors to protect sensitive computer, networking and telecom equipment. With more than 18 million satisfied customers, the Isobar remains the world's number one selling premium surge protector. Loaded with a generous combination of high quality components, near indestructible all-metal case and unique noise filtration system, the Isobar offers the highest level of protection attainable in a multi-outlet strip. Robust surge suppression circuits with sine-wave tracking offer extreme levels of protection against the heaviest surge conditions exceeding IEEE 587 category A and B specifications and reducing 6,000V test surges to harmless levels under 35 volts. Isobar's unique protection system combines large toroidal chokes, ferrite rod-core inductors, HF/VHF capacitors and multiple layers of metal oxide varistors into exclusive isolated filter banks that remove EMI/RFI interference, even noise generated by other pieces of connected equipment. ISOBAR6ULTRA offers 6 outlets arranged in three filter banks to prevent system crashes, reboots and performance problems common as noisy system peripherals are powered off and on. Surge suppression rated at 3330 joules/97,000 amps offers network-grade protection. Widely spaced NEMA 5-15 outlets accommodate up to 4 large transformer plugs without blocking outlets. Diagnostic LEDs confirm power availability, line fault and protection status. Includes 6 foot AC line cord with space-saving angled input plug, keyhole mounting tabs and a set of 4 child safety covers.

Tripp Lite Isobar Surge Protector Metal 6 Outlet 6ft Cord 3330 Joules
is rated
4.80
out of
5
by
56
.
Rated

5

out of

5
by
Vicki
from
Perfect!
Just what I needed to protect all the extra gadgets that work with my computer!
Date published: 2019-07-14T00:00:00-04:00
Rated

5

out of

5
by
Mr. N.E.
from
"Gooder" Specs!
After seeing the great rating from a leading Consumer Ratings Magazine I bought 4. After a few years I had a problem with one .....don't know why. I contacted the Mfgr. & they replaced the bad one - with no hassles. Now, 5 years later, they are working perfectly. I will never buy another brand!Mr. N.E. - Bossier City, La.
Date published: 2013-09-06T00:00:00-04:00
Rated

5

out of

5
by
Mike
from
Built like a tank
I bought this to replace a surge protector that had incredibly bright lights on it and kept me awake at night. I have seen the Isobar used in businesses for years, so I figured they must be good. I purchased one for myself and when it arrived, it's built like a tank. I could throw this thing across the room and it wouldn't hurt it (not that I would).I have a Visual Studio 2010/Photoshop CS4 system hooked up into this surge protector and I feel that if there a major storm came through, this would probably explode before my system would ever go down and I'm okay with that. I have personally seen the components inside one of these and everything is properly rated.I'd definitely buy again and again.
Date published: 2014-06-14T00:00:00-04:00
Rated

5

out of

5
by
Jk19902
from
Good product
I have had this product for 4 years now. No issues at all. It's good to know that your electronics are protected.
Date published: 2013-09-16T00:00:00-04:00
Rated

5

out of

5
by
Short Shot
from
My Isobar is built to last and worth every penny.
I have had my Isobars for so long now that I almost forgot I have them. All my sensitive and expensive equipment is plugged into my Isobars. Everything from the construction, top quality materials used to even the cord, my Isobars are still in use. Through power surges and blown transformers, my Isobars have proven they can handle anything.
Date published: 2014-10-29T00:00:00-04:00
Rated

5

out of

5
by
lonergenius
from
Well done!
This is a great, reliable product at the right price.
Date published: 2011-12-08T00:00:00-05:00
Rated

5

out of

5
by
Craig
from
Great product
Great product, holds up well to the abuse and the right angle plug makes this product great for behind desks.
Date published: 2017-08-23T00:00:00-04:00
Rated

5

out of

5
by
Freddy Bear
from
What a great product, company and Customer Service!
20 years ago I bought this unit to protect my computer equipment from voltage spikes, lightning. I paid a little more than products offered by other manufacturers, but looking at it, holding it in my hands, feeling its weight, I immediately saw that this is highest quality, made to last. It hasn't disappointed me. When it finally developed a minor short in On-Off switch (unit was still perfectly functional) after 20 years, I called Customer Service, and they instantly issued me a whole new unit without any questions. Not only that, but it arrived free of charge, UPS shipping paid, on my doorstep in about 4 days! Those guys are great. I will always consider using Tripp Lite company for any of my electronic needs in the future, and I tell others about what a great product the Isotel Ultra 6-outlet Surge Suppressor has been for me.
Date published: 2018-06-19T00:00:00-04:00
Rated

5

out of

5
by
Ardeesee
from
It is what it is!
Probably the bes surge protector around that isn't a battery backup. I say probably because it hasn't had to do it's job yet. I have a six and a four outlet and both were easily mounted and functioning very well.
Date published: 2017-09-14T00:00:00-04:00
Rated

5

out of

5
by
eclipsen
from
Great product!
I have been using this item for several years now. It continues to prove very reliable. Although I have been lucky not to have any surges, the convenience of the 6 outlets comes in handy.
Date published: 2013-09-16T00:00:00-04:00