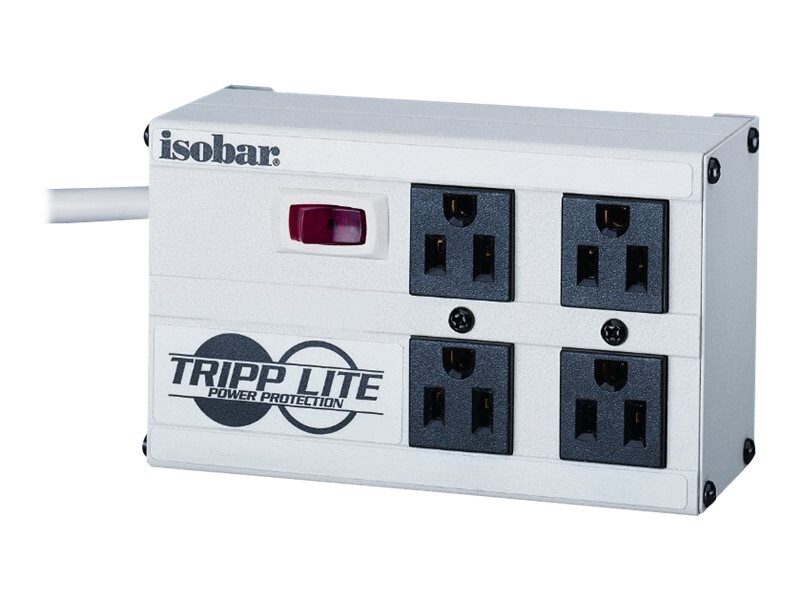 Quick tech specs
Protection for A/V components network hardware retail displays appliances power tools and other electronics against dangerous surges spikes and line noise in home office and industrial environments
12A resettable circuit breaker protects outlets and shuts down equipment in the event of an overload
Lifetime Tripp Lite Warranty
Surge suppressor for network workstations telecom systems point-of-sale equipment and audio/video systems
Power Strip/ Right-angle NEMA 5-15P plug
View All
Know your gear
Tripp Lite's Isobar 4 Surge Suppressor has 4 outlets, a 6-ft. cord with a space-saving right-angle plug, and 3330 joules of energy absorption. Exclusive isolated filter banks eliminate interference between connected equipment. Isobars are virtually indestructible with their heavy-duty all-metal housing which won't burn, crack, or melt. The Isobar 4 comes with child safety covers.
Tripp Lite Isobar Surge Protector Metal 4 Outlet 6ft Cord 3330 Joules
is rated
4.86
out of
5
by
14
.
Rated

5

out of

5
by
dmcminds
from
Two Problems
I received the IBAR4 today and immediately discovered two problems. First, the serial number on the unit did not match anything on the web site tutorial for locating the serial number. Second, I expected a heavy duty ground lug, but the only ground connection is an unlabeled small silver screw on the end of the unit where the power cord enters. Furthermore, there is no mention of this screw in the owner's manual. I had to call support to get answers to both issues.
Date published: 2012-03-26T00:00:00-04:00
Rated

5

out of

5
by
Surfplug
from
Protected with Isobar 4
I have several of these and other Tripp Lite surge protectors that protects my electrical equipment from my security system, component stereo equipment, and televisions.
Date published: 2017-08-23T00:00:00-04:00
Rated

5

out of

5
by
GW
from
Confident Protection
I use this product on all electronic devices and major appliances which have electronic controls. I would not use another brand of surge protection.
Date published: 2018-09-20T00:00:00-04:00
Rated

5

out of

5
by
acbr
from
THIS is what high-end equipment needs
No relay surge protect here, the name "Isobar" says it; each plug has a dedicated wiring so that each item plugged in has full isolated protection. Especially useful when two components might draw power simultaneously just as a surge or spike hits. We have a laser printer in one plug and our copier in another. We could not use a regular surge protector, unless we had two, each one dedicated to one machine only. This Isobar is cost-effective and also indicates faults where an everyday surge protector more often than not does not tell you when it's lost it's full protection effectiveness.
Date published: 2017-03-20T00:00:00-04:00
Rated

5

out of

5
by
MusicianBear
from
Protecting My Electronic Equipment for Decades
I learned about Tripp-Lite surge protectors when I worked as a Computer Systems Field Service Engineer over 15 years ago. I visited customer sites where major power-line disturbances had occurred. Some Isobar surge protectors had failed - when they stopped lightning strikes (!), but whatever had been plugged into them remained unscathed. When it came time to specify power protection for my workshop and studio I selected Tripp-Lite Isobar Surge Protectors. I have had no reason to doubt my selection, and it has been over a decade.
Date published: 2013-09-13T00:00:00-04:00
Rated

5

out of

5
by
patty
from
This product is indestructible.
The product has been kicked, dropped, pulled, and etc. I have had the product for about a year and few power outs. The equipment that is plugged into it is still running. This is the one thing my internet company did right. They recommended this product.
Date published: 2013-09-06T00:00:00-04:00
Rated

5

out of

5
by
DH in Rural WI
from
Excellent Product & Warranty
I bought my first IBAR4 in the 1980's when I got my first computer while working at a software company. This is the one they recommended and I have never regretted it. When the original one from the 80's died, it was only a phone call and it was replaced under the lifetime warranty - I was ecstatic. We now live in a rural area with less than stellar electric service with many surges. Nothing has gotten through this surge protector. Highly recommend.
Date published: 2013-09-16T00:00:00-04:00
Rated

5

out of

5
by
NIKOMAN
from
Best protection!
ISOBAR is a premium surge protection product. I have tried many UPS's and surge protection products. UPS units are good to use, especially if you work/live in an area where power fluctuations or outages occur frequently. However, UPS units have batteries that eventually need to replaced. UPS's are a tad more expensive and do not over the same joule/surge rating. The metal housing on the ISOBAR is indestructible, fire-safe, and features multiple isolated filter banks with quality surge absorbing components. The Ultra 4 has a rating of 3330 Joules (the greater the number, the better it is) and costs less than comparable Belkin, APC, and/or brands. TRIPPLITE makes other solid products; ISOBAR is the pinnacle in surge protection.
Date published: 2012-11-06T00:00:00-05:00
Rated

5

out of

5
by
werodda
from
Relax with IBAR4 on the job
I have been using IBAR4 and related Tripp-Lite products for more than 8 years. Tripp-Lite stands behind this very well designed and manufactured product line, and my experience with the products has taught me to relax knowing IBAR is on the job. It is the no nonsense solution to AC power line issues. Bill
Date published: 2011-12-08T00:00:00-05:00
Rated

5

out of

5
by
eluteran
from
A History of Product Excellence Continues...
I bought this line of surge protectors solely for Tripp-Lite's offering of: -- Excellent construction -- Excellent electrical design -- Excellent fire-proof enclosure -- Excellent reputation and reliablity
Date published: 2011-12-08T00:00:00-05:00
Rated

5

out of

5
by
Craig C
from
This thing is a tank
In 2000 I was working for a IT company, who deployed only these to their clients. The others I worked with swore by them. I purchased one, and, today, 15 years later, the only thing wrong with it is that the light in the lighted switch burned out. However it continues to protect and provide power without a hum or any problems at all. It really is a tank.
Date published: 2015-02-11T00:00:00-05:00
Rated

5

out of

5
by
DJ Lumpia
from
Surge Protection For Mobile Stage Lighting Music Entertainment.
I use two Tripplite ISOBAR's to surge protect my mobile stage lighting system. As my lighting system is transported to multiple venues, power surge conditions are always a concern. Worry free ISOBAR operation allows focus on lighting performance. Nice long six foot cord allows ISOBAR's to be located away from walls and placed exactly where needed. Excellent quality heavy duty metal housing box take the regular transportation demands of a mobile lighting system. Highly recommended.
Date published: 2012-12-06T00:00:00-05:00
Rated

5

out of

5
by
Rick
from
Works great
Used to protect television and Blu-ray player.
Date published: 2018-01-25T00:00:00-05:00
Rated

5

out of

5
by
Freddy H.
from
the best among the competitors
after reading a lot of reviews & technical details I selected this product to protect my valuable electronics. I actually bought two of this ISO BAR 4 outlets . I am using one to protect my TV screen & Blue-ray player & the other to protect my laptop , modem , printer & speaker. it says on the back 12 amp maximum which means you can connect a lot of stuff without worry about the capacity. however it's featuring : Sturdy metal case (fire retardant), solid design , 330v clamp voltage , switch on/off , faulty circuit indicator, 4 outlet plug (protectors) , hanging slots (back). I got a couple of electricity disturbance during couple of thunder storms (I believe transformers got hit by lightening ) but my electronic devices survived & the two surge arresting units continue normal to work !!!
Date published: 2017-05-27T00:00:00-04:00