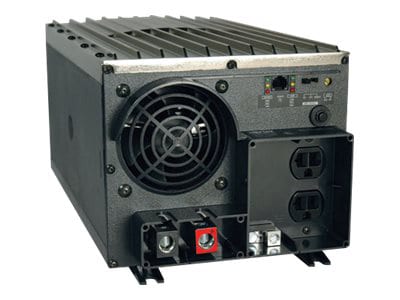 Quick tech specs
Industrial-Strength Inverter offers 2 outlets and up to 2000W of continuous output from a vehicle's battery or a 12V external battery bank making it perfect for a work truck w/ industrial equipment (e.g. power tools/electric motors)
Peak surge output: OverPower (up to 1 hour)—3000W/ Double-Boost (up to 10 seconds)—4000W
High-efficiency power conversion
DC to AC Inverter
Designed for heavy duty and motor loads
12V DC input; 120V AC output; 2 outlets
Automatic overload protection
View All
Know your gear
Utilize your vehicle's battery to efficiently power office equipment on the road or power tools at a work site. Continuously supplies up to 2000W of 120V AC power to 2 AC outlets from any 12V battery or automotive DC source. Frequency control locks AC output at 60Hz for operating stability of motor loads. Includes a set of high-current DC input terminals for simple, permanent installation. Highly reliable large transformer design specializes in powering motors and other inductive loads with high-current startup needs. Built-in RJ45 port allows connection of APS/PowerVerter Remote Switch.

Tripp Lite Industrial Inverter 2000W 12V DC to AC 120V RJ45 5-15R 2 Outlet
is rated
5.00
out of
5
by
4
.
Rated

5

out of

5
by
Wyghostown
from
Repeat inverter purchase
Off grid living solar and wind power with battery bank.
Date published: 2018-07-22T00:00:00-04:00
Rated

5

out of

5
by
centel 455
from
built like a battle ship
got my frist trip lite, pv 100 in 1962 best darn thing I ever had..got a fc2000 and it lives up to its name.runs everything with out a hiccup..the only prob. I have is with my Lafayette power amp.the transformer over heats.and its a classic, so I don't use it..everything else runs fine (the amp works great on outside power)
Date published: 2014-06-20T00:00:00-04:00
Rated

5

out of

5
by
txfishbutt
from
Keeps My Dogs Cool
We live part-time on the Texas Gulf Coast. Most of the trips we make are in the late spring thru early fall, which means HOT in Texas. When I bought my new truck, I thought there would be plenty of room for the dogs in the back seat. Turns out it was a little too snug, so we went with plan "B" consisting of installing a RV A/C unit on the topper covering the truck bed. To power the A/C, I installed a Powerverter PV200FC, and upgraded the alternator to a 200 amp. unit. The Powerverter has worked perfectly,helping cool the dogs on even the hottest days. Unusual application, I know, but a perfect result. I would not hesitate to recommend this model. My dogs thank TrippLite!!
Date published: 2012-01-29T00:00:00-05:00
Rated

5

out of

5
by
spearsd
from
And they STILL make these...
I have been using one of these for many years. It was mounted in a vehicle, running a rack of computers and other gear. It finally bit the dust about a week ago, after we found a dead cell in the battery it kept charged for over 7 years. The hallmark of a great product is time. There is such a demand for this kind of device, so everyone makes them. I went back to the workhorse that has served me this long, and THEY STILL MAKE THESE!!!
Date published: 2013-02-05T00:00:00-05:00
Rated

5

out of

5
by
Jonm
from
Great converter
I have not used this one but I have a smaller one and it is fantastic! I can use it for all my tools , it has power to do everything.
Date published: 2017-03-13T00:00:00-04:00
Rated

5

out of

5
by
Naplesjeepboi22
from
PV2000FC
This unit works great . Running two RV deep cycles and a 250Amp Hehr charging system . it is installed in a service truck . last summer we lost power on the west side of Lexington . I had two 6500 BTU/HR window units , one household fridge , and one commercial cooler, plus lighting it did great. Had about 2500 watts peak on it and ran about six hours not a problem . only issue i can see with the unit is (Shaded pole motors run at about 80% speed even with 60Hz ) im sure that is due to PWM. runs Perm split capacitors like its on house power AKA Compressors , Fans , power tools , microwaves and most important Electronics .Thank you trip lite for making a sound Inverter .
Date published: 2013-12-06T00:00:00-05:00
Rated

5

out of

5
by
Steve
from
Best inverter I've ever owned
As a cross country truck driver, I need clean power in my truck. The PV2000 has plenty of power to spare for me. In the truck I use a 4.6 cu.ft. refrigerator, microwave, George Foreman grill, crockpot, electric skillet and lighting. It doesn't interfere with the cb radio at all. I've had it for 3 years now and it has never missed a beat.
Date published: 2014-10-07T00:00:00-04:00
Rated

5

out of

5
by
chuck
from
Great Inverter.
Using to power up a paint sprayer in a mobile painting van. Seems to work great. Quiet and cool. Love the remote to control it from the drivers seat.
Date published: 2017-03-20T00:00:00-04:00
Rated

5

out of

5
by
PJJA1000
from
This is a POWER HOUSE!!
I use this inverter in my ice cream truck! It powers 2 freezers, a under counter counter fridge and a fan 100% of the time when I am driving! At times I have also ran a coffee pot, micro and a pretzel warmer at the same time as the other appliances! The inverter has NEVER let me down! The inverter is 2 years old and works as well as day 1! That is why I call this a POWER HOUSE!
Date published: 2013-09-07T00:00:00-04:00
Rated

5

out of

5
by
Old School Trucker
from
Exceeds expectations
I've had my PV2000FC for 2 years now and it has never missed a beat. I'm a truck driver, so it almost never gets shut off. My 4.6 cu. ft. refrigerator runs all the time. I use a laser printer, microwave, crock pot, coffee maker, etc in the truck. It also has no interference with my cb radio, that is very important to a truck driver. This is the finest inverter I've ever had.
Date published: 2013-09-05T00:00:00-04:00