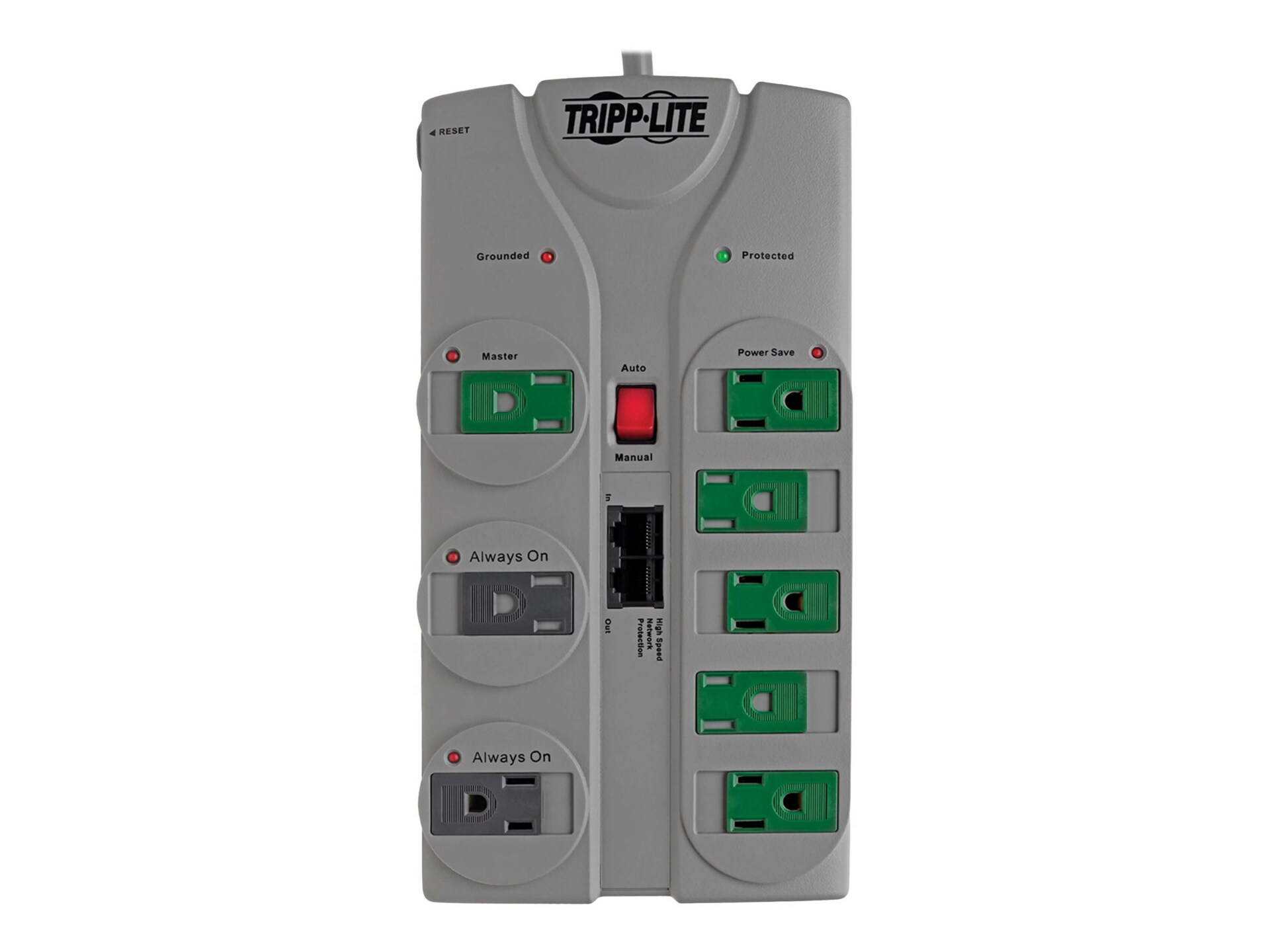 Quick tech specs
8 outlet 8ft AC cord offers green surge suppression technology that protects your computer and peripherals and the environment
"Master" outlet controls power flow for 1 primary device and up to 5 peripheral devices
Power Strip/ Power Distribution Strip/ Surge Suppressor/ Surge strip
Allows users to switch from Auto and Manual mode
1-line tel/network data line to protect your modem/fax/100Bt equipment
$150,000 Lifetime Insurance and Lifetime Tripp Lite Warranty
View All
Know your gear
Tripp Lite's TLP808NETG offers reliable, GREEN surge technology that protects your computer and peripherals, the environment and your wallet. The ECO-SURGE offers a unique Netbook switch that allows users to select wattage, so ECO-SURGE are the only green surge suppressors compatible with all PCs, Notebooks and Netbooks. Energy-saving outlet configuration reduces energy waste (phantom loads) by cutting AC power to unused peripherals. TLP808NETG offers 8 total outlets, 1-line tel/network data line protection, 8 foot cord with space-saving angled plug and diagnostic LEDs to warn of wiring problems and suppressor damage. Network-grade AC suppression rated at 2160 joules shields equipment from surges and line noise. Integrated child-safety outlet covers safely seal off unused outlets. Attractive cool gray suppressor housing with keyhole mounting tabs and 3 designated transformer plug outlets offers convenient protection of desktop computer equipment and accessories. Lifetime warranty with $150,000 connected equipment insurance (USA and Canada Only).

PLUG/OUTLETS: Input: NEMA5-15P/Output: 8 NEMA5-15R/8 ft. AC line cord

ELECTRICAL: 120V AC, 60Hz, 15A (Requires NEMA5-15R wall receptacle)

FORMAT: Corded multi-outlet strip with transformer spaced outlets

SUPPRESSION AC: 150V RMS Clamping/2160 joules


Allows users to switch between GREEN (auto) power save mode and standard (manual) surge protection mode
8 total AC outlets with room for 3 transformer plugs without blocking outlets covers computers and all peripherals
"Master" outlet controls power flow for 1 primary device and up to 5 peripheral devices
Five "Power Save" outlets cut AC power when not in use--perfect for non-essential peripherals like monitors, printers, scanners, speakers, lamps, etc.
Two "Always-On" outlets provide continuous power for interminable devices such as modems, routers, external hard drives, cordless phones and fax machines
1-line tel/network data line protection
User-selectable wattage switch accomodates PCs, Netbooks and other Internet research tools
2160 joules AC surge suppression shields equipment from the strongest surges and line noise
Long 8 foot AC line cable with space-saving angle input plug conveniently reaches distant outlets
Lighted power switch with integrated 15 amp circuit breaker offers power control and overload protection
Integrated child-safety sliding outlet covers safely seal off all unused outlets
Diagnostic LEDs confirm outlet grounding and surge suppression status
Attractive gray suppressor housing with keyhole mounting tabs allow versatile placement options
Lifetime warranty with $150,000 Ultimate Lifetime Insurance (USA and Canada Only)
Applications
Ideal for any desktop, network or home computing application requiring AC protection.
Package Includes
TLP808NETG ECO-SURGE Energy-Saving Surge Suppressor
6-ft. tel/network cable
Instruction manual with warranty information

Tripp Lite Eco Surge Protector Green 120V 8 Outlet RJ45 8ft Cord 2160 Joule
is rated
4.83
out of
5
by
6
.
Rated

5

out of

5
by
Wolfsbane
from
Excellent Surge Suppressor
This has been an excellent product for my recreational media center. We have multiple devices and gaming consoles connected to one LED television. Not everything gets used all of the time which is why I chose this particular suppressor for its automated energy-saving capabilities.Get one.
Date published: 2015-02-12T00:00:00-05:00
Rated

5

out of

5
by
kdawg33
from
good product with 1 minor flaw
I bought 3 of these to use on 2 computers and a TV/game system for my son. Product works as advertised with 1 minor flaw IMO. Product stated it worked for "high speed" internet connections, however it does NOT support a GB network speed. IMO GB network speeds are fairly common now and the surge protectors are a little behind the times. At the same time I also bought an inline Ethernet-only surge protector (diff supplier) that does support GB speeds. I am using it at my main line coming in between my cable modem and router. Just wish I could use the added protection of this unit for my network lines at my PC/TV.
Date published: 2013-06-05T00:00:00-04:00
Rated

5

out of

5
by
bmandm
from
great product
So far it's working great for me cutting off everything, I turn off my laptop.
Date published: 2012-05-16T00:00:00-04:00
Rated

5

out of

5
by
Dustin Lewis
from
Great but
I have used this surge protector and it is awesome. It is nice to know it protects my electronics and even better that is saves me money. Very easy to use and looks great.
Date published: 2016-11-14T00:00:00-05:00
Rated

5

out of

5
by
Organized a few things.
from
I like this.
I am using the Eco-surge 8-outlet surge protector to manage multiple electrical appliances connected to one outlet plug. So far it works well. I like that there is an eco-feature, with a reasonable EMI/RFI rating for line noise reduction, and a limited lifetime warranty - which I found to be a rare combination of features to find in one surge protector. When looking for a power surge protector, TrippLite surge protectors were the only surge protectors I could find with a measurable unit (decibels) of line noise reduction, which is helpful when comparing surge protectors for electrical appliances with audio/visual features. I could have easily used a product with fewer outlets, maybe 4 or 6, but this one works.
Date published: 2016-06-27T00:00:00-04:00
Rated

5

out of

5
by
gg
from
SOLUTION TO ELECTRICAL PROBLEMS
Because we experienced problems with my daughter's power strip, we decided to get one that would protect us from power surges. So far, so good.
Date published: 2015-12-03T00:00:00-05:00
Rated

5

out of

5
by
Mickey34
from
Ease of Mind
I have been using Model #TLP808NETG for several years now and it has not let me down.I have connected my computer/router/modem/monitor/shredder to itexperiencing several power outages due to lightningin my area over the years and it has not let me down.I love the fact that it also saves me money with itsAuto/Manual switch, Buy it You Will Love It!!!
Date published: 2013-09-29T00:00:00-04:00
Rated

5

out of

5
by
JB
from
Works perfectly
Thing thing does save on your energy bill no question about it. I use two in our home and have had no issues in over a year. Highly recommended
Date published: 2017-09-16T00:00:00-04:00
Rated

5

out of

5
by
Steve
from
Good product with one minor annoyance
I have my TV linked to my stereo stuff, DVD player, etc. I like the fact that when the TV goes off everything else does, too. I have my DVR plugged into the always on socket. I will purchase two more for the other tv's in the house. THe minor annoyance is that the unit clicks when the TV gets turned off.
Date published: 2015-07-16T00:00:00-04:00