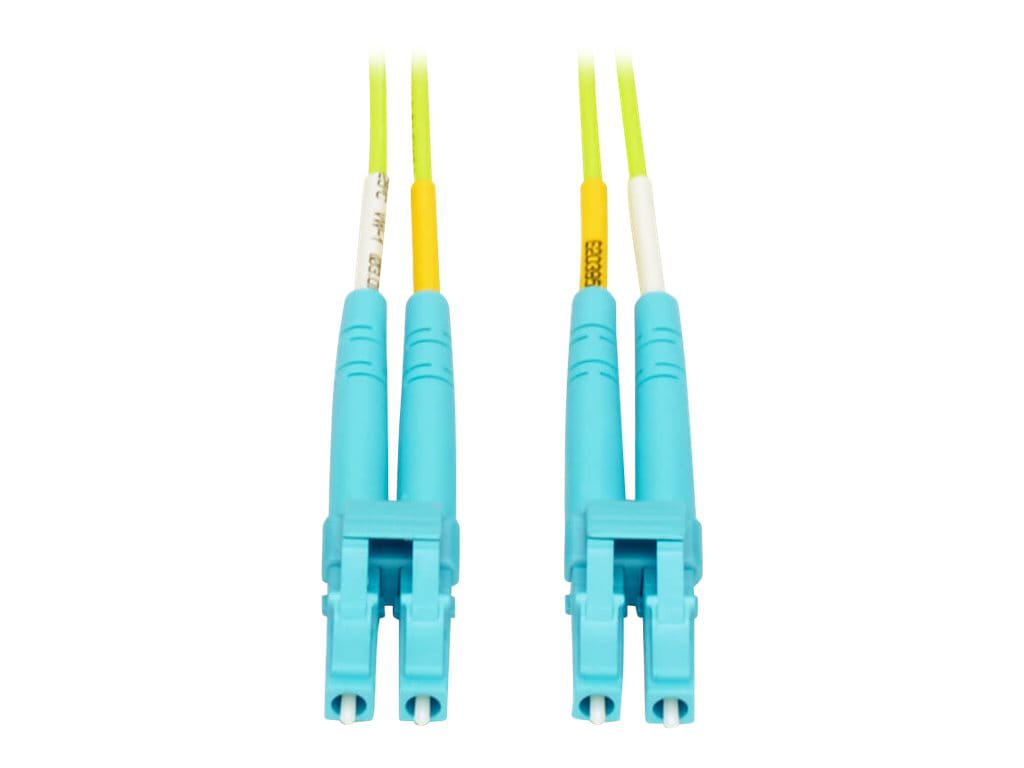 Quick tech specs
Rated OM5,this 50/125 multimode fiber cable with duplex LC connectors carries signals in 40/100 Gb Ethernet networks
Laser-optimized for use with cost-effective VCSEL light sources
Backward compatible with OM3 and OM4 applications
Tripp Lite is now a part of Eaton
For 40/100 Gb speeds up to 300 meters (at 850 nm)
Lime green jacket for easy OM5 identification; 2 m (6 ft) cable
100Gb Fiber Cable/ OM5 Fiber Cable/ 2m Duplex Fiber Cable/ LC to LC/ Multimode 50/125 Patch Cable
View All
Know your gear
As the amount of traffic in data networks grows, so does the need for next generation devices and fiber cables to support higher bandwidths. Tripp Lite's OM5 Duplex Multimode 50/125 Fiber Patch Cable is a wideband multimode fiber (WBMMF) solution that supports at least four wavelengths in the 850-950 nm range. This LC to LC multimode fiber optic patch cable is well-suited for 40/100 Gb Ethernet applications up to 300 meters (at 850 nm). Its short two-meter length reduces cable clutter.

The N820-02M-OM5 is a laser-optimized multimode fiber (LOMMF) cable designed for use with vertical-cavity surface-emitting lasers (VCSELs) to offer a cost-effective, high-bandwidth solution over extended distances in the 850-950 nm wavelength range. It is commonly used in LANs, SANs and high-speed parallel interconnects for head-ends, central offices and data centers.

Premium materials ensure this multimode fiber cable reliably carries data and voice signals. The cable has duplex male LC connectors on each end and features a low-smoke zero-halogen (LSZH) jacket that limits the amount of toxic smoke emitted in case of combustion, making it suitable for poorly ventilated areas. The lime green color of the jacket identifies the cable as OM5 rated. It meets current IEEE 802.3ae and TIA LOMMF standards.

Rated OM5, the N820-02M-OM5 cable is backward compatible with existing OM3- and OM4-rated 50/125 fiber solutions. This LC to LC multimode fiber optic cable can also be used with shortwave wavelength division multiplexing (SWDM) technology to provide transmission over longer distances in the 850-950 nm wavelength range than OM3- and OM4-rated cables. Plus, the OM5 cables will be compatible with SWDM solutions in future networks with even higher bandwidths.

The N820-02M-OM5 is backed by a lifetime limited warranty, ensuring reliability and performance.