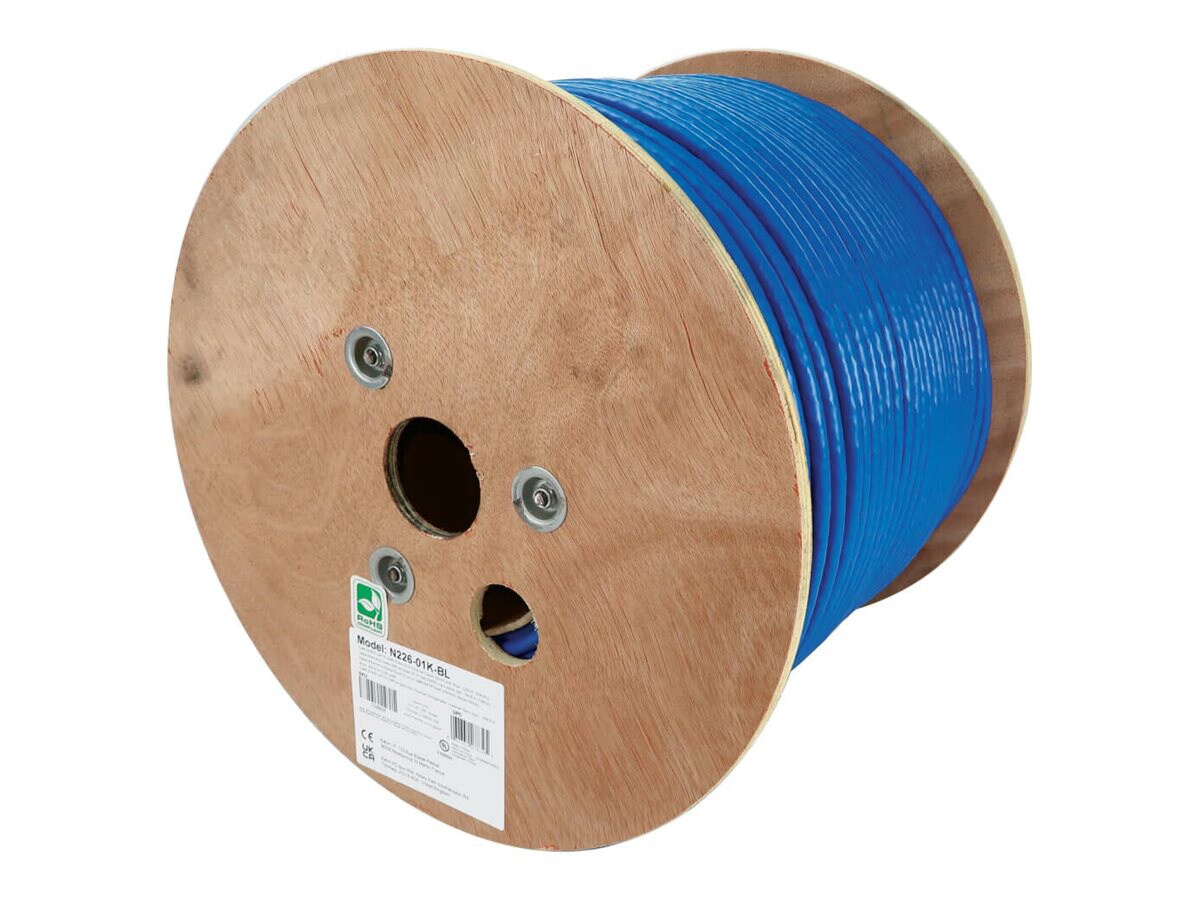 Quick tech specs
Bulk cable
0.3 in
CAT 8
solid
blue
1000 ft
S/FTP
IEEE 802.3af/IEEE 802.3at
up to 40 Gbps data transfer rate
View All
Know your gear
High-Speed Cat8 S/FTP Ethernet Cable Up to 4 Times Faster Than Cat6a

This Cat8 cable transmits 25/40 Gbps data, voice and audio/video through high-speed 25G/40G equipment, such as network switches, modems, routers, adapters, hubs and patch panels. Not only is its 40 Gbps data transfer speed four times that of Cat6a cable, but this Cat8 cable also supports bandwidth up to 2 GHz (2000 MHz) for carrying information and streaming video with no lag.

Premium Construction for Superior Performance

Manufactured from 22 AWG copper wire, this 1000-foot (305-meter) roll of four-pair solid-core cabling is rated for speeds up to 40 Gbps. Simply pull what you need for your installation off the spool, and keep the remainder rolled away. The N223-01K-WH meets most current industry standards, including IEEE 802.3, TIA 568.2-D and ISO/IEC 11801.

Premium Protection from EMI/RFI Line Noise Helps Your Equipment Perform Better

The S/FTP (shielded foiled twisted pair) cable's foil shielding blocks disruptive line noise that can disturb your electronics and inflict hardware damage or data loss. Near-end crosstalk (NEXT) levels are practically eliminated, so you don't have to worry about keeping your cables separated in crowded pathways or spend valuable time on field testing.

Blue Jacket Helps Avoid Misidentification That Can Cause Costly Downtime

This Cat8 Ethernet cable features a blue flame-retardant CMR-rated PVC jacket, which allows easy, fast identification in a crowded rack, patch panel or workstation and helps prevent the cable from becoming accidentally disconnected.