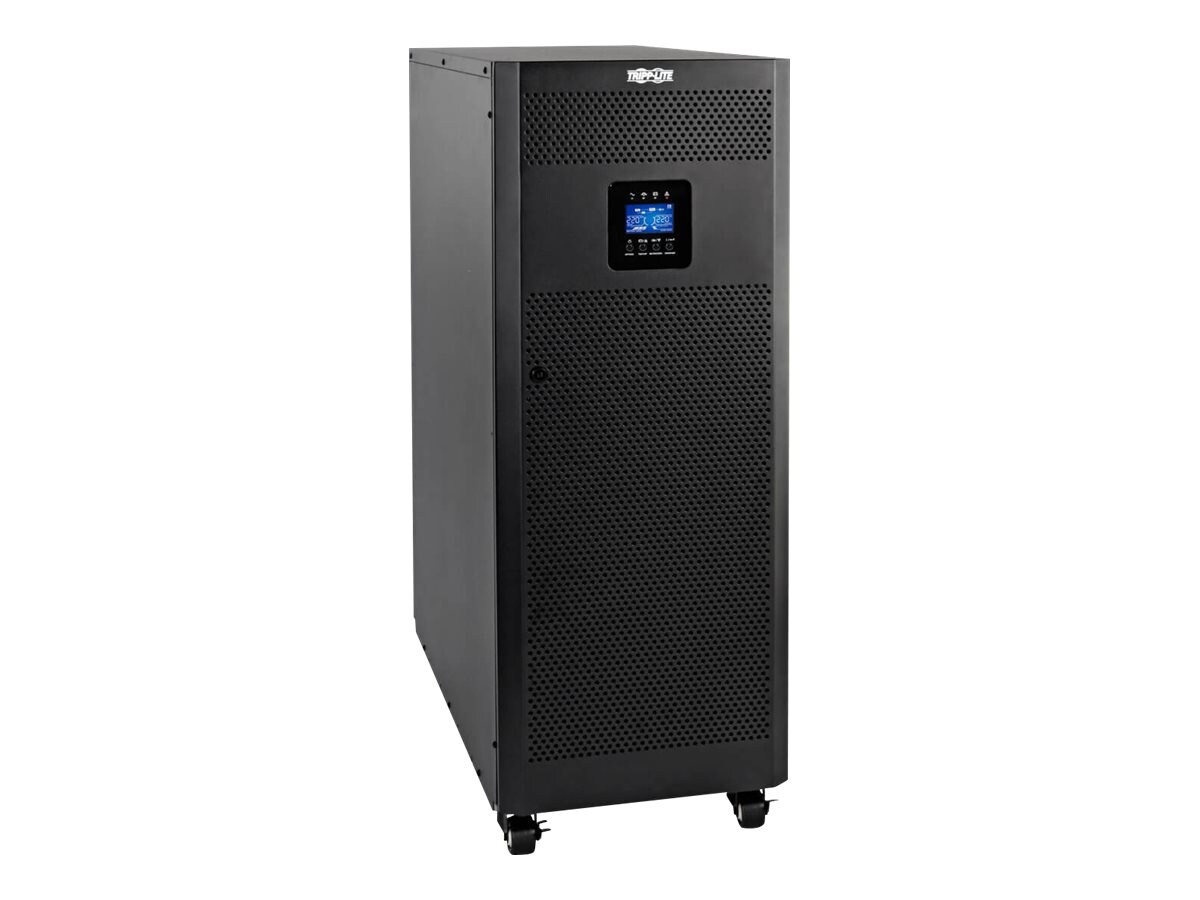 Quick tech specs
Highly efficient 94% on-line UPS with compact design protects mission-critical equipment against downtime due to power disturbances
Intuitive LCD interface offers key performance/ configuration and diagnostics info
3 phase UPS system/ 3-phase uninterruptible power supply/ RS-232/ ethernet/ 80000 VA
Best-in-class footprint and power density minimize space requirements for up to 80kVA
High efficiency (94% on-line/98% ECO mode) helps reduce operating costs
2 Year Tripp Lite Warranty
View All
Know your gear
Battery Backup and VFI Operation Protect Critical Loads

The SmartOnline S3M80KX IGBT UPS supports the continuous availability of your most important loads through all power conditions, providing a compact backup power platform that's easy to manage and inexpensive to operate. Sophisticated voltage and frequency independent (VFI) operation and advanced IGBT rectifier technology with DSP control deliver reliable output power quality. Providing up to 80kVA of clean, continuous power, this 3-phase UPS system is perfect for critical applications in IT, communications, corporate, commercial, retail, financial, security, transportation, emergency and light industrial environments.

Best-in-Class Footprint for Easy Integration into Your Network Application

This on-line double-conversion UPS system has a very small footprint of just 0.28 square meters. It requires less valuable space in your facility, and you can install the UPS system in spaces that would previously have required expensive retrofitting.

Efficient Operation and Design Reduces Cost of Ownership

This IGBT UPS benefits from highly efficient transformer-free double-conversion technology that delivers operating cost savings. It achieves 94% efficiency in double-conversion mode and up to 98% in ECO mode, reducing your power and cooling costs. A low THDi (<3%) improves generator compatibility. A low THDv (=2%) and active power factor correction improve output performance. The hardware and firmware platform design reduces the number of unique boards, improving mean time to repair (MTTR) and resulting in reduced downtime. Built-in static and maintenance bypass transfer UPS load to utility power during faults, overloads and maintenance, which also avoids costly system downtime.

External Batteries Supply Reliable Backup with Expandable Runtime Options

The S3M80KX uses external scalable battery cabinets, such as BP480V65 and BP480V100 (sold separately), to provide up to three hours of backup support in case of a power failure. The UPS system automatically restarts after a lengthy power outage.

Intuitive LCD Interface Delivers Important Performance Information at a Glance

The interactive front-panel LCD interface displays critical operating conditions and diagnostic data, including operating mode, input/output voltage, load, battery voltage, backup runtime and fault conditions. Four LEDs provide information about line, bypass, battery and fault status.

Network Management Card Offers Remote Monitoring and Control

The optional Java-free WEBCARDLX network management card (sold separately) enables remote management through embedded HTML5 web, SSH/telnet and SNMP interfaces, as well as integration with a wide range of network management systems and DCIM platforms. A Remote Emergency Power Off (REPO) port allows shutdown from a safe distance during emergencies.

Parallel Capability Provides Additional Capacity and Redundancy up to 3 Units

Connect up to three S3M80KX units in parallel using separate/shared battery cabinets for increased capacity.