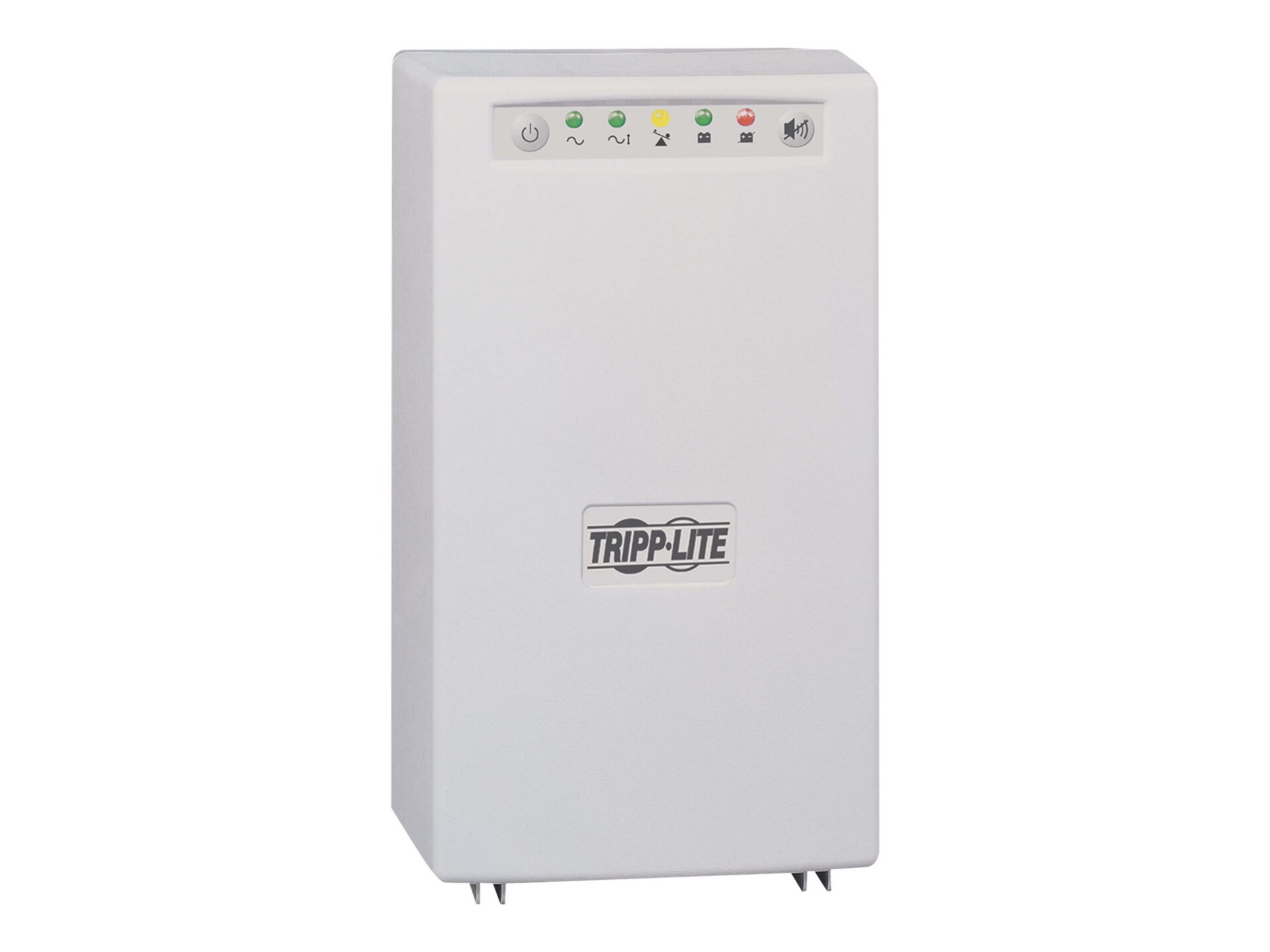 Quick tech specs
Line-interactive UPS provides basic battery backup with UL 60601-1 compliance
6 C13 hospital-grade (HG) outlets provide power to medical equipment
Alarm and front-panel LEDs report online battery fault and overload conditions
5 Year Tripp Lite Warranty
Lithium battery backup allows time to save files and safely shut down during blackouts
UL 60601-1 compliant for use in patient care vicinities
10000-cycle LiFePhos battery lasts up to 30x longer than SLA batteries
View All
Know your gear
This 230V SmartPro hospital-grade UPS is fully compliant with UL 60601-1 regulations when plugged into a hospital-grade outlet, which makes it ideal for use in medical facilities, including patient care vicinities. It allows you to work through short power failures, and gives you enough time to safely save files and shut down your system in case of a prolonged blackout.

This UPS system for hospitals contains a replaceable lithium iron phosphate (LiFePhos) internal battery that provides up to 30 times the cycle life of traditional sealed lead acid (SLA) batteries. The 6-outlet UPS system provides up to 42 minutes of battery backup at half load and 18 minutes at full load. During normal operation, incoming utility power keeps the replaceable internal battery fully charged, so backup power will always be available.

AVR protects your equipment from incremental hardware damage, data loss and performance problems caused by brownouts. This UPS for medical equipment can correct brownouts as low as 155V and overvoltages as high as 274V back to nominal 230V power without drawing on the battery backup needed to support your equipment during a blackout.

The isolation transformer with Faraday shield offers full isolation and removes common mode noise while maintaining full AC surge suppression in all modes. Cumulative leakage current of all connected equipment is less than 100 microamps.

Six C13 hospital-grade outlets provide both battery backup and surge protector for your mobile medical equipment, such as computers, monitors and lab equipment. A 340-joule surge suppression rating protects connected components from the harmful effects of power surges.

Various electromagnetic and radio sources found in virtually every home and business can cause disruptive interference on the AC line. Known as EMI (electromagnetic interference) and RFI (radio frequency interference), this line noise is a common cause of performance problems and can lead to incremental hardware damage, data corruption and audio/video transmission problems. This medical-grade UPS system incorporates technology that filters out disruptive line noise so that it won't affect your equipment.

Front-panel LED indicators monitor essential information, such as line power, battery power, overload, voltage regulation and battery low/replace status. An audible alarm will sound in case of low battery, excessive load and power failure.

USB and DB9 serial ports connect to your computer with the included cables. These ports communicate with Tripp Lite's free downloadable PowerAlert software for safe, unattended system shutdown and file saves in the event of a prolonged power failure.

The long-lasting PVC housing fits easily on a desktop, shelf or anywhere else power is needed. The 15-centimeter (six-inch) dongle with hospital-grade C14 plug connects to a properly grounded AC wall outlet.


Contact Sales Assistance
(800) 800-4239
,
Monday-Friday 7am-7:30pm CT