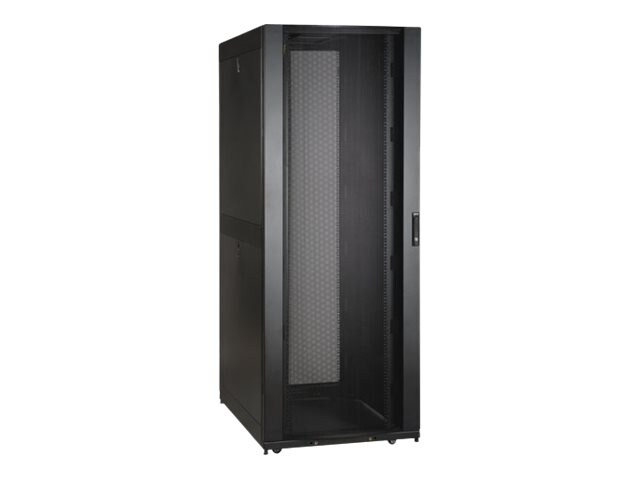 Quick tech specs
42U wide rack enclosure cabinet with preinstalled SRCABLEVRT3 w/ sides and doors
4 vertical posts w/ unthreaded square holes
30" (750mm) width and 42"depth (1050mm)
3000lbs stationary/2250lbs rolling load capacity
Ships fully assembled and roll into place on preinstalled casters
Standing Rack/ Floor Rack/ Rack Enclosure Cabinet/ Server Racks/ Floor Enclosure
Preinstalled 6ft vertical cable manager
Front to rear ventilation
Locking removable doors and side panels
View All
Know your gear
SR42UBWDVRT is a WIDE version of the standard 42U SmartRack Enclosure (750mm wide compared to the standard 600mm wide) and includes preinstalled SRCABLEVRT3. The SRCABLEVRT3 helps eliminate cable stress by organizing the cables within the enclosure. The vertical cable manager is 6-ft high and 3" wide.
The SR42UBWDVRT houses 3000lbs of standard 19-inch rack equipment in 42U. Its front and rear pairs of vertical rails have square mounting holes that are adjustable in quarter-inch increments from 4 to 37 inches. Adjustment is quick and an easy-view depth index ensures consistent rail placement without requiring time-consuming measurements. Each rack space within the enclosure is numbered for ready reference.
With its locking, reversible, removable front and rear doors and locking, removable side panels, the SR42UBWDVRT provides ultimate equipment safety. The side panels are half size for ease of removal and re-installation. The split rear door design allows the enclosure to be placed closer to a wall. The SR42UBWDVRT meets all requirements toward PCI DSS compliance.
The top panel of the SR42UBWDVRT is vented to help remove warm air from the enclosure and draw in cool air by convection. The top panel includes ports for cable routing, and can be quickly removed without tools.
All components of the SR42UBWDVRT are grounded to the enclosure frame. Front and rear threaded grounding points are provided for connection to the facility earth ground. The removable front and rear doors feature quick-release ground wires.
To simplify deployment, the SR42UBWDVRT comes with preinstalled casters that enable it to be easily maneuvered into the desired location, where it can be secured by adjusting the preinstalled levelers. Note: the casters are intended for minor position adjustments and are not designed for moving enclosures over long distances.
As part of the SmartRack family it is compatible with Tripp Lite's extensive range of rackmount accessories, enabling you to customize your solution to meet any requirements.