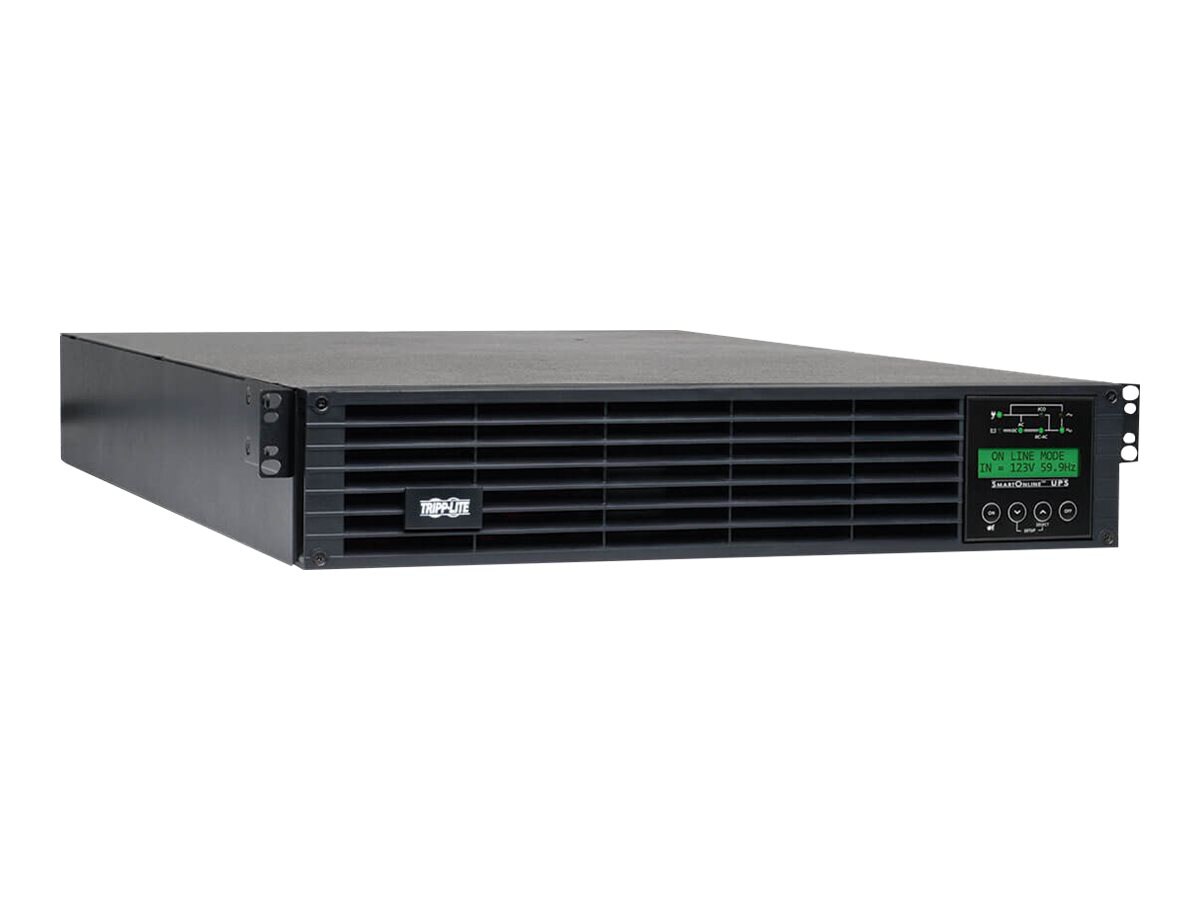 Quick tech specs
3kVA UPS protects connected equipment against damage and downtime due to blackouts/brownouts/surg- es/line noise
570 joules protect devices from damaging power surges/spikes
Interactive LCD screen delivers detailed status preset and control option
2 Year Tripp Lite Warranty and $250,000 Lifetime Insurance
Zero transfer time between AC power and battery for uninterrupted operation
Optional external batteries provide additional runtime for essential applications
Smart UPS/2U UPS
View All
Know your gear
This 3000VA UPS system protects connected equipment against equipment damage, downtime and data loss due to power outages, voltage fluctuations and transient surges. Featuring a 2700W capacity, high 0.8 power factor, true on-line operation with pure sine wave output and zero transfer time to battery, the SU3000RTXLCDTAA provides the highest level of battery backup and AC power protection for critical server, network and telecom equipment.

UPS battery backup keeps connected equipment operational through short power failures, and provides time to save data and perform an orderly system shutdown in case of a prolonged blackout. The internal battery set provides 11.3 minutes of support at half load and 4.1 minutes at full load. During normal operation, incoming utility power keeps the battery fully charged so backup power will be available when needed. For mission-critical applications demanding continuous uptime, the fully scalable 3kVA UPS can provide expandable runtime with optional external battery packs, such as Tripp Lite's BP72V18-2USTAA (sold separately).

Operating with a high 98% efficiency in optional economy mode, the ENERGY STAR-certified 3000VA UPS system can save BTU heat output and energy costs by meeting strict EPA guidelines.

Four NEMA 5-15R and four NEMA 5-15/20R outlets are divided into two switchable breakered load banks. Each numbered load bank may be individually powered on and off remotely to reset or reboot connected equipment. This UPS system also features one non-breakered NEMA L5-30R outlet.

Operating the UPS system and monitoring connected equipment is easy with this interactive LCD screen. It reports operating mode and nine selectable data screens, including load, voltage and battery information. It also gives you 16 screens worth of configuration and setup options.

An accessory slot accommodates the optional Java-free HTML5-based WEBCARDLX interface, which enables full remote access for site power and UPS status monitoring, configuration, control and email notifications via secure web browser, SNMP, telnet or SSH. It supports 10/100 Mbps auto-sensing for optimum communication with an Ethernet network. Automated alerts help prevent accidental overloads, power loss and downtime.

USB and DB9 ports (cables are included) enable data-saving unattended shutdown when used with Tripp Lite's free downloadable PowerAlert software. Capabilities include UPS and line power status messaging, timed inverter shutoff after unattended shutdown, and UPS output power control for delayed or immediate reboot of connected devices.

Hardware is included for mounting the 3kVA UPS system in 2U of space in an EIA-standard 19-inch 4-post rack. Use the optional 2POSTRMKITWM for 2-post rack mounting or wall mounting. Use the optional 2-9USTAND for mounting in an upright tower position.

The SU3000RTXLCDTAA is compliant with the Federal Trade Agreements Act (TAA) for GSA Schedule purchases.

The SU3000RTXLCDTAA comes with a 2-year warranty and $250,000 of Ultimate Lifetime Insurance for any connected components damaged by a power surge (U.S., Canada and Puerto Rico only). It's manufactured in compliance with strict RoHS specifications, reflecting Tripp Lite's commitment to environmental responsibility.