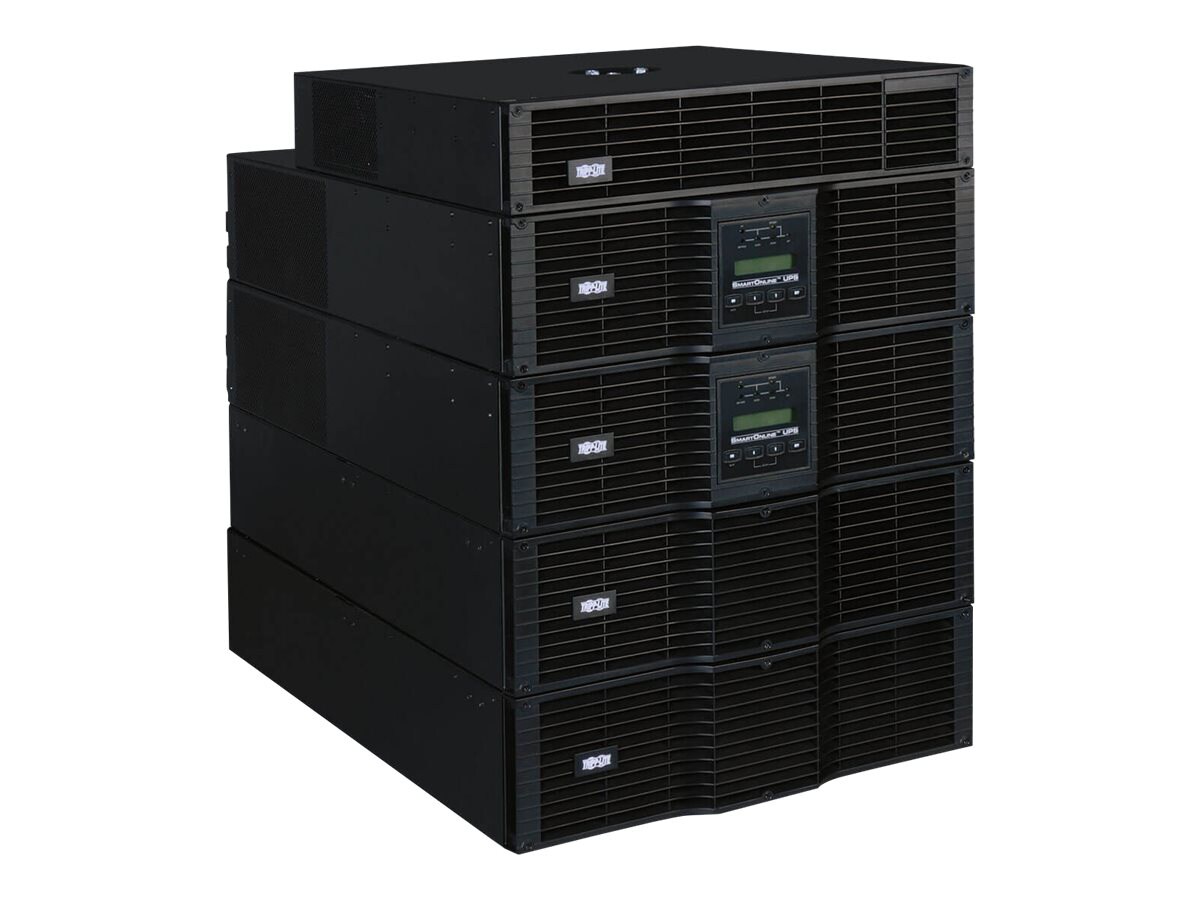 Quick tech specs
16kVA N+1 UPS protects connected equipment against damage due to power outages/voltage fluctuations and transient surges
PDU keeps essential equipment powered during hot-swap battery replacement or repair
Step-down transformer supports power protection of low and high-voltage components
uninterruptible power supply
Zero transfer time between AC power and battery backup
Delivers complete N+1 redundancy when used with loads up to 8kVA
TAA Compliant
2 Year Tripp Lite Warranty
View All
Know your gear
This TAA-compliant UPS system protects connected equipment against damage, downtime and data loss due to power outages, voltage fluctuations and transient surges. Featuring a 14,400W capacity, high 0.9 power factor, true on-line operation with pure sine wave output and zero transfer time to battery, the SmartOnline SU16KRT-1TFTAA includes two 3U UPS power modules, two 3U external battery packs, a 2U step-down transformer and a parallel PDU with maintenance switch. Using the step-down transformer, the N+1 UPS system can support both low- and high-voltage equipment.

Recommended for data centers, computer rooms, network closets and other areas with mission-critical equipment, the SU16KRT-1TFTAA actively converts raw incoming AC power to DC and then re-converts it back to regulated, filtered AC output with a pure sine wave, completely isolating connected components from all power problems. It features a 3-wire single-phase hardwire input (3-wire, single phase) and 22 total outlets - two NEMA L6-30R (208/240V), eight C19 (208/240V), eight NEMA 5-15/20R (120V) and four NEMA 5-15R (120V).

UPS battery backup keeps connected equipment operational through short power failures, and provides time to save data and perform an orderly system shutdown in case of a prolonged blackout. The external battery packs provide 13.5 minutes of support at half load and 5.5 minutes at full load. During normal operation, incoming utility power keeps the battery fully charged so backup power will be available when needed. For mission-critical applications demanding continuous uptime, the 16kVA UPS can provide expandable runtime with optional external battery packs, such as Tripp Lite's field-replaceable, hot-swappable BP240V10RT3UTAA. A battery-independent restart ensures automatic UPS power-up after lengthy power outages, even with expired batteries.

With its parallel PDU, the SU16KRT-1TFTAA with manual bypass switching enables hot-swappable replacement of all major UPS system components in both N+1 and combined operating modes. It offers automatic N+1 redundancy at load levels up to 8kVA and non-redundant operation from 8kVA all the way up to 16kVA. In bypass mode, the PDU passes power to equipment without the use of the power and battery modules, allowing them to be removed while keeping your application in operation. When making repairs or replacing a battery, no lengthy service calls or downtime are necessary.

Front-panel LEDs indicate line power, online mode, bypass mode, on-battery, charger and AC output status at a glance. The LCD readout with scroll controls supports visual monitoring of a variety of control options to support advanced UPS settings and configurations. The panel rotates for comfortable viewing in rack-mount or tower configuration.

An accessory slot accommodates the optional Java-free HTML5-based WEBCARDLX interface, which enables full remote access for site power and UPS status monitoring, configuration, control and email notifications via secure web browser, SNMP, telnet or SSH. It supports 10/100 Mbps auto-sensing for optimum communication with an Ethernet network. Automated alerts help prevent accidental overloads, power loss and downtime. (NOTE: Applications utilizing any supported network management card option, require the installation of two of the same model network card - install one card per included UPS power module).


Contact Sales Assistance
(800) 800-4239
,
Monday-Friday 7am-7:30pm CT