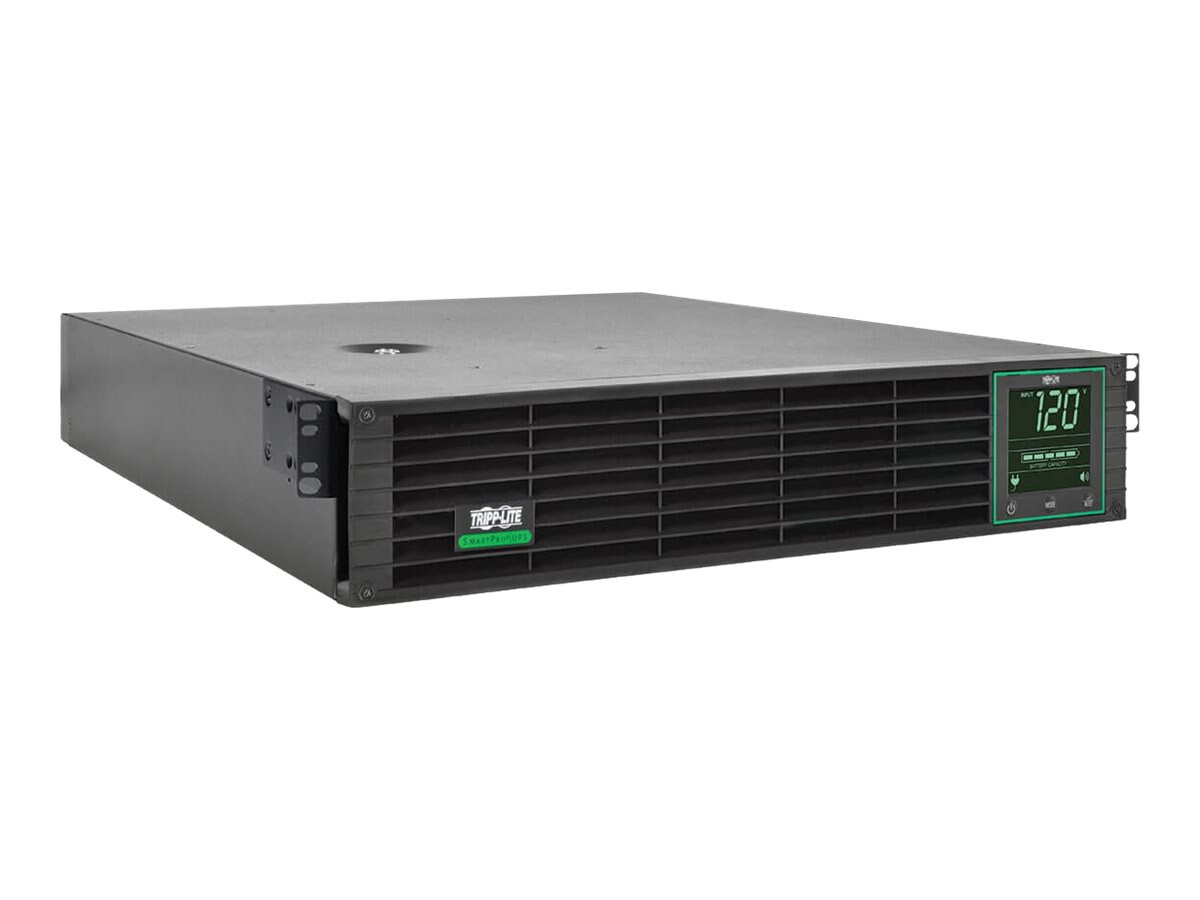 Quick tech specs
Lithium uninterrupted power supply protects connected equipment against damage downtime and data loss due to blackouts power surges/line noise
97% line-mode efficiency saves energy/operating costs
8 NEMA 5-15R outlets and 10ft NEMA 5-15P power cord
Tripp Lite is now part of Eaton and Insurance
LiFePO4 battery offers longer life/more cycles and faster recharge
AVR corrects brownouts/overvoltages w/o using battery
Line-interactive Lithium UPS/ Lithium-ion battery backup
View All
Know your gear
This UPS provides fully regulated sine wave AC output for servers, telecom hardware and other applications where long battery lifespan is critical. Plug your equipment into the eight NEMA 5-15R outlets. Two outlets are switchable, allowing you to power connected equipment on and off remotely to reset or reboot connected equipment or to shed less significant loads to extend battery runtime for more critical equipment. All outlets are protected by 570-joule network-grade surge protection to fight off damaging power surges and spikes.

With more than double the service life, three times more charge/discharge cycles and 60% the weight of comparable lead-acid batteries, the LiFePO4 battery features 120 volt battery backup and recharges to 100% capacity in less than two hours.

AVR maintains 120V nominal output over input range of 83V - 145V without using battery power.

Noise filtering removes electromagnetic and radio frequency interference that can disrupt equipment performance.

The front-panel LCD information and configuration screen displays detailed UPS and site power status and operating data, as well as input and output voltage, operating mode, alarm function and additional options. An alarm sounds to warn you of power failure, low battery, overload, UPS fault and remote shutdown conditions. The LCD screen rotates for easy viewing in rack-mount or tower configurations.

The SMART1500RM2UL is compatible with Tripp Lite UPS management cards, such as WEBCARDLX, for detailed monitoring of UPS and site power conditions.

USB and DB9 ports enable unattended shutdown when used with Tripp Lite PowerAlert software (available free at www.tripplite.com/poweralert). EPO port supports emergency shutdown in large facilities.

The SMART1500RM2UL includes hardware for 4-post mounting in 2U of EIA-standard 19-inch rack. This UPS mounts on a wall, 2-post rack or in an upright tower position.

Operating with a high 97% line-mode efficiency, the 1.5kVA UPS system can save BTU heat output and energy costs by meeting strict EPA guidelines.

This UPS system is backed by Tripp Lite's $250,000 Ultimate Lifetime Insurance, which covers any connected components (U.S., Canada and Puerto Rico only). It also has a 5-year limited warranty.