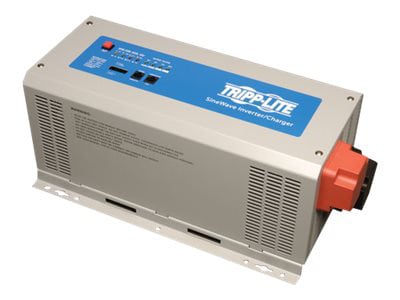 Quick tech specs
Portable 1000W power source for power tools/computers/ audio/video components and other sensitive electronics as a vehicle inverter/ standalone AC power source or extended-run UPS
1000W continuous output power; 2000W peak power
Protects against blackouts,surges and EMI/RFI line noise
2 Year Tripp Lite Warranty
Delivers pure sine-wave 230V AC power from AC or DC source
Auto-transfer switching option for UPS operation
DC to AC power inverter/ battery charger/ AC Inverter/Charger
View All
Know your gear
The APSX1012SW 1000W APS X Series 12V DC 230V AC Inverter/Charger is a reliable power source for a wide variety of power tools, computers, audio/video components and other sensitive electronics at mobile, emergency and remote sites. With no fumes, fuel or excess noise, it's an excellent alternative to generator power.

The DC-to-AC pure sine-wave inverter delivers network-grade power to sensitive electronics. Its automatic line-to-battery transfer switch and integral charging system allow the unit to work as a vehicle inverter, standalone AC power source or extended-run UPS. It delivers 1000W of continuous power or 2000W of peak power during equipment startup or cycling. An automatic overload detector, cooling fan and resettable AC circuit breaker protect the unit from damage.

Designed for easy installation in RVs, fleet vehicles and emergency vehicles, the APSX1012SW converts stored power from a user-supplied battery to standard household current for unlimited runtime in heavy-load conditions. When powered by an external 230V AC source, the unit keeps the user-supplied battery charged via a three-stage 4-40A selectable charging system while simultaneously delivering conditioned, pure sine-wave AC power to connected equipment.

When used as a UPS, the APSX1012SW responds to blackouts and brownouts with an automatic, instantaneous transfer to battery-derived, pure sine-wave AC power. LEDs on the side of the unit indicate battery voltage, charger and inverter status.