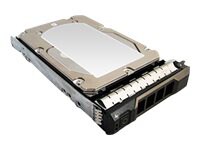 Quick tech specs
Hard Drive
Form Factor: 3.5"
Speed: 7200 RPM
Total Micro Three Year Limited Warranty
Capacity: 2TB
Interface: SATA
Compatible With: Dell PowerEdge R310,R320,R410,R420,R510- ,R515,R520,R710,R720,R720- xd,R730,T320,T420,T430,T6- 10,T620,T630,T710
View All
Know your gear
The Total Micro family of Hard Drives are complete upgrade kits for all major models of notebooks, desktop and servers. Each kit comes with everything necessary to replace the system's existing drive, including a new hard drive mounted in a proprietary case, tray or mounting rails. Only Total Micro includes everything necessary to allow even older systems to recognize today's higher capacity drives.
Contact Sales Assistance
(800) 800-4239
,
Monday-Friday 7am-7:30pm CT
Total Micro 2TB 3.5" SATA Hard Drive w/ Tray for Dell PowerEdge T620
is rated
4.50
out of
5
by
2
.
Rated

5

out of

5
by
reviewer1269042
from
Flexible server with multiple configuration options
What is our primary use case? This provides various healthcare, education, an government solutions. What is most valuable? This solution is very easy to manage. There are many options to configure the processor, memory, disks, and network interface with ease. What needs improvement? I would like to see more options to be able to support GPU cards. Right now, there are only one or two modules that provide this option. For how long have I used the solution? I have been a partner for Dell for the past twelve years. What do I think about the stability of the solution? The solution is stable. What do I think about the scalability of the solution? The solution is scalable. How was the initial setup? The initial setup was very easy and required two engineers for deployment and maintenance. What other advice do I have? This solution is very easy to deploy, manage, and use. There are many options for configuration making it easily flexible for the needs of your environment. Disclaimer: My company has a business relationship with this vendor other than being a customer:Partner
Date published: 2022-02-06T00:00:00-05:00
Rated

5

out of

5
by
CHAAN_BEARD
from
Scalable, easy six hour setup, however technical support is terrible
What is our primary use case? We use Dell PowerEdge for running databases. What is most valuable? Dell PowerEdge T is the easiest of all the manufacturers. One server is the same as another one because the management system updates the software and the bios. What needs improvement? I would like to see Speaker and more AMD processors running. I would like to see PCIe 5 deployed. For how long have I used the solution? I have been using Dell PowerEdge T for thirty years. What do I think about the stability of the solution? We have found that the stability is good and that is the reason we purchased Dell PowerEdge T. What do I think about the scalability of the solution? On a scale of one to ten, I would rate the scalability of Dell PowerEdge T an eight. How are customer service and support? The technical support for Dell PowerEdge T is terrible. Their support does not exist. We do it all ourselves because getting Dell on the phone to answer a technical question is out of the question. They have an NPS score in my book of about five. What was our ROI? The ROI with Dell is good. Depending on how big the deployment is customers usually see an ROI around seven months after deployment. What's my experience with pricing, setup cost, and licensing? Dell PowerEdge T takes about six hours to set up. We do these in groups of five or ten. We have a team of twenty people and they are all deployment engineers. What other advice do I have? Make sure that you work with a channel partner that knows how Dell PowerEdge T operates. I would rate Dell PowerEdge T a seven out of ten. Disclaimer: My company has a business relationship with this vendor other than being a customer:Partner
Date published: 2022-07-03T00:00:00-04:00