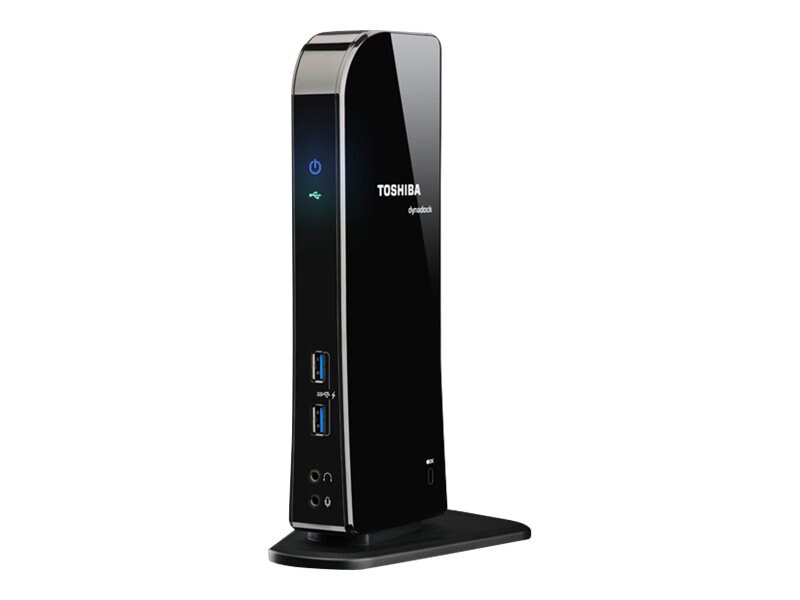 Quick tech specs
USB
for Toshiba Satellite Pro R50; Toshiba Tecra A50
C50
S55; Tecra Z40
GigE
C40
Z50; Satellite C55
View All
Know your gear
Overview

Expand your computer's potential with the dynadock™ U3.0, the universal docking station that links all your electronic devices to your laptop with just one single USB 3.0 cable. Now with one simple cable connection to your computer, you can access to large screen displays, stereo speakers, external hard drive, optical drive, printer, full-size keyboard and mouse. Surf the Internet while you listen to music, check your email and social networking accounts, watch streaming videos, write a paper, work on a presentation, or whatever else you can imagine!

The dynadock U3.0 has a built-in HD digital video card supporting dual display output. Connect one or two external displays with resolution up to 2048 x 1152 each. View up to 3 displays simultaneously (including your laptop screen). 3.5mm audio ports or the HDMI™ out port can also pump out 5.1 surround sound, providing a true multimedia experience.

Virtually any brand of Windows®-based computer with a USB 3.0 or 2.0 port is compatible with the dynadock U3.0. Check out www.dynadock.com for the latest updated Windows® software drivers, support and product information.


Features:

• One simple USB 3.0 cable connection from your laptop to all your accessories
• Built-in video card supports two displays up to 2048 x 1152 resolution
• HDMI™ out port built-in for Full 1080 HD video and gaming
• 5.1 channel surround sound through HDMI™ or 3.5mm audio ports
• Six USB ports
• Two easy access front USB 3.0 "always on" Sleep and Charge ports
• Fast USB 3.0 data transfer speed to USB 3.0 external storage devices
• Universal compatibility with all Windows®-based computers


Specifications:
Physical ports/indicators on the dynadock™ U3.0:

FRONT Panel:
• Power Light
• USB status Light
• 2 x "Always On" USB 3.0 ports (Sleep and Charge)
• 3.5mm Line-in (microphone/headset)
• 3.5mm Line-out (headphone/headset/speakers)

BACK Panel:
• 3 x 3.5mm Line-out (5.1 surround sound speakers)
• 2 x USB 3.0 ports
• 2 x USB 2.0 ports
• Gigabit Ethernet/Network port
• HDMI™ out port
• DVI-I out port (DVI to VGA adapter included)
• USB 3.0 Connector (to PC)
• DC in (for power)

SIDE Panel: Security Lock Slot

• Dimensions and Weight: 4.5" W x 5.1" D x 9.3" H (with base); 1.19 lb (with base)


System Requirements:

• 1.6GHz or higher processor. Intel® Pentium®/Celeron® family, or AMD K6®/AMD Athlon™/AMD Duron™ family, or compatible processor recommended (Intel® Core™ 2 Duo 1.4 GB or higher processor recommended for optimal performance)
• Microsoft Window® 7 (32-bit or 64-bit), Vista® (32-bit or 64-bit with SP1) or XP (32-bit with SP2/SP3) OS
• 1GB memory or higher (2GB or higher recommended)
• USB 3.0 or 2.0 port (3.0 recommended for optimal performance)
• 50 MB of available hard disk space
• CD-ROM drive (or Internet access to download driver)
• One-year limited warranty


In the box:

• One Toshiba dynadock U3.0
• Base plate
• USB 3.0 cable
• AC Adapter w/power cord
• DVI to VGA Adapter
• CD-ROM and documentation


Note: dynadock neither provide power to run the laptop or charge its battery .
Toshiba Dynadock Universal USB 3.0 Docking Station
is rated
4.27
out of
5
by
15
.
Rated

5

out of

5
by
Braydon
from
null
Fantastic little device, we purchased one to run off of an older HP laptop with only USB2.0. It's running a 23" 1080P display perfectly fine off of that, as well as the Network, keyboard, and mouse.
Date published: 2013-10-09T00:00:00-04:00
Rated

5

out of

5
by
DaveorMoss
from
Great device.
Have these installed at 250 desks and whilst we get the odd screen dropping out our users love them. The extra USB capacity is fantastic and has stopped lots of phone chargers being plugged badly into outlets!
Date published: 2018-03-01T00:00:00-05:00
Rated

5

out of

5
by
Simon Matthews
from
null
We have these installed on all Teacher's desks in their offices and classrooms. In many situations they are connected to projectors and/or external monitors. We have found them to function fantastically in comparison to other options we were looking at in testing.The only issue that we have with them is occasionally they seem to freeze the display in GPU memory and the only way to fix that is to remove and restore power to them.
Date published: 2014-10-09T00:00:00-04:00
Rated

5

out of

5
by
Dnewton76
from
null
Great design and works well, there has only been one laptop (a HP Probook) that kept getting corrupted. However works well with two 24 inch monitors.
Date published: 2015-11-17T00:00:00-05:00
Rated

5

out of

5
by
James
from
Good Product
This is a good product, a little confusion at first in setting up the product. The download process was adequate. Once the driver was installed it worked effectively.
Date published: 2017-08-17T00:00:00-04:00
Rated

5

out of

5
by
Rancher
from
Dynadock works great!!
These work great for connecting laptops for our sales people. One cable connects and they have their Dual Monitor work station up in seconds.
Date published: 2017-09-21T00:00:00-04:00
Rated

5

out of

5
by
WallyH
from
Audio, Ethernet, & didplay drivers are mot working
I had this unit for about six months now. This unit looks good that is it. Toshiba customer service very unreliable. I wasted a lot of time with them no luck. we tried an after market brand the Plugable $50.00 cheaper and works like a charm. all drivers are working with no issues and up to date with windows 10. Too bad Toshiba can't fix the issues they have on their Dynadock Station drivers, Last update was November 2015. So we just ordered few more Plagables for the office.
Date published: 2016-05-20T00:00:00-04:00
Rated

5

out of

5
by
OfficeDirt
from
Slim and Easy to Use
This is my first docking station so I can't really compare to other docking stations. It was very easy to set up and it works great; however, I really wish it was the power source for the laptop as well. It is not. So I still have to keep my laptop plugged into the wall. Also, I had to purchase another USB cord as the one that came with it wasn't long enough to reach my computer. Other than that power issue that I was unaware of and buying another longer $10 USB cable, it's great and serves the purpose.
Date published: 2018-02-21T00:00:00-05:00
Rated

5

out of

5
by
MajorMikeKY
from
Power button
Works well. Small footprint. BUT needs a turn power off button.
Date published: 2017-09-07T00:00:00-04:00
Rated

5

out of

5
by
TimFair
from
Dynadock is an Excellant piece of Equipment
You won't fine many things easier to install than a Dynadock U3.0.Just install the drivers on your laptop then connect the laptop to it with the USB Cable and it takes over. A very easy way to connect multiple screens with a laptop. You can actually run 3 separate screens with 2 pare monitors and the Laptop.
Date published: 2017-06-08T00:00:00-04:00
Rated

5

out of

5
by
caribeto
from
this product has great features and Design
This product is slim with multiple USB ports that allow me to connect different items and, at the moment of getting my PC plugged.. is just a matter of connect 1 cable and you're good to go!!I really recommend this device for the functionality and design.
Date published: 2017-06-01T00:00:00-04:00
Rated

5

out of

5
by
TMill
from
Great Item
Very easy to set up and use. Allowed me to retire an aging desktop PC but maintain the feel with my laptop.
Date published: 2017-06-08T00:00:00-04:00
Rated

5

out of

5
by
SCOTT K.
from
Makes being mobile much easier!
Great product and does what it says! Makes being mobile much easier.
Date published: 2020-04-06T16:28:04-04:00
Rated

5

out of

5
by
it_user308271
from
The daily employee reports allow me to see exactly what my employees are accomplishing across all my companies, but a mobile app would be nice.
Valuable Features:It's not necessarily any one feature that is amazing, but the integration between email, CRM, calendar, task management, project planning and workflow automations have really improved our communications, organization and my oversight of everything.Plus, I oversee multiple companies, and Dyando allows me to be able to monitor all the activity from all my companies all from the same place! I haven't seen any other platforms that have this!Improvements to My Organization:As I mentioned, it's not any one feature that changes how we work, but rather the fact that everything is included and connected with Dyando.However, the daily employee reports might be the single most convenient thing in my mind. It allows me to see exactly what my people are accomplishing (or not accomplishing!) everyday across all my companies...without asking for reports or wasting time in meetings.Room for Improvement:The web version is great, but they really need to create a mobile app. Since most of my employees work from the computer, this hasn't been a problem for them, but for me, it would be nice if I could utilize the normal functionality on the go...at least with some push notifications.I think they need to offer a mobile app, which is not something they have; though I have been told they are planning to launch one at some point. More specifically, it actually doesn't really affect my employees since they are almost always working from their computers. However, I am on the go a lot, meaning I am on my phone constantly, so it would be really helpful if they had some mobile functionality.Disclaimer: I am a real user, and this review is based on my own experience and opinions.
Date published: 2015-09-20T00:00:00-04:00
Rated

5

out of

5
by
RONALD V.
from
Toshiba Dynadock Universal USB 3.0 Docking Station
The Toshiba Dynadock Universal USB 3.0 Docking Station was one of the best hardware choices made to work alongside the Toshiba Tecra laptop. Fast, efficient, and readily detected
Date published: 2021-02-03T15:47:13-05:00