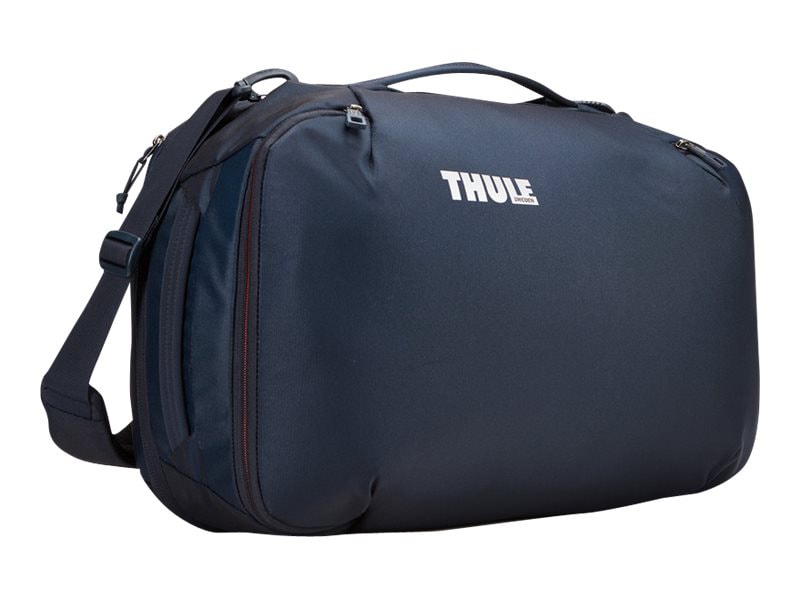 Quick tech specs
View All
Know your gear
The Thule Subterra TSD-340 Duffle Bag is a soft-sided carry-on designed to help maximize packing space. It includes a separate sleek laptop sleeve for travel convenience. This bag can be carried in two different ways: as a backpack and a shoulder bag. For additional convenience all the straps tuck away when not in use. Its pass-through panel ensures secure attachment to rolling luggage for effortless travel. A removable sleeve with tablet storage, PowerPocket and accessory organization enable users to carry the laptop and tablet separately.
Thule Subterra TSD-340 - duffle bag
is rated
4.60
out of
5
by
20
.
Rated

5

out of

5
by
Schnucki2010
from
Best bag I ever purchased
I picked this bag up last week. My first Thule purchase. The bag is just amazing for short trips, enough space and compartments. Also looking stylish. I am now looking at the other items in thules product range. For me there is no other choice anymore. Quality, design and style all 5 stars.
Date published: 2020-03-03T00:00:00-05:00
Rated

5

out of

5
by
JC
from
Fully Recommend
It's very simple, you need this bag it's a must purchase. Super convenient for the quick trips.
Date published: 2020-03-03T00:00:00-05:00
Rated

5

out of

5
by
Steve
from
Subterra
While I haven't yet used my Subterra, it's very well designed and appears very well constructed. It's pricey, but worth it if it lasts for the long haul.
Date published: 2020-03-03T00:00:00-05:00
Rated

5

out of

5
by
Pat
from
Innovative Design
I have not used this bag yet. That is why I only rated it at 4 stars. I have carefully examined it, and the materials used and craftsmanship are excellent. The design is innovative, and the closed cell foam padding used help the bag retrain its shape for easy packing and use. This bag plus my medium size messenger bag would be more than enough for a week long trip, and you could pack a laptop and tablet in the small briefcase part of the bag with no worries. So it would be a great carryon for longer business trips.
Date published: 2020-03-03T00:00:00-05:00
Rated

5

out of

5
by
Travel Mama
from
The one bag you'll ever need!!
Thule had the savvy traveler in mind when they designed this bag! It is so versatile and has a generous amount of room for packing. Can be used with a single strap or backpack option, and the straps can easily clip off or be tucked away if not being used. It is soft enough to give wiggle room in packing, but ridged enough to protect items inside from being crushed. It is an easy fit in the over head on a plane, and doesn't stick out on the sides when walking down the narrow plane isle. There are just the right amount of compartments so everything has a home, but not overwhelming so you forget where you put something. Just took my toddler on a 3 day trip and this was the only bag I brought! It also comes with a soft laptop sleeve that is removeable, but super handy since that has a tidy power cord pocket that is genus for a business traveler. The colorful linings are great too since you can see your stuff when quickly reaching in (unlike a black lined bag that is hard to find what your liking for quickly). I can't say enough about this bag. It is brilliant!!
Date published: 2020-03-03T00:00:00-05:00
Rated

5

out of

5
by
Skwanderer
from
Excelent set of features and size
I make long toad trips. This bag is perfect for 1 2 night stopovers along the way.
Date published: 2020-03-03T00:00:00-05:00
Rated

5

out of

5
by
Kat
from
Love this Bag!
Perfect for a 5 day trip! Comfortable carry with a shoe compartment and removable laptop sleeve.
Date published: 2020-03-03T00:00:00-05:00
Rated

5

out of

5
by
Kerri
from
Perfect overnight bag
Great for short overnight trips.
Date published: 2020-03-03T00:00:00-05:00
Rated

5

out of

5
by
cg33
from
Versatile
Just traveled using this bag and we are so excited to get the matching roller suitcase. We love the versatility this bag provides as a duffle bag and a backpack. There are so many engineered features that we didn't even know we needed but now use and enjoy. I recommend this for anyone who travels frequently. There is enough room to bring all your work related belongings as well as some extra clothes that might not fit in your suitcase or as an alternative to a carry on suitcase!
Date published: 2023-01-03T00:00:00-05:00
Rated

5

out of

5
by
RWebb44
from
Perfect all in one solution for light travel!
I have recently begun traveling a lot for work, mostly weekend trips and needed a new bag solution that was capable and easy to use, while also being more than just another black bag. The red Ember finish caught my eye first, and upon looking further into this bag, I was impressed with all of the features. The utility of a carry-on bag and usability of a backpack, while having enough storage for 3-4 days of travel items makes my work trips a breeze. I love that I have different netted compartments for various things, the option to use the bag in various forms, and also a designated laptop bag & compartment to make work on the road easy. I absolutely love the quality and usability. Cannot recommend highly enough!
Date published: 2022-08-08T00:00:00-04:00
Rated

5

out of

5
by
LAH
from
Love it!
I was looking for a bag for 1 - 3 days to consolidate clothes, laptop and misc items to avoid multiple bags. It is perfect. Light weight even with laptop and running shoes loaded. Highly recommend for those looking for efficient travel.
Date published: 2020-11-12T00:00:00-05:00
Rated

5

out of

5
by
Tom's
from
Very useful piece
Lightweight, functional, many pockets, laptop sit nicely inside. It's a bit too big. Because I am a short person. Simple look. Just love it.
Date published: 2023-03-05T00:00:00-05:00
Rated

5

out of

5
by
Farmer
from
Thule Subterranean
Not traveling until January, so I haven't used it yet. Love the colour and features. We have a Thule bike rack and a Thule cartop carrier and Thule roof racks, so not really anticipating being disappointed.
Date published: 2022-12-04T00:00:00-05:00
Rated

5

out of

5
by
KU007
from
Well thought out
I bought this recently for both domestic and international travel. I wanted something that could easily be worn as a backpack or duffle bag in case I already had a daypack on my back or hung over my shoulders in front of my torso. The bag has a solid structure and is simple in design; it's carry-on approved, has lots of space, and has smaller pockets for valuables like electronics, wallets, passports, keys, etc. The separate shoe compartment is helpful if you need to separate dirty items from clean ones; however, it takes up much of the space in the main internal area when filled, which is an obvious drawback. The laptop sleeve is handy since you can easily use it for simple day trips if you only need to carry your laptop and chargers or if you'd like to have essentials separately from the main backpack for easy access. The zippers to the main compartment are lockable with any TSA luggage lock, though some smaller pockets are harder to lock; you'll have to get crafty and buy a chain to loop it around something more sturdy like the handles. The handles are placed in the perfect areas for easy carrying and maneuvering, no matter how you wear or carry the bag. I would have preferred a latch/belt-tightening system for the interior component to hold my items down more securely, but the mesh and zipper are good enough. Finally, the colour is beautiful. Overall, it's clear the designers put a lot of thought into this.
Date published: 2022-12-17T00:00:00-05:00
Rated

5

out of

5
by
YYC-Brad
from
The carry on of my dreams!
Bought this for frequent trips to work at a mining camp. Leave my full sized bag there in storage and use this to/from site on a multiple leg flight twice a month. Great for bringing small bits of stuff back and forth without lugging a huge bag and dealing with checking it in. Super practical pockets (including one for shoes which I use a liquids bag pocket for quick access at airport security). The included tech bag means I can leave the laptop backpack behind and is great for keeping my tech stuff handy at my seat without taking up much space. A true all in on solution! The only complaint I've seen is the lack of a bottle holder, but being convertible and able to be carried in so many ways makes that a bit impractical. Easy fix was to get a clip/strap on bottle carrier that I can also clip to the tech bag for day use, so a win/win.
Date published: 2022-08-22T00:00:00-04:00
Rated

5

out of

5
by
strob
from
Well made. Great storage. Well thought out.
Bout it a month ago and I've used it a few times. Its been great keeping organized. Plenty of space. super functional.
Date published: 2022-07-20T00:00:00-04:00
Rated

5

out of

5
by
Paul
from
Great Product!
I chose this as a carry on for long trips to ensure that I have at least a set of of clothes to change in, for cases when flights get diverted, or cancelled and have no access to my check in luggage. The laptop sleeve that you can detach was a bonus for me, specially for 1 2 day trips wherein now i no longer have a laptop bag/knapsack and my luggage to carry but just one bag. he knapsack "mode" is quite useful, but make no mistake its not really a knapsack (e.g. ergonomics, water pocket but it still gets the job done.
Date published: 2020-03-03T00:00:00-05:00
Rated

5

out of

5
by
Karo
from
It's a good bag, but a terrible backpack
This is an OK bag, and only a few oversights are keeping it from being great. Thicker backpack straps with a mesh foam back cushion would make it truly usable as a backpack. The mesh "lid" in the main compartment should have its zipper direction reversed, so that the inside could be reached from the top without split opening the whole bag, when in backpack mode. It would be better to move the main zipper more to the front of the bag, so that the bulk of the bag is solidly attached to the rear and only a thin lid in the front opens up. This would also allow the bag to split open without undoing the backpack straps AND enable another spot for a small pocket for various items on the top (fleece lined sunglass pocket for example). Furthermore, this would allow the opening of the bag when its placed on its back on the ground instead of front down, as it is now. Currently the two only pockets will generally be occupied by clothes/shoes and a liquid baggy for airport security checks, leaving no empty easy access pockets for a water bottle, umbrella or anything else picked up on the way. The main compartment also needs tie down straps. With Thule it seems that you pay for the quality, rather than the feature set. The straps are solidly sewn onto nylon webbing, all zippers and seams are done well, the bag really feels like a quality item. But really basic oversights, like no tie down straps in the main compartment, no simple pocket for extra stuff picked up along the way (i.e. water bottles) make you really question if it's worth the high price. Would I recommend this as a simple grown up shoulder bag? Yes. Would I recommend it as a feature rich bag/backpack combo for everyone? No
Date published: 2020-03-03T00:00:00-05:00
Rated

5

out of

5
by
Adam
from
Add Water Bottle Holder
Thule, this is a great convertible backpack! However, it's missing a water bottle holder. I have heard this feedback from so many acquaintances. Please add this feature. Thanks, Adam
Date published: 2021-03-21T00:00:00-04:00
Rated

5

out of

5
by
Albert
from
Great Carry-on luggage
It is an "all-terrain" and "all-in-one" suitcase. The size of this is perfect to carry in the cabin of all airlines. Since it is not rigid, it is less damaged in the cabin compartment. Something that I like is that it may seem like a backpack, even if the flight is full you can take it with you, which is not always the case with the traditional "Carry-on" that sends it with luggage.
Date published: 2023-01-02T00:00:00-05:00