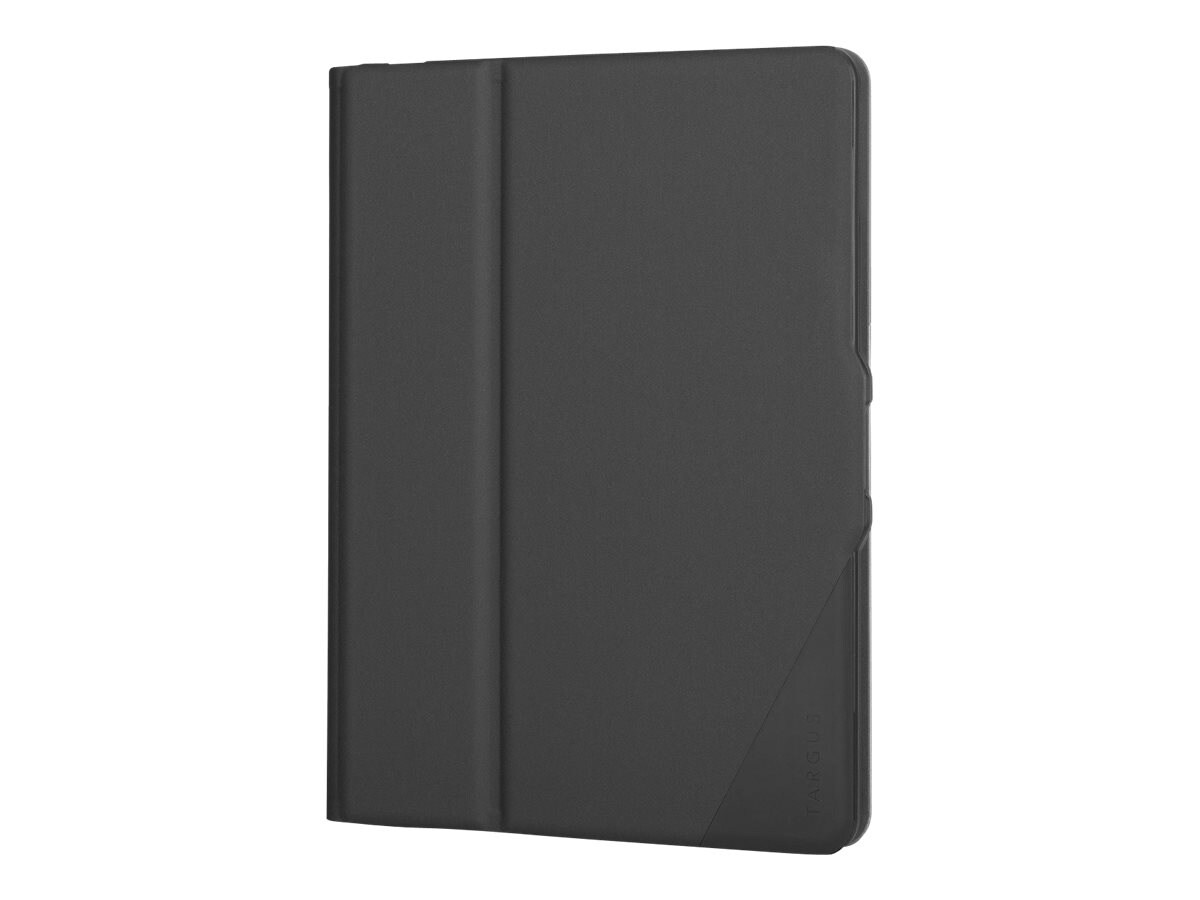 Quick tech specs
Flip cover for tablet
10.5"
8th generation
black
for Apple 10.2-inch iPad (7th generation
9th generation); 10.5-inch iPad Air (3rd generation); 10.5-inch iPad Pro
View All
Know your gear
Wrap your iPad in all around style and protection with the VersaVu Case for iPad (9th, 8th and 7th gen.) 10.2-inch, iPad Air 10.5-inch, and iPad Pro 10.5-inch. With its slim and sleek exterior, secure magnetic closure, and protective tray with reinforced corners, this stylish case is built to withstand everyday bumps and drops, including those up to 4 feet*.

More than just good looks, it's also designed to enhance the functionality of your iPad. With 360° rotation, the case offers seamless portrait and landscape viewing. Deep grooves on the interior cover offer a stable base for multiple viewing angles. And the integrated Apple Pencil holder conveniently stores your Pencil.

Precision cutouts offer full access to all ports, controls, and the camera lens, so you can use all of your tablet's features without removing it from the case. The case incorporates innovative audio-scoops that direct sound toward the user and an integrated sleep/wake feature to reduce downtime and saves battery on those tablets.

* As tested by an independent third party applying MIL-STD-810G, Method 516.6, Procedure IV.
Targus VersaVu - flip cover for tablet
is rated
4.90
out of
5
by
23
.
Rated

5

out of

5
by
Ogrelutz
from
Versavu
This case fit my iPad pro with no problems. It was easily installed and is fairly rigid. It provides more than adequate protection from bumps and small falls. This case has a separate slot for your stylus and rotates on the back side for multiple resting positions. I would recommend this case to anyone.
Date published: 2020-10-19T00:00:00-04:00
Rated

5

out of

5
by
jennzenn
from
Very impressive quality!
I have been using my Targus - VersaVu® Case for iPad® (7th gen.) 10.2-inch, iPad Air® 10.5-inch, and iPad Pro® 10.5-inch, Black for a month or so now and I am very impressed with the quality and durability.
Date published: 2020-12-07T00:00:00-05:00
Rated

5

out of

5
by
Robcam7
from
Great quality!
This case is classic and durable. It has a professional look to it and fits my iPad just right. It is easy to snap into place. It supports my iPad well and gives me confidence that it will keep it safe. It allows me to prop open my iPad to get work done conveniently.
Date published: 2020-10-21T00:00:00-04:00
Rated

5

out of

5
by
Sam
from
Best case I ever purchased!!
Best case I ever purchased!! I've bought this style cover from another company and it does not compare to this one. This one is softer and slimmer and more comfortable to handle. Highly recommend!! I will purchase another one!
Date published: 2022-05-28T00:00:00-04:00
Rated

5

out of

5
by
Phoebe
from
Easy to handle and durable, glad I purchased.
Very durable and easy to handle, holds IPAD firmly
Date published: 2022-03-12T00:00:00-05:00
Rated

5

out of

5
by
GarrettU
from
Decent iPad case
This is a decent iPad case. It is good for someone who is looking for a case that is also a stand. It also contains a stylus holder built in. I use my iPad more without the stand feature so when the iPad case is folded over, the back flap doesn't stay put and wants to slide or flop open. Would be helpful for the cover to snap in place or maybe a magnet that keeps the flap connected to the back when it's open. If not for the flap inconvenience, this would be the perfect versatile iPad case.
Date published: 2020-10-04T00:00:00-04:00
Rated

5

out of

5
by
Dwork
from
Great Case
Really awesome case. Doesn't want to slip out of my hands while holding it-- the material is great grip material. Really awesome that there is an apple pencil holder built into the case. Also really cool feature that it swivels! Very durable material.
Date published: 2020-10-07T00:00:00-04:00
Rated

5

out of

5
by
Cgimle
from
Great product
I bought this for my iPad. It's wonderful. It's keeps my iPad safe and secure. I like all the features. I can turn my iPad easily. I was impressed by the value. I would definitely recommend this for everyone with a ipad
Date published: 2020-10-09T00:00:00-04:00
Rated

5

out of

5
by
haley15
from
Excellent product!
This keeps my iPad safe when I give it to my nieces and nephews to play with. I love how slim and sleek it is while still being durable! I love watching Netflix while I'm getting ready and the fact that I can prop it up is amazing!
Date published: 2020-10-14T00:00:00-04:00
Rated

5

out of

5
by
Amanda
from
Lovely!!
I dig it! It looks great and it is very functional. Shipping was very fast.
Date published: 2021-02-08T00:00:00-05:00
Rated

5

out of

5
by
TayM123
from
Such a cool case!
I absolutely love this IPad case! It's sleek, easy to utilize, and protects my iPad well! I love that the edges slightly come over the screen to create a bumper like effect to provide extra protection. It's even awesome that there is a little storage area for my Apple Pencil! I love how the case is able to swivel and is able to stand using the cover, it makes my life much easier while completing my work for grad school! Also, I work at an elementary school, and I let my students use my iPad. So far, this case has kept my iPad safe and sound after two hard falls, which is a miracle! Overall, I would highly recommend. Great design and overall great case!
Date published: 2020-10-08T00:00:00-04:00
Rated

5

out of

5
by
Lizerafs
from
High Quality Case!
This case is very sturdy and looks great. The case is a little heavy, but definitely worth it for the level of protection. The black color looks very sleek and stylish. I would recommend it for anyone with an iPad.
Date published: 2020-10-06T00:00:00-04:00
Rated

5

out of

5
by
Sariea
from
Quality case for your iPad
I was shopping around for a case that is functional for a daily user of an iPad. It needed to be lightweight, protective, yet sleek. I found it in this case, it has been on my iPad since I received it.
Date published: 2020-10-07T00:00:00-04:00
Rated

5

out of

5
by
Russkreview
from
Fantastic product!
This case is perfect for my little one! It is super durable, and very well selling out I love that it rotates in multiple directions. Also really great if you have he need for taking it outside in rugged places. I am really really happy with this case.
Date published: 2020-10-08T00:00:00-04:00
Rated

5

out of

5
by
Mselmo
from
Excellent case
I received this item and it fits my iPad like a glove and I'm so glad to have this Versace case and I love the fact that it's 360 I can watch it sideways or straight up it's pretty cool and I reallly enjoy your case and it's pretty cool and it looks nice on my iPad I would totally recommend this this product to everyone
Date published: 2020-10-08T00:00:00-04:00
Rated

5

out of

5
by
Dude
from
Good value
Very durable while also lightweight. Can hold the iPad in portrait and landscape.
Date published: 2021-01-28T00:00:00-05:00
Rated

5

out of

5
by
Uncle Jud
from
Fits just right!
I'm generally pretty picky when it comes to coverings and cases for my iPads and other portable devices. This VersaVu Cast for iPad fits just right on my new 8th generation tablet. It's a snug, secure fit when room for my Apple Pencil, which also fits perfectly. The cover has a secure magnetic close, and I love that I have several options as to the angle at which my screen is propped up. Overall, this is a great, quality product that serves the purpose and looks great. I recommend!
Date published: 2020-10-12T00:00:00-04:00
Rated

5

out of

5
by
CB
from
VersaVu 10.2" Review
Very pleased with the protection around the iPad and the swivel feature, However, I would prefer that the cover had more padding and stability.
Date published: 2021-04-02T00:00:00-04:00
Rated

5

out of

5
by
Tammy417
from
love this!
This is a very good protective cover. I love the magnetic fold to secure the case, love the swivel function for those games that wont let me play in landscape mode. It protects your ipad with a nice cushion. My I-pad fit perfectly in the holder and protects the screen from damage.
Date published: 2020-10-06T00:00:00-04:00
Rated

5

out of

5
by
mcantu
from
All In one Case!
I love this case. It fits perfectly with my iPad Pro. It looks slim and professional when closed but the real magic is when you open it. The inside rotates and you can prop up the iPad in landscape or portrait mode. This comes in handy when watching videos or movies on the device. The case is rated to protect against accidental drops and I truly believe it can hold up to that standard (Forgive me for not doing a drop test. The Apple Pen holder is a bonus that puts it over the top regarding productivity and features. I highly recommend this case.
Date published: 2020-10-07T00:00:00-04:00
Rated

5

out of

5
by
Zil O
from
Stylish
This case is perfect for as much as I travel. I feel that my iPad is very secure in this and won't crack if I drop it! Perfect for airplanes as it folds so that I can put it on the tray and watch a movie without holding it. It sleek look just adds to the whole package. A must!
Date published: 2020-10-09T00:00:00-04:00
Rated

5

out of

5
by
Styrchn
from
Great stand + protector
Even with best intentions, I drop my phones and tablets a lot, so cases are a must. I have purchased a number of cases before, and I'm always frustrated that there isn't enough protection around the corners. This case claims to pass a 4ft drop test, and I appreciate that the rubber casing wraps entirely around the whole device. My iPad snapped in snuggly, and the case feels very durable. The case is held closed with magnets. Overall, the case does add quite a bit of weight to the device (something to keep in mind as the weight can add up if you carrying it in your backpack with your laptop and chargers too.) There are cutouts to store your Apple pencil, both sideways for transport, and upright for active use. The coolest feature about this case is its swivel feature. The case is scored so you can fold it back to stand the iPad sideways, but you can also rotate it and the stand can sit upright so you can view your iPad in portrait or landscape mode. That's pretty handy! Overall this is a good buy if you want good protection for your iPad, and don't mind all the added weight.
Date published: 2020-10-04T00:00:00-04:00
Rated

5

out of

5
by
TMCR Reviews
from
Excellent quality case for travel, work, and home.
This case worked out perfectly for my iPad Pro. The material is sturdy and allows you to hold a steady grip on your device. I love the inclusion of a stylus slot for the Apple Pencil, as this is a feature often overlooked on cases of lesser quality. Full screen rotation is my favorite and most frequently used feature; it keeps it feeling neat and tidy. I've used it in a multitude of situations and locations, and it has held up well to all of them. It's as comfortable at the couch as it is at the desk, and looks good in either place. I'd recommend this to someone who sees the value in protecting their electronic devices and wants to do it with style and quality.
Date published: 2020-10-30T00:00:00-04:00