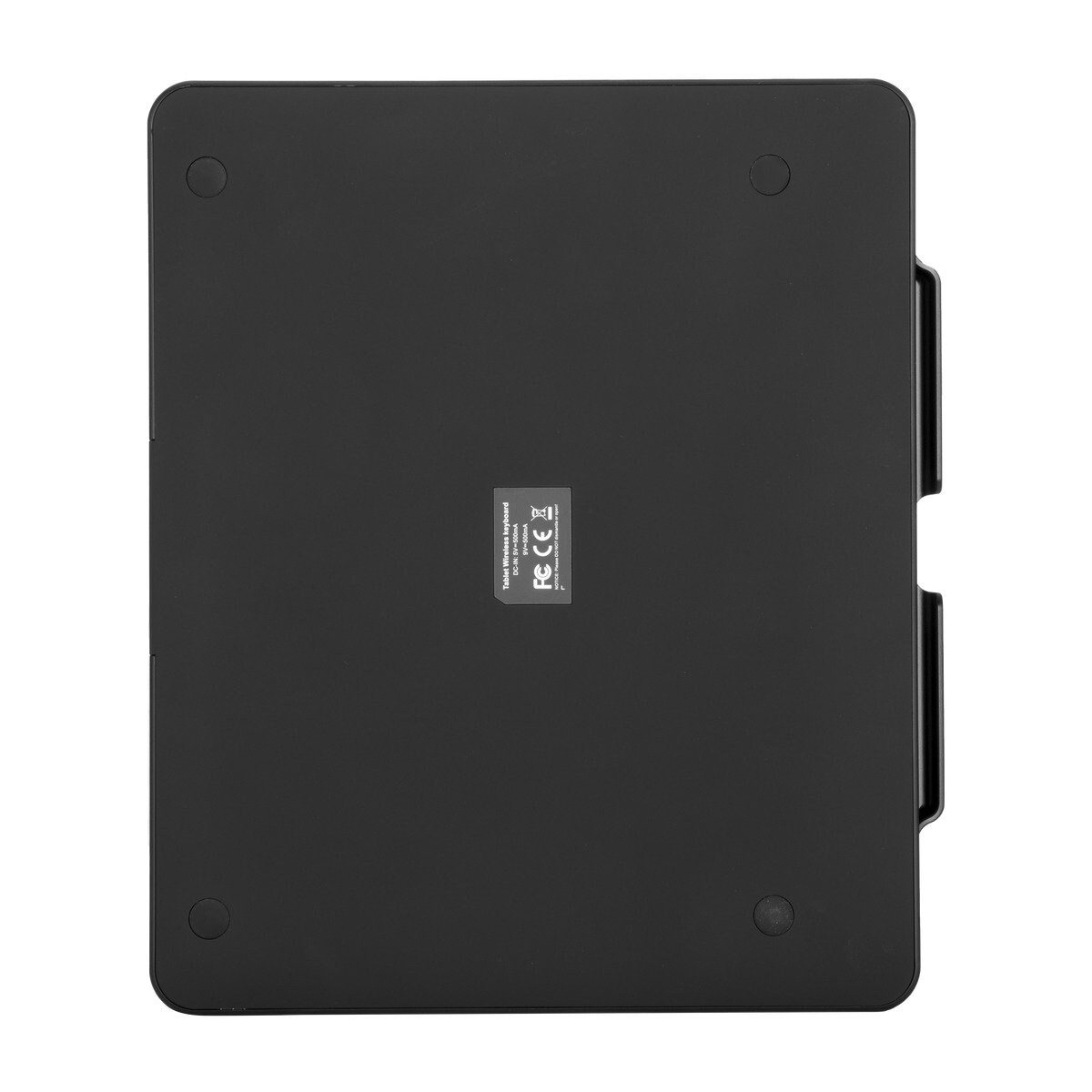 Quick tech specs
Keyboard and folio case
backlit
QWERTY
for Apple 12.9-inch iPad Pro (3rd generation
with trackpad
wireless
US
4th generation)
View All
Know your gear
The VersaType for iPad Pro 12.9-inch 4th Gen (2020) and 3rd Gen (2018) adds functionality and protection to your device?while adding little in terms of bulk or weight. The hard-shell case offers considerable scratch and impact protection when closed, and opens up a world of productivity. The keyboard is designed to provide a laptop-like typing experience with a full QWERTY layout and integrated trackpad that features trackpad gestures.

The case seamlessly transitions from closed, protective mode, to open laptop mode, to presentation mode to flat, hidden keyboard tablet mode. The specially engineered hinge rotates 360° and pivots 130° to achieve virtually any viewing angle desired. When the case is closed in protective mode, it puts the device to sleep and allows access to all ports. With up to 180 hours of battery life and backlit keys for easy viewing in the dark, it's the ultimate keyboard case to take with you anywhere.

*Estimated 180-hour battery life occurs when backlit keys are off.
Targus VersaType - keyboard and folio case - with trackpad - QWERTY - US
is rated
3.60
out of
5
by
20
.
Rated

5

out of

5
by
Mimsie
from
Great overall case!
Love this case - it's tough and has protected my iPad despite a few (very minor) drops. It has some amazing features - including the track pad, which I hadn't seen on one before and is super convenient! The ability to pivot the direction of the iPad is also v cool and I use it often!
Date published: 2022-12-05T00:00:00-05:00
Rated

5

out of

5
by
Anjali123
from
So useful
I received this review purposes. This case is ultra slim and ads glam to the iPad. The smooth grip, non-slip interior lets you enjoy an infinite array of viewing angles, or folds to provide an ergonomic typing angle. comfortable typing position Full access to controls and ports. highly recommended and enjoy this amazing case.
Date published: 2022-11-12T00:00:00-05:00
Rated

5

out of

5
by
DevonB
from
Pretty good!
I really love this case. It was very easy to pair and it work on the first try. It has also since stayed paired. I really enjoy the screen turn feature. The only large issue I do have is the slight latency of the track pad. Other than that, awesome case!
Date published: 2022-10-28T00:00:00-04:00
Rated

5

out of

5
by
Alkrin
from
Great iPad case!
Great iPad case!! Works really well, great protection and convenience of use. Love how it allows the screen to swivel around. Works almost like a laptop and then the swivel allows for easy touch and watch use.
Date published: 2022-10-14T00:00:00-04:00
Rated

5

out of

5
by
Rocky
from
Nice keyboard
This VersaType iPad Pro case with keyboard helps the iPad function more like a laptop. The keyboard is very nice and easy to use. With the iPad in the case it can be a little top heavy so you have to be careful that it doesn't tip over.
Date published: 2022-10-16T00:00:00-04:00
Rated

5

out of

5
by
MamaG
from
Works awesome
I was a little skeptical at first. But this seems to be really well built. My ipad snapped right in. The keyboard is so much nicer than trying to type on the screen. I think it should hold up to some good wear and tear.
Date published: 2022-10-15T00:00:00-04:00
Rated

5

out of

5
by
Taaaaargus
from
Makes the tablet useable!
Wow, this works so well on my iPad Pro! Now I don't have to carry a keyboard around and my iPad is so well protected! I've been really happy with the Targus products and will absolutely be buying more items.
Date published: 2022-10-22T00:00:00-04:00
Rated

5

out of

5
by
ANONIMOUS
from
7/10
GOOD OVER ALL AROUND THE EDGE OF THE IPAD PROTECTION,,,... BUT TRACK PAD NO RESPONSIVE
Date published: 2021-04-22T00:00:00-04:00
Rated

5

out of

5
by
Miguel
from
Case observation
The screen portion is heavier then base, be careful how much you open. Also, it is VERY hard to remove iPad from case. Slight latency in track pad
Date published: 2021-05-06T00:00:00-04:00
Rated

5

out of

5
by
shannyre
from
Not a great combinaction
I had the apple magic keyboard as well as a normal folio case that I kept switching back and forth between because sometimes I needed a keyboard, but other times I didn't. I thought this would be a great compromise. It is not. First off, the case has to be charged, so another charging cord. In a month, I have already had to charge the case 3 times, and I rarely use the keyboard because of its functionality. The case is heavy and kind of a pain to flip around. I was the center of attention in meetings because it was so ridiculous to flip. The trackpad gets in the way when typing and often the cursor jumps around. I like the pencil holder, but for the most part, I don't really care for this case. It took several attempts to get it to pair as well.
Date published: 2022-11-14T00:00:00-05:00
Rated

5

out of

5
by
Alex21
from
Great keyboard, but trackpad is very imprecise
I've had this keyboard for a few days and It would be perfect if the trackpad worked smoothly. It has some latency/lag to it and the gestures are not intuitive at all. The hinge is great but since its in the center, its wobbly. The typing experience is a 10 out of ten, but the trackpad is a 3 out of ten. It really ruins the whole experience. It would be forgivable if the price was lower.
Date published: 2021-05-11T00:00:00-04:00
Rated

5

out of

5
by
JB
from
It was an okay product.
The idea of this is great. I always rather buy higher quality than something on Amazon for this. But, the price didn't seem worth the product. It was wobbly and not stable. The track pad didn't work sometimes. The keys felt weird. It wasn't as comfortable as I thought it would be so I returned it.
Date published: 2021-04-23T00:00:00-04:00
Rated

5

out of

5
by
Tombo
from
Would be great if it worked
I bought it to replace my Logitech slim keyboard folio, which - despite the excellent keyboard and great protection is somewhat bulky and has limited display options. This VersaType VersaType is a great idea. I especially like the way it can be put into "pad" mode so you don't have to hold it by the keyboard. The only problem I had with it is that it didn't work. On the first day of typing, the iPad menu from the top right would drop down, or the cursor would jump to random places on doc (on practically every line, thus rendering the thing useless as a keyboard. I sent it back to Best Buy for an exchange. I'm pretty sure that it's a defective unit but, so far, the strong taste of lemon is 100% of my experience. So far, I can't recommend it.
Date published: 2021-05-14T00:00:00-04:00
Rated

5

out of

5
by
Ce2Logan
from
Keyboard Case - Nice...
I like the keyboard! It is nice and sleek. It has a very nice feel to it and smooth to the touch. I has some weight to it. But I like that. It has the look and feel of having a laptop but much lighter in weight. I am figuring all the function as I get accustom to the device. I like the pad really nice. You have to make sure that you enable that first if you want to type and not have the cursor jump all over the place when you touch the pad. I am a little concern with the wobbling of the piece that hold the ipad which seem a little be unstable. We will see over time how it holds up. I really like the price I paid compared to the Apple Magic Keyboard which double the price. Overall, I really like the product. It types well and the keys are soft to the touch and work well for me even though I have long fingers. I would recommend the product. And it has a place to hold the Apple Pencil so that it will not fall out or easy to lose. One other feature I got to mention is the back-like and that it can change to 7 different colors. Great Job Targus! I will buy other products in the future! I forgot
Date published: 2021-03-20T00:00:00-04:00
Rated

5

out of

5
by
Frustrated
from
Keyboard suddenly stops working!!!
I tried to avoid paying so much for the Apple IPad Pro 4th gen keyboard by getting the Versatype, but the keyboard cuts out, and no matter what I do, it does not work! I'm trying to type a comment in FB, and bang, gone! Can't they get it right!
Date published: 2021-06-28T00:00:00-04:00
Rated

5

out of

5
by
William
from
Track pad
Track pad is not working that great. Everything else is perfect.
Date published: 2021-04-25T00:00:00-04:00
Rated

5

out of

5
by
Brian
from
Flimsy yet expensive.
It is flimsy and offers no protection against drops, yet still pretty expensive. I wish it was more robust.
Date published: 2021-04-06T00:00:00-04:00
Rated

5

out of

5
by
Tombo
from
Second try
Okay. The first one of these I bought had the cursor jumping all over the page when I tried to type with it. I learned later that that could have been due to the trackpad being on while typing. I submit that it is ridiculous to have something like a trackpad interfere with the other functions of a keyboard. So, in the meantime, I ordered another to see if there would be a difference because I like this folio on paper. This one won't pair with my iPad Pro no matter what I do. An accessory like this has no business taking more than few minutes of fiddling to get going. I spent more. Tech support was closed when I tried to call so.... The single stars on everything below are accurate, seeing that I haven't had a chance to use one of these after owning two of them. Sorry. I've no more patience to spare on this.
Date published: 2021-05-19T00:00:00-04:00
Rated

5

out of

5
by
Vidz
from
Best Cover for iPad Pro
I got this case for iPad pro it is very sturdy keeps my iPad safe. My kids like to play with the iPad and more often than not they drop it like a ball. This case helps preventing any major damagees, scratches. The corners are very well cushioned as well.
Date published: 2022-10-15T00:00:00-04:00
Rated

5

out of

5
by
Annika
from
Oh!
Someone was really thinking when they made this. The material this is made out of is anti-slip! This means you are put it on any surface and walk away and not worry that it's going to slide down while you get a drink or go to the bathroom. That to me was a massive win right there. The ease of use I'm impressed with too. I hope they make these for other ipad models. I want to buy my b/f one for Christmas!
Date published: 2022-11-09T00:00:00-05:00