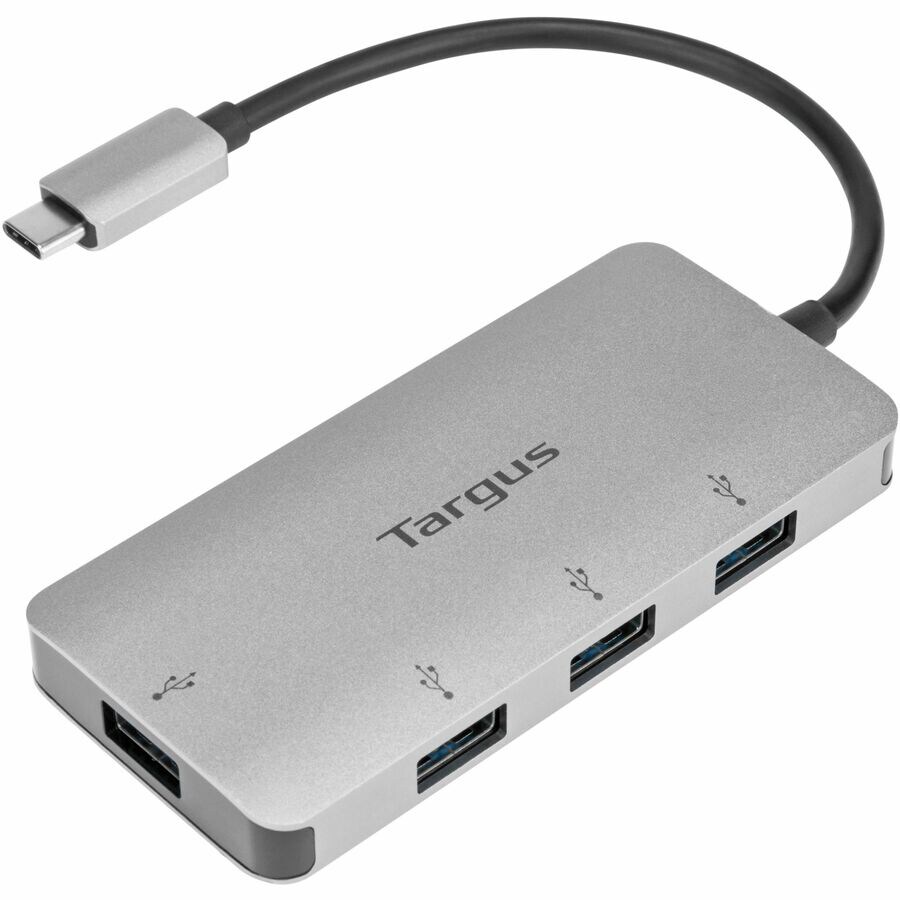 Quick tech specs
C to 4-Port USB-A Hub
4 x SuperSpeed USB 3.0
View All
Know your gear
Turn one USB-C port into four USB-A 3.0 ports with the Targus USB-C to 4-Port USB-A Hub. Connect your USB-A peripherals – like mice, keyboards, flash drives and hard drives - by plugging in up to four devices in the USB-A ports and connecting the tethered USB cable into your computer's USB-C port. This hub provides transfer speeds up to 5Gbps. Compact and lightweight, it's easy to take it along with you anywhere you go.

*Max DC 5V 900mA per port (if only one port is connected). When two or more ports are connected at the same time, the max output depends on the host PC's USB Type-C port.
Targus USB-C to 4-Port USB-A Hub - hub - 4 ports
is rated
4.70
out of
5
by
11
.
Rated

5

out of

5
by
madi
from
It was okay but i would prefer it to be a USB port
The product is sleek and small and easy to carry for traveling etc, it has many ports for charging, but it is a USB C so make sure you have a wall adapter or computer adapter for that. Its surprisingly light and it looks very cool.
Date published: 2021-05-17T00:00:00-04:00
Rated

5

out of

5
by
nick67
from
No issues at all
Recently purchased a Mac with all usb c ports. Had to use a converter for all my accessories. Targus adapter worked well. I have no issues or lag for keyboard and mouse. And connection seems to be tight as well. So great!!
Date published: 2021-04-12T00:00:00-04:00
Rated

5

out of

5
by
jerryn123
from
Good Accessories to Have
The Targus USB-C to 4-Port USB-A Hub is a great accessories to have to accompany your laptop or chromebook for the on the go. With laptops getting slimmer and having less port, this is great for those needing USB-A slot or having more of them. USB-C now is standard but there are peripherals that still uses USB-A. Having this device will help connect via a USB-C port. It can hold 4 USB-A and is very lightweight yet portable.
Date published: 2021-04-20T00:00:00-04:00
Rated

5

out of

5
by
Jeremy O
from
Stylish USB port
If there was a fashion show for small usb hubs, this would be the last model and outfit down the runway because it is a stylish looker! On top of the really nice clean design, it also works very well connected to my pc in order to keep all my various device cords plugged in. I likely wont use this for its portable capabilities, but its small size is easy to carry anywhere.
Date published: 2021-04-13T00:00:00-04:00
Rated

5

out of

5
by
TreMan
from
Excellent dongle for my mac
I needed something with more USB options and this works great. I had some in the past that a port didn't work properly but this one appears to have no issues and picked up right away. I'd recommend to anyone looking for the USB extender.
Date published: 2021-04-28T00:00:00-04:00
Rated

5

out of

5
by
TLC1022
from
So great to have!
The USB-C 4-Port USB-A Hub has been a real pleasure to work with. I knew I needed more USB connections for my laptop and PC but I didn't realize how much I really needed it until I received it. I can use this with my phone, my laptop, and PC! This has been the best item as I can use it with so many different devices and it makes working so much easier for me. I highly recommend this to others who have a limited number of USB ports. Overall, such a great product to have to help make work, working with files, and anything else you need to do easier!
Date published: 2021-05-17T00:00:00-04:00
Rated

5

out of

5
by
Mo
from
Excellent USB Adapter
The Targus USB adapter color almost perfectly matches my MacBook Pro in color which is a nice feature. The USB-C connection is very tight and secure which is a reassuring aspect, and makes me feel like it would be very hard for it to be accidentally unpluged. The connection is tight enough that I would recommend grabbing on the metal part right behind the USB-C connection to unplug it, instead of grabbing onto the cable. The speeds of transfer are as expected for a USB-A connection. I do like the form factor, and it is small enough that I throw it into my computer bag when I leave home so that I have USB-A connections. Overall I am very happy with this product and it has met my needs well.
Date published: 2021-04-30T00:00:00-04:00
Rated

5

out of

5
by
SuzanneH
from
Perfect!
Great for charging devices or transferring data from your phone to computer, which is what I did and thankfully I had the size for the connection and had no problems with connections or quality. I would highly recommend this product!
Date published: 2021-04-15T00:00:00-04:00
Rated

5

out of

5
by
Vikki
from
Works great.
I recently got this 4-port USB, glad I did it comes in handy. It changes fast, it's light weight and the 4-ports are super convenient. Even with multiple items plug into it doesn't lag, it still keeps a steady power flow. It works great I like it a lot.
Date published: 2021-04-16T00:00:00-04:00
Rated

5

out of

5
by
Mcall
from
Great features!
I love Targus products! It does it's job, nothing exceptional about it. A bit over priced for what it is in my opinion but I know Targus is a brand I can trust with my valuable possessions and can depend on in the long term.
Date published: 2021-08-10T00:00:00-04:00
Rated

5

out of

5
by
Adriana a
from
Sleek and Travel Friendly
Nothing more simpler than adding 4 USB ports where there used to be only one! This USB hub came in and was instantly put to use specially when your a Dj and need extra USB ports. This is the second one we have gotten for both our computers and by far my favorite. We can simultaneously handle multiple external drives, each with Tb of data with no problem. I just don't understand why Computers now a days only come with one USB port on. Since almost anything music related or tech wise can be attached to the computer by USB and other things like flash drives flash lights even fans or wireless mouse, can be charged thru the USB port. I have multiple USB items plugged in all the time. I love the convenience now that I don't have to worry about switching out items anymore because I only have one USB port on the computer. Definitely would recommend!!!
Date published: 2021-04-12T00:00:00-04:00