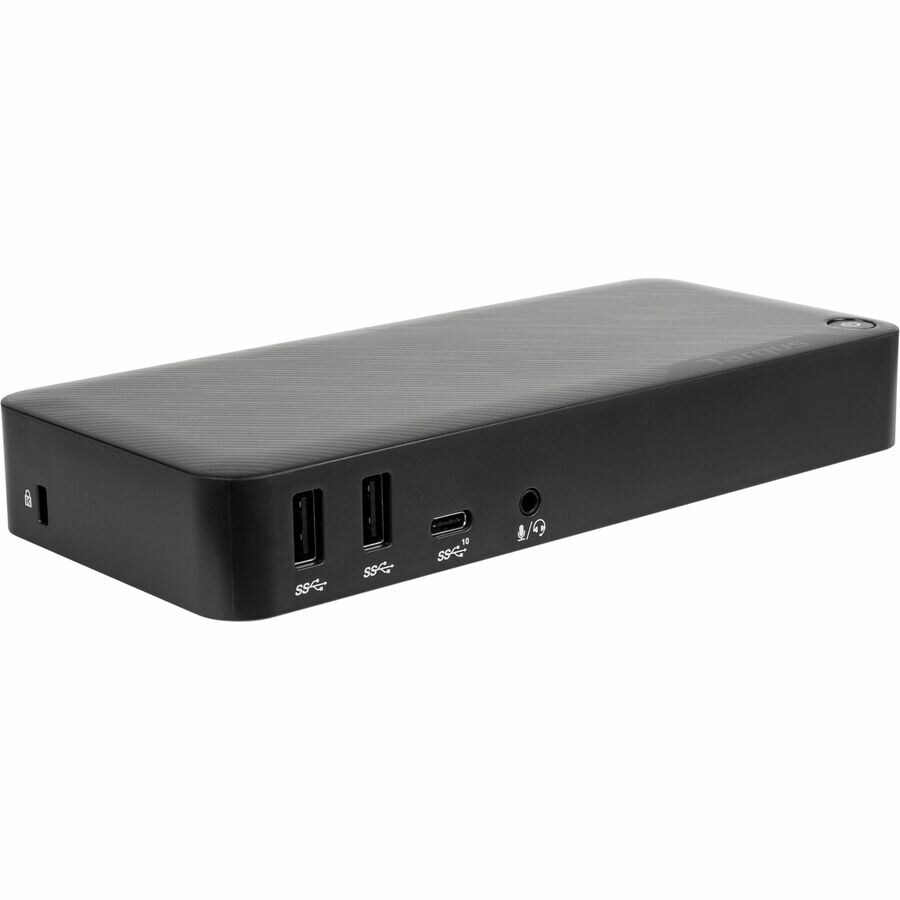 Quick tech specs
Supports Single 4K,Dual 2K or Triple HD
Color: Gray
Multiple Onboard USB Ports
Power Supply: 85W
Supports Two DisplayPort and One HDMI Monitor
View All
Know your gear
Connect your Alt. Mode or Thunderbolt™ host for an uncompressed triple-video workstation that stays charged and at the ready with 85W power delivery.
Targus USB-C Multi-Function DisplayPort Docking Station - Gray
is rated
4.70
out of
5
by
15
.
Rated

5

out of

5
by
JavaQueen
from
Easy setup
Since covered I've been having to do all of my work from home and having just one monitor is not enough to get everything done it's makes things slower so I decided to try out this triple video docking station and see how that went and what I found out is it works very well with my laptop, I have a older Lenovo and it has the Windows 10 and with this docking station I am able to connect two more monitors to my laptop now if I want I can do a third one but I don't have a third one but now I can handle my workload and a much better way and much quicker way and it's made things just incredibly easier for me. Also having the ability to plug things in so that I can get them charged and get them charged fast makes my life a lot simpler.
Date published: 2021-11-11T00:00:00-05:00
Rated

5

out of

5
by
tshepherd
from
Great!
Targus - USB-C Multi-Function Display Port Video Docking Station works great at helping keep my wires organized while giving me multiple opens for different types of cords. It compact so it doesn't take up a lot of space either!
Date published: 2021-11-01T00:00:00-04:00
Rated

5

out of

5
by
Leidy1002
from
Efficient. Works as intended.
Having a functional work/study from home workstation that will not only looks organized and tidy but that will also help increase productivity is pretty much a must have nowadays. The USB-C™ Multi-Function DisplayPort™ Alt. Mode Triple Video Docking Station with 85W Power allows you to connect your laptop to up to three monitors, other peripherals and even charge your devices. The station has a sleek and compact design, doesn't take much space on your desk and can even be mounted with the sold separately attachment. Lightweight , appears to be of great quality and doesn't overheat. Set up is fairly simple and not over complicated at all. The display resolution remains consistent and doesn't get distorted/pixelated. Monitors don't freeze and overall performs at a decent speed. It supports a wide range of peripherals and the fast charging port allows to keep your phone, tablet, etc full of charge. Overall, I'm pleased with the performance of this gadget, works as intended and I feel it has increased the capability of my computer set up.
Date published: 2021-12-14T00:00:00-05:00
Rated

5

out of

5
by
Martin
from
not for macOS users
Works as described constantly on Windows OS Won't work on macOS if you need 2 or 3 monitors. I would have liked to know this before I bought this model...
Date published: 2021-10-02T00:00:00-04:00
Rated

5

out of

5
by
SunnyJo75
from
Complete Package
The Plugable USB-C Triple Display Docking Station is a great product for those always on the go with a compatible laptop and wanting a true single-cable docking solution. I've been anticipating this capability for years, waiting for the USB and DisplayPort standards to deliver on their feature and integration roadmaps and finally see implementation in new laptops and docks like this one. It's finally here.
Date published: 2020-10-07T00:00:00-04:00
Rated

5

out of

5
by
Smuss87
from
Great product!
I love this product so much! This is exactly what I needed for my home office. It is great for using multiple monitors and a keyboard. I recommend this product to all of my friends and family members!
Date published: 2020-10-15T00:00:00-04:00
Rated

5

out of

5
by
NP
from
Exactly what I needed. Thank you.
This docking station supports three externals and the laptop, for a quad display.
Date published: 2022-01-27T00:00:00-05:00
Rated

5

out of

5
by
Da Man
from
Targus 430
Everything we needed in a docking station with the laptops we have
Date published: 2022-08-05T00:00:00-04:00
Rated

5

out of

5
by
Matt V
from
Very impressive!
I work from home and have a somewhat robust computer/monitor set up. I love the fact that I can run all of my hardware through this doc. I has the capabilities to charge my laptop, support my dual monitors, mouse, keyboard, headset, etc. It's been nothing but great. Also, is very quiet and runs cool.
Date published: 2021-11-23T00:00:00-05:00
Rated

5

out of

5
by
Tmspencer3
from
Great product!
This docking station has come in very handy with all of our technology! Lots of different port options. Helps with our phones, gaming systems & smart TV's. Thank you for a great product. I look forward to our next purchase.
Date published: 2020-10-08T00:00:00-04:00
Rated

5

out of

5
by
sryan55057
from
We love this port
This port is so easy to set up. My son has to work from home in IT, so he has multiple screens going, so this was perfect for his work set up. He loves that we could cut down on cords and wires everywhere. His work space is neater now.
Date published: 2020-10-16T00:00:00-04:00
Rated

5

out of

5
by
Vicki12
from
Fantastic!
Top Notch quality! I am a photographer and needed to move from my laptop to desktop all in one station. This is it you guys! Best part it came with usb cords that I don't have to purchase separate! I can transfer so much from one screen to the next! Perfection for my photos! Will buy one for recording studio! Great plug in access no tangles
Date published: 2020-10-12T00:00:00-04:00
Rated

5

out of

5
by
lyssamae01
from
Works as expected!
I got this docking station to use in my home office since I am now working permanently from home due to covid. My laptop is a Dell latitude 7490 running Windows 10 and I am using two Dell monitors with resolutions of 1920 x 1080. It was super simple to connect the docking station to my monitors using the 2 DisplayPort++ ports. I believe you can even add a third monitor using the HDMI port if necessary. I also use a wireless mouse and keyboard with dongles that plug into the docking station and all of this is working just fine. Overall, I am pleased with this docking station, as it performs just as expected for what I need it to do!
Date published: 2021-11-17T00:00:00-05:00
Rated

5

out of

5
by
Penn0913
from
Must have
I received this docking station a few weeks ago for my son who has multiple screens going at one time. Not to mention all the key boards, mic, mouse etc. the docking station has really cleaned up the work station and we both couldn't be happier! Would definitely recommend!
Date published: 2020-10-20T00:00:00-04:00
Rated

5

out of

5
by
Raymond
from
Neat, sturdy and stylish!
Very well built and with so many ports for anything g you need this USB-C Multi-Function DisplayPort Alt. Mode Triple Video Docking Station with 85W Power was perfect for me. It was so easy to install and the case is so sturdy.
Date published: 2020-10-15T00:00:00-04:00