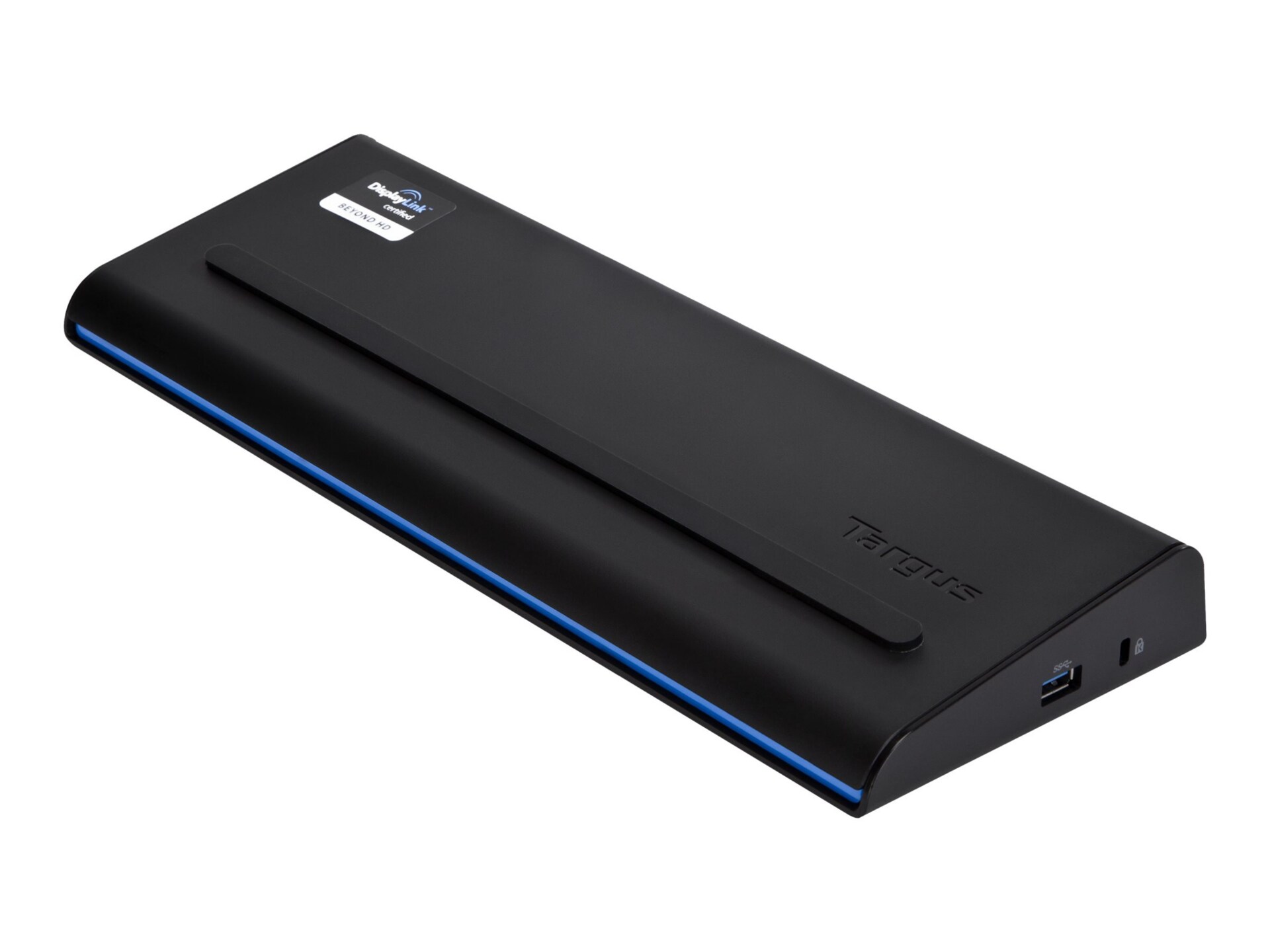 Quick tech specs
LAN Gigabit Ethernet
90W charging
power and charge any PC laptop or Ultra book
Patent Pending
8 universal power tips
View All
Know your gear
•Univ. laptop charging with any PC laptop (up to 90 watts @ 19V)
•9 power tips with integrated storage
•Standard 3-year warranty
•Dual video ports (1x DVI-I, 1x HDMI)
•1x DVI—to VGA and 1x HDMI to DVI-D adapter
•2X USB 3.0 ports, 4x USB 2.0 ports
•Gigabit Ethernet, Audio In/Out, Lock Slot
•6.15 amp AC adapter, 2-foot USB 3.0 cable

Targus Universal USB 3.0 DV Docking Station with Power
is rated
2.88
out of
5
by
33
.
Rated

5

out of

5
by
weaseleyes
from
Doesn't work with my HP Pavillion
The adapters included are supposed to work with HP, but they don't. There is only one that fits in the computer, but the prong is too short! So, I have this device and can't use it.
Date published: 2014-08-01T00:00:00-04:00
Rated

5

out of

5
by
UncleGator
from
The product did not work with my HP2540P
Terrible docking station. You have to to use several adapters, the power supply did not match HP2540P power supply. Had to open up the PC to turn on PC, then change monitor settings, before I could use the monitor. I could not turn on my PC from the docking station?? Returned immediately for refund and ordered the HP prooduct through my business.
Date published: 2012-08-31T00:00:00-04:00
Rated

5

out of

5
by
DMW18045
from
No Power TIp for HP ENVY - Beware!
I bought this docking station to prevent the need to have to constantly plug and unplug my Laptop power cord when I need to go somewhere with my laptop on the assumption that the power from the docking station would power my PC at home. When I noticed my battery charge going down I grew suspicious. Sure enough as someone said in another review, this docking station does NOT work with the HP Envy laptop. The power tip that fits is too short to charge the laptop. So now I've paid $179.00 for a glorified port replicator. So while it "looks good on paper", if you are looking at this docking station to power your laptop DO NOT buy it if you have an HP Envy laptop.
Date published: 2016-04-09T00:00:00-04:00
Rated

5

out of

5
by
Tevans7
from
Not good for steam gamers
Ever since Displaylink, the driver software provider, has released the USB 3.0 tech and drivers, there have been constant errors with Direct3d in games which is part of DirectX. They have patches for some graphics cards, but none for NVIDIA yet. If you have a NVIDIA and only play games without DirectX than this would be a perfectly acceptable docking station. If you have a NVIDIA and play games on steam or any other DirectX system, you will not be able to use the docking station and play the game. If you are the latter, check the Displaylink forums for updates on the drivers that would patch this issue. Just make sure your laptop is compatible before buying!
Date published: 2013-04-22T00:00:00-04:00
Rated

5

out of

5
by
Stan3
from
A REAL person answered the phone.
After opening the product and downloading the disc nothing happen, and no further instructions were given. Dreading 'the call' I almost fell out of the chair when a real person answered the phone. She walked me through the set-up which included downloading and installing newer drivers, and attaching each device one at a time to the docking station. The docking station preforms flawlessly, Ican hook it up to my larger monitor and old keyboard, or move into the living room and play games on the HDTV. Both product and service are EXCELLENT.
Date published: 2012-11-02T00:00:00-04:00
Rated

5

out of

5
by
Bo10
from
Problems
PROBLEM. When the notebook "goes to sleep" a key is pressed to bring the screen back up. The notebook screen comes up; but, the HP W2371d monitor screen does not always come up. Contact with Targus complaint: I have to shut down the notebook and power it back up to get the monitor come up. The monitors are in duplicate display. I do not have a DisplayLink Icon on the desktop and when I click on the application file it takes me to the internet site. A pop up box indicates the application is up to date. Followed the instructions. Received the following error message: "This computer does not meet the minimum requirements for installing the software". If this update cannot be installed, how do I recover the old graphics software? Targus helped me recover the software, must wait more time to see if problem is resolved. Targus tech has been very proactive with this problem.
Date published: 2014-01-12T00:00:00-05:00
Rated

5

out of

5
by
rswayne
from
Too many connections needed
I upgraded from an HP Pavilion. I liked the Pavilion docking station much better. It connected everything with one cable. The Targus station requires at least two. One thing it handles very well is my second monitor.
Date published: 2014-07-02T00:00:00-04:00
Rated

5

out of

5
by
aphiarch
from
No power tip for ENVY - BEWARE
I don't understand why HP would support a product that DOES NOT include a tip for it's top performance laptop! I totally wasted my time and money. PLEASE RESOLVE HP!!!!
Date published: 2014-05-22T00:00:00-04:00
Rated

5

out of

5
by
Jon81
from
Isn't Compatible
I bought a HP ENVY 15 Quad over the phone with HP and the rep recommended this docking station saying that it would connect to my laptop via a USB 3 cable. Well the docking station is not compatible with the Envy Quad Core because of differences in power supply. Quad Core laptops are NOT compatible with this unit. I should have just saved my money.
Date published: 2013-11-24T00:00:00-05:00
Rated

5

out of

5
by
thomasb176
from
worth the money...no more unplugging the displays!
The additional USB 3.0 ports as well as many other port connections are always there and the docking station has its own power supply so whether I always leave my laptop on the desk plugged into the dock, which is most of the time or take it with me, I only have to unplug it from the dock. No longer do I have to unplug the many cables such as HDMI for display and the back-up drive connected to the USB 3.0 and the printer and other hardware such as a camera and cooling fan ECT. I am very satisfied. 2know, your extra displays need to match your laptop display such as full 1080pHD if your laptop has that level of display.
Date published: 2012-08-02T00:00:00-04:00
Rated

5

out of

5
by
Jeff426
from
Not Compatible with Envy 15t
Although the docking station seems well built it does not have enough power to support the HP Envy 15t-j000 Quad Core lap top. I wish this would have been made clear when I placed my order as this is the docking station the web site suggested with this lap top.
Date published: 2013-08-12T00:00:00-04:00
Rated

5

out of

5
by
ITGuyChicago
from
Not compatible with Envy4 or 6
Even though HP recommends this product for the Envy 4 or 6 it is not compatible. The power plug does not provide the proper adapter and the USB support software does not work with Envy. Even Targus does not recommend this product with the Envy series.
Date published: 2012-06-08T00:00:00-04:00
Rated

5

out of

5
by
Avatarhere
from
Didn't Work
I never got to find out if the Targus was any good or worked well. I'd bought the USB 3.0 with power, but there was no power tip that matched the Spectre Ultrabook 14T-3200 I purchased. Salesperson said it would, but didn't. Contacted Targus and, after first saying there was a match, they came back and acknowledged there was not. Would still work as just a port replicator, but too expensive for just that. I returned it. So, it may work well for others computers, but be aware it may not.
Date published: 2013-03-07T00:00:00-05:00
Rated

5

out of

5
by
Denny64
from
Works like it should
A lot of rumblings about this dock. I too had some issues upon first starting, but they were quickly resolved. Instructions said for Win 7 to just plug it in. Well, nothing happened until I used the available installation CD. From there, everything went as it should. The available assortment of power adapters are a nice touch as this should work with most laptops out there. I used the inclosed DVI to VGA adapter so that it's a simple process to go from my desktop to laptop using the 23 inch LG monitor. One thing I've read it should be worth noting is that I checked my USB 3 Host Controller Driver to make sure I had the latest. My laptop came with the latest driver so nothing required from me there but I'd certainly make sure before plugging everything in. It's always nice when things work like they should, and so far, I highly recommend this dock.
Date published: 2012-11-01T00:00:00-04:00
Rated

5

out of

5
by
FRC6
from
Issues with Targus docking station
I was hoping that this docking station would be commensurate with my HP docking station used at work. Wow, what a let down. The CD delivered was several updates behind. I went to the Targus website and after about :30 minutes of reading documentation, downloaded the latest sw. However, I could not get the docking station to work after several hours of work. I will probably return the docking station for a full refund. It would have been great if it could have lived up to it's press, but not worth the headache and stress.
Date published: 2014-03-02T00:00:00-05:00
Rated

5

out of

5
by
Anarchy99
from
Would not buy it again, can't use second monitor
Purchased specifically to use a second monitor and can't get it to work. Tried different hook-ups. Does Not Work!
Date published: 2017-05-28T00:00:00-04:00
Rated

5

out of

5
by
SCGuy
from
Buy something other than Targus for Pavilion
Purchased Targus Displaylink with my Pavilion 15 notebook. Product does not deliver all the features promised. Had to create multiple work arounds for display and sound. You can make it functional but for what it promises, should be a whole lot better. Overall I rate my experience with it as somewhere between fair and poor.
Date published: 2016-10-29T00:00:00-04:00
Rated

5

out of

5
by
Robdado4
from
Not up to snuff
Not completely compatible with my computer. I constantly get a power notification that my power source isn't "Smart AC Adapter" it isn't charging my computer. Why would HP sell something that isn't 100% compatible or at least mention any short comings of the product with the computer I just purchased. I would return, but it is MOSTLY useful and needed.
Date published: 2014-04-11T00:00:00-04:00
Rated

5

out of

5
by
Lights
from
Solid product, does what is advertised
Product does exactly what was advertised for my wife's HP Pavilion DV6t-SE. Setup was a little confusing, but I was walking her through it while out of town. I prefer the universal as I will likely upgrade my laptop long before I will need to upgrade the docking station. I would defintely purcahse it again if I needed another docking station.
Date published: 2012-07-03T00:00:00-04:00
Rated

5

out of

5
by
Wendy61
from
Much better than the others
We tried two different Folio docks before buying the Targus. The others were wimpy, you had to plug multiple things into the Folio, and one of the docks refused to charge the Folio. This one only requires one plug-in and charges fine. The only tricky things is that the power cord is split and you have to plug one of the ends into a secret US port under a cover - but you only have to do that once.
Date published: 2012-07-11T00:00:00-04:00
Rated

5

out of

5
by
larrybrower
from
It Works for Me!
With some trepidation, I ordered this docking station to use with my new HP Envy m6-1125dx 64-bit Windows 8 laptop. After using business laptops with custom-made docking stations for years, I hadn't thought too much about the process of finding a docking station for this consumer laptop. As it turned out, it took a bit of a search. I learned about the latest generation of "universal" docking stations which are made possible by USB 3.0, as I understand it. Two reps at HP's Boise Sales Office (who were great, by the way) told me that the Targus ACP71USZ would work with my laptop (which has a USB 3.0 port), in spite of a review to the contrary on the HP website page describing the unit. In fact, they said, the Targus unit was connected to the same laptop in the "playpen" in their office, and they could vouch for the fact that it worked. So, I ordered it from Amazon. When it arrived, I followed advice others had offered in other reviews: (1) update your USB 3.0 host controller driver (mine was current); (2) download the latest drivers from Targus or Displaylink (ignore the CD that comes with the unit). Turns out DisplayLink had a newer version than Targus itself did, so I downloaded and installed it before connecting the unit to my laptop. Contrary to other reviews, the docking station DID have a power tip to fit my laptop, which was a relief, so the laptop charges when it's connected to the dock. Everything else (wireless keyboard and mouse, audio, printer) is powered through the USB 3.0 cable which connects to the dock. Once connected, the laptop recognized the dock, and everything worked just as I hoped, with no noticeable loss in performance! I like the fact that the docking station will accommodate any laptop for which there is a power tip, so this should be the last docking station I need to buy. The unit itself is very well made, and reflects a nice design. It even fits nicely within my monitor stand! Finding the power tips is a bit tricky (the HP reps were helpful here too); you flip up a door on top of the unit to reveal a compartment with 8 different tips. All in all, armed with the advice from previous reviewers and the HP reps, it was a piece of cake, proving it pays to do your research, I guess. Judging from the reviews, I guess the ACP71USZ will work with some laptops and not others, and in the final analysis there is really only one way to find out: order it from a store with a reasonable return policy and try it out!
Date published: 2013-01-03T00:00:00-05:00
Rated

5

out of

5
by
newpop1
from
Good hub
Overall this is a very good and stable hub. No disconnections, flickers, no hiccups. If you are going to use this with a Windows 8 PC, please do NOT install the drivers that came in the box. Go to their website, find it by model # (look in the box) and then get the software from there. If you get the latest drivers, everything works. Only one complaint. I use 2 extra monitors, DVI and USB, every now and then in the extra monitors there is a small problem with the mouse cursor where it jumps. I don't know if this is a Windows 8 problem or a problem with the HUB. For me it is not a big issue because the extra monitors are just to keep other windows that I don't use that often for reference. Overall for me it works, allows me to just plug in one USB cable to my notebook and looks cleaner.
Date published: 2013-02-14T00:00:00-05:00
Rated

5

out of

5
by
Stefan1
from
Product not compatible with envy 14 spectre
Although recommended by HP, this product is not compatible with the Envy 14 spectre as none of the powder adapters provided is a fit.
Date published: 2012-06-22T00:00:00-04:00
Rated

5

out of

5
by
StElmoQn
from
NOT COMPATIBLE WITH ENVY 17T-j100 QUAD CORE
Conflicting stories - HP says that Targus now has a compatible tip. Buy the docking station locally and contact Targus only to find out there is NO such compatible tip. Which is It? And now I still have to find a docking station.... URGGHHH...not happy with HP or Targus!!!
Date published: 2014-01-07T00:00:00-05:00
Rated

5

out of

5
by
DrJones
from
Does not extend display on Envy 17
Evidently the Envy 17 is too powerful to run the monitor through the port replicator. I haven'r returned it yet, but I have had to buy to HDMI cables and 2 HPDisplay to HDMI dogles to enable me to use the two HP Monitors I bought along with my Envy 17 for an additioinal cost of nearly $200 bucks. Your sales guys should be informed enough to tell and sell the right equipment.
Date published: 2012-07-07T00:00:00-04:00
Rated

5

out of

5
by
quietvice
from
caveat emptor - cannot rate b/c won't work
This product, though looks great, does NOT work with Envy 17t. As another reviewer said it didn't work with the 14 either, the Envy line may be out. HP shows this on the accessory page for the Envy computer but speaking to Targus rep before purchasing confirmed the power tips on the dock will not provide power to the laptop. (Other ports should work.)
Date published: 2013-09-13T00:00:00-04:00
Rated

5

out of

5
by
Dan93
from
Great Docking Station
I purchased this docking station because I am going to college soon and want to have a good set up for all my peripherals and monitors in my dorm room, but still have the mobility of a laptop for bringing my computer to class, the library, etc. This product makes it very easy to connect two external monitors to my laptop, which is a great productivity boost. It also features plenty of other ports for USB devices such as a mouse or keyboard, headphones or speakers, a microphone, and an Ethernet connection. My only complaint is that I don't really see the need to have all the USB 2.0 ports in addition to the 3.0 ports, since 2.0 peripherals will work fine, actually a little better, in 3.0 ports. Either way, I'm very satisfied with this purchase.
Date published: 2012-07-26T00:00:00-04:00
Rated

5

out of

5
by
chje
from
Poor Power connection and instructions
Connection to computer is through USB cord - not explained in documentation. The power connector for the HP Envy does not engage well and also does not stay in. Apple magnetic system is much better.
Date published: 2012-11-24T00:00:00-05:00
Rated

5

out of

5
by
Gopichand
from
I wish it had a 2nd HDMI port
To connect to 2nd monitor it has a DVI port. The DVI converter to Serial port on the monitors is making the image flickery. I bought a separate DVI to HDMI cable to fix the issue! If it had a second HDMI port, it would be perfect!
Date published: 2019-07-03T00:00:00-04:00
Rated

5

out of

5
by
pblackerby
from
NOT Compatible with Samsung Laptop
The Targus ACP71USZ so-called Universal docking station with USB 3.0 is NOT compatible with Samsung laptop RC512-S02. They don't make a power tip for the ACP71USZ that fits the Samsung laptop, so you can't recharge a Samsung laptop with this product. But that's the point of having the docking station in the first place! The Targus configurator program will tell you that the power tip L127 will fit the Samsung, and it will, but the other end of it is for the APA series of rechargers, and is not compatible with the ACP71USZ. Too bad. I have waited nearly a year for a USB 3.0 docking station, and now I find it is not compatible with my computer!
Date published: 2012-04-13T00:00:00-04:00
Rated

5

out of

5
by
jm99
from
Works fine for HP Folio
My organization has rolled out 40+ HP Folios. Since Ultrabooks don't have docking stations, this Targus docking station is a perfect solution. We originally bought the other version which doesn't have power built into it, but when you combine the cost of it plus an additional power adapter, this unit with power is a better deal. I marked down Value because I feel that it could be a ittle less expensive. Besides that, it's a well made unit. The universal power tips plug in firmly to the power cable - I'm concerned that they could get lost, but hopefully they are firmly secured enough that they won't come off.
Date published: 2012-05-29T00:00:00-04:00
Rated

5

out of

5
by
NMuniz
from
Great price. Easy to setup.
I wanted to have a docking station and dual monitors at home to be able to work from home as needed without spending a fortune. I also wanted a docking station that would also charge my laptop. This was competitively priced and very similar to what I have at the office. It was easy to set up. I just wish that there were 2 HDMI ports instead of 1. It has worked like a charm. Easy to plug in and extend the display on my dual monitors.
Date published: 2019-03-20T00:00:00-04:00
Rated

5

out of

5
by
rheard
from
Best USB video doc I have had
I have had several different versions of this unit from Dell and Lenovo. Targus has it right with the driver setup online. I am having no issues now with docking my Lenovo Y50, displays are clear, and love the weight & size of the dock. Stops it from sliding around, even now I am typing on my laptop sitting on top of the Targus and it's not budging. It powers my laptop just fine!
Date published: 2015-04-10T00:00:00-04:00