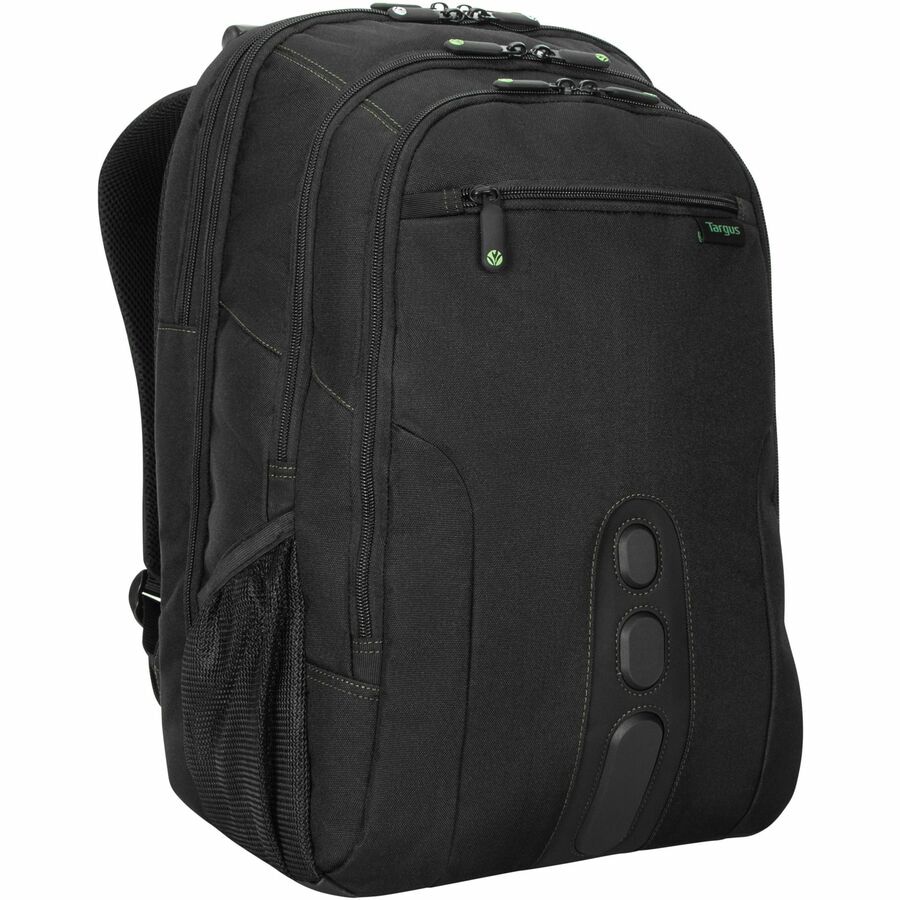 Know your gear
The Spruce EcoSmart™ Checkpoint-Friendly Backpack is designed to protect up to 17" widescreen laptops and has an exterior constructed of polyester made from recovered plastic bottles. The case also features nickel-free hardware and PVC-free structural materials to emit fewer toxins into the environment during production. To store your essentials, the backpack features a key clip, water bottle holder, MP3 player, business card holder, pen loops and accessory compartments. Quick-access front pocket provides a convenient place to store items while on the go. The padded back panel and adjustable shoulder strap allow for a customized, comfortable fit. A colorful green interior lightens the case, making items stored inside more visible. Both sleek and sporty, the Spruce line offers a durable option with tasteful color accents made with carefully selected materials to minimize our carbon footprint.


Targus Spruce EcoSmart 17" Notebook Backpack
is rated
4.50
out of
5
by
10
.
Rated

5

out of

5
by
John
from
Targus Spruce Backpack
Back pack is very well made and well designed, has many pockets for 17" CAD computer and another for a tablet. plus front pockets for other items.
Date published: 2020-10-17T00:00:00-04:00
Rated

5

out of

5
by
Ruth
from
Sturdy and spacious
I bought this back pack for my daughter and she loves it. It has lots of compartments and it is made very sturdy
Date published: 2019-10-10T00:00:00-04:00
Rated

5

out of

5
by
jamie03
from
great backpack
fits 17 inch computer nicely - no squeezing it in. It's very durable
Date published: 2014-01-02T00:00:00-05:00
Rated

5

out of

5
by
Michelle S.
from
Highly durable; Great for travel, school, and gaming equipment
I bought this with my Dell XPS 17 back in September 2011 and I've used it consistently for all four years of college for my heavy books, plus my XPS which has an extra battery (heavier than standard). I've also traveled a lot between Chicago to Portland, OR to Las Vegas to Honolulu numerous times and this backpack has carried my items to the point of back breaking without getting any outer tears. Even the bottom, though scuffed from heavy use, is in otherwise perfect condition. I have also carried the usual gaming peripherals (mouse, keyboard, external hard drive, headphones, etc) when needed (though I have since bought a separate bag for these). All the zippers are still intact, even zipping over my Razer Anansi (~20in wide) in the center pouch impressed me while travelling. Sadly, this did compromise the interior lining between the front and middle pocket and it has torn slightly, but only after 5 years of having this backpack. I am only recently looking for a new backpack because I've had this one for so long and will retire this one for hiking purposes. Living in Oregon with the rain, my items never got wet, though the outer material of the backpack would take a while to dry.Pros; holds a lot, insanely durable, laptop divider is highly convenient, multiple lifestyle uses, seemingly water resistantCons; n/a. literally none.
Date published: 2017-07-28T00:00:00-04:00
Rated

5

out of

5
by
kul2bme
from
Very nice but missing one thing
If I could I would rate this with 4.9 stars. This overall is a very nice backpack for my laptop. It has plenty of storage for all my stuff - mouse, pens, adapters, notepads, etc. It fits great over both or just one shoulder(old school way to carry with good padding and non-slip surface inside the shoulder strap. The padding around the laptop storage is adequate with one exception. I feel it does not have enough padding on the bottom side towards the bottom of the pack for when you set the pack down. This is where most of your day to day impact to the laptop will occur and I think it should have more padding in this area to protect the laptop. This is the only reason I did not give the 5th star but it is really close to excellent otherwise.
Date published: 2019-03-06T00:00:00-05:00
Rated

5

out of

5
by
Verified Buyer
from
would have given it a 5 star rating ...
The sole reason for a 4 score is this bag has "NO" neon colors. Although boring in black its functionality is impeccable. Easy accessed through airport check, multiple compartments easily store all daily items for school/career. It looks good and is durable. Luv this bag, well priced, highly recommend.
Date published: 2018-06-15T00:00:00-04:00
Rated

5

out of

5
by
ZMan
from
Tested out a few bags and this came out on top
For our company, this bag made the cut from other various nylon laptop backpacks ranging from $50-$100 in value. Targeted for the daily commuter, Our IT team had a hands on sampling of various bags, and the function, size, and overall weight worked out to use for the time being.
Date published: 2015-06-16T00:00:00-04:00
Rated

5

out of

5
by
Terry68
from
Minor Flaw
the backpack is great in that it fist my 17.3" laptop and has lots of pockets for other items. My only complaint is that it doesn't stand up on its own. either empty or with the laptop in it, the silly things falls over.
Date published: 2013-11-06T00:00:00-05:00
Rated

5

out of

5
by
Erik W.
from
Great for IT Professional
Great backpack for us tech folks that is just the right size and has plenty of storage areas.
Date published: 2022-01-18T00:00:00-05:00
Rated

5

out of

5
by
Ed Fox
from
Excellent laptop backpack
Suitable size, comfortable to carry, convenient compartments, useful and usable.
Date published: 2021-06-27T00:00:00-04:00