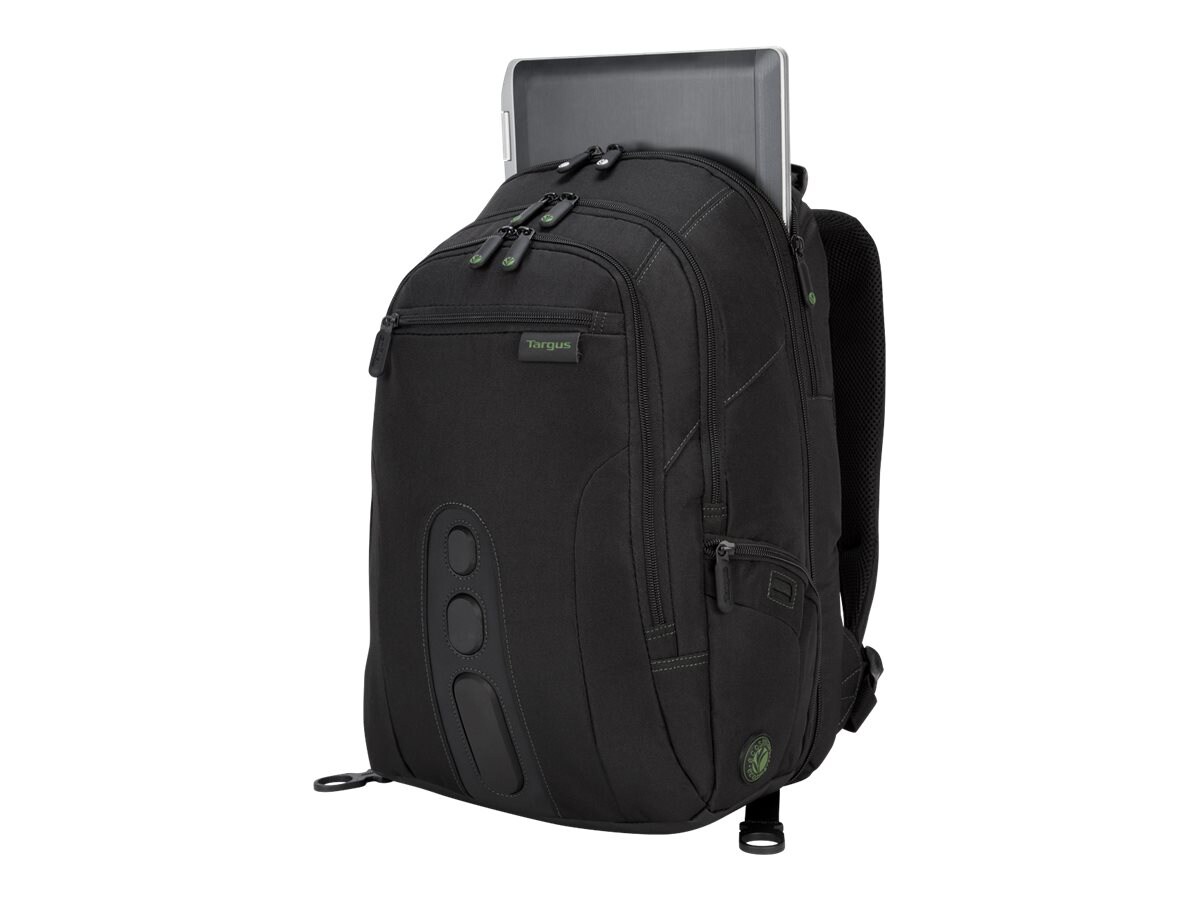 Know your gear
A perfect blend of style and storage, the Spruce EcoSmart Checkpoint-Friendly Backpack is designed to protect widescreen laptops up to 15.6 in size. Eco-friendly to its core, it's constructed with polyester made from recycled plastic bottles and features nickel-free hardware and recyclable plastic components. To store your essentials, the backpack features a key clip, water bottle holder, MP3 player, business card holder, pen loops, and accessory compartments. A quick-access front pocket provides a convenient place to store items while on the go. The padded back panel and adjustable shoulder strap allow for a customized, comfortable fit. A colorful green interior lightens the case, making items stored inside more visible. Both sleek and sporty, the Spruce line offers a durable option with carefully selected materials to minimize your carbon footprint.

US Patent No. 8,567,578. For patent details, visit targus.com/patents.


Targus Spruce EcoSmart 15.6" Notebook Backpack
is rated
4.71
out of
5
by
17
.
Rated

5

out of

5
by
null
from
High quality backpack with enough space to transport your work and personal laptops at the same time. Cup holder on the side with multiple pockets, provides a level of organization everyone desires from a backpack.
Date published: 2020-02-05T16:41:43-05:00
Rated

5

out of

5
by
George Wardell
from
Great product and will buy again
Great product and will buy again
Date published: 2020-03-10T00:00:00-04:00
Rated

5

out of

5
by
Verified Buyer
from
Love it!
I totally love this bag!
Date published: 2017-04-04T00:00:00-04:00
Rated

5

out of

5
by
Verified Buyer
from
Just Fantastic
Have the weight correct, its easy to organize...!!!
Date published: 2018-04-17T00:00:00-04:00
Rated

5

out of

5
by
Surfettekw
from
Mostly satisfied, previous model was much better
I had the previous model for 3 yrs which had an adjustable strap that connected the 2 shoulder straps so you could pull them together to make it more comfortable - a feature I liked but has been eliminated on this model. That broke (ripped right out of the stitching) so I got a new one. So far the new model straps are comfortable, but I haven't worn it on 2 shoulders enough yet to know for sure. Old model had 2 large zippered pockets which I also liked as I carry 2 laptops in this bag. This model has the same pockets, but eliminates the cushion tray in the bottom of the laptop compartment (I use the TSA zipper compartment for the other laptop). So far this does not seem to be a problem. This model also has the same two smaller zippered compartments, and also a very small front zippered pocket. These are comparable on the new model, but overall the bag is a bit shorter and not as deep (front to back) as the old model). It appears to be about 1.5" shorter and about 1" thinner, which is noticeable since I use all the space. Side pockets are different on this model - serious drawback. - The zippered side pocket is considerably smaller in width and height, and will not fit my hard sunglasses case I usually store there. It will also not completely hold my AC power brick for my laptop, even though it is a very small one by laptop standards. - The other side pocket is now a "strung pouch" presumably for a water bottle, replacing the former mesh elastic pouch. While the new pouch looks better, it's far less practical and seems like things can fall out of it easily. Top Handle - drawback! The top handle is now attached to the upper part of the shoulder straps, slightly away from the very top of the bag. It feels sturdy, however it's somewhat awkward when you carry the bag by the handle as it leans toward you quite a bit and hits your legs as you walk rather than hanging straight down. The old model handle was in the center of the bag on top and allowed the bag to hang straight down. Overall space - drawback compared to former model. This bag is somewhat smaller as mentioned above, and things mostly fit in the same places as with the former model, but it's a bit tighter. The shorter height is very noticeable when the bag is on top of my rollaboard - the carry strap no longer reaches my rollaboard handle so it's a stretch to grab both. It's not adjustable either. Padding - improvement Lower back and shoulder blade pads seem to be improved and are very comfortable. On the old model I had a towel stuffed behind the lower back pad for additional padding which so far has not been needed on this one. The bag is light, sturdy, and well-made, but has been slightly de-featured from the former model, but overall a great backpack.
Date published: 2018-02-08T00:00:00-05:00
Rated

5

out of

5
by
Maximus
from
Outstanding Shape, look, and space.
The fact that it has so much space, and a great organizer and look of it makes it a great product. Not to mention that it has lower back support pad makes it a well thought out product in term of design.
Date published: 2018-03-08T00:00:00-05:00
Rated

5

out of

5
by
Patty
from
GREAT FOR DAILY USE
I GOT THIS WHEN CO-WORKERS TALKED ABOUT LIKING IT. IT REPLACED MY OLD BRIEFCASE TYPE BAG, WHICH I DISLIKED. THIS ONE IS LIGHT, FITS ON SHOULDER WELL, EVEN IF NOT WORN AS BACKPACK. GREAT FOR DAILY HAULING OF LAPTOP. ROOM FOR SOME SUPPLIES, TOO.
Date published: 2018-03-01T00:00:00-05:00
Rated

5

out of

5
by
npampel
from
Perfect size for the professional
Use this for a surface pro 4 and office commuter back pack.
Date published: 2018-03-07T00:00:00-05:00
Rated

5

out of

5
by
Marctwayne
from
Good pack
PROS: Pack is broken into 3 main compartments. A laptop and small amount of books or paper work fit in the largest area. I use the middle compartment for a set of clothes when I travel and as a catch all with everyday use. The outside pocket for my easy access needs like in flight stuff (book,passport,keys,I.D.,boarding pass, etc). It seems like it is built well and I like that is stands up on its own. The Audio pocket is good for all sorts of little gadgets thumb drive, phone charger, laptop mouse. CONS: Its not the most comfortable pack I have ever carried. Nor is it the most roomy. If you travel heavy or like to take the kitchen sink this bag is not for you.
Date published: 2010-08-30T00:00:00-04:00
Rated

5

out of

5
by
Bounsom
from
perfect Backpack
I love my Ecosmart Backpack, is perfect side with my laptop, nice style and carry large the thing. laptop, mouse,adaptor,mp3,external hard drive, camera,book...
Date published: 2010-02-11T00:00:00-05:00
Rated

5

out of

5
by
Ackoola
from
Perfect for my laptop!
I used it right away. It protects my laptop and everything I need when I am at work or anywhere else! I the pouch for my iPod and cell phone. I plan to purchase the same back pack for my son's laptop as well!
Date published: 2010-06-24T00:00:00-04:00
Rated

5

out of

5
by
mrgoboom
from
Lasted 3 years 4 months under heavy abuse
As the title suggests, I abuse my backpacks. I routinely have in my backpack: a 15 inch laptop (with 9 cell battery and hard drive), charger, mouse, 2.5 inch binder, and lunch (sandwich, apple, granola bar). This fits comfortably. I will often add a pair of men's size 13 gym shoes and a pair of shorts. This is a squeeze. 3 years and 4 months later the main compartment zipper gave out. I just ordered a new one.
Date published: 2014-11-18T00:00:00-05:00
Rated

5

out of

5
by
nick1545
from
ecosmart backpack
works great, lots of room to store all my stuff, comfortable to carry, all my stuff i got from dell is first class, would recommend all to people
Date published: 2010-06-05T00:00:00-04:00
Rated

5

out of

5
by
Trevor
from
Decent quality but design flaw
Over all I like the backpack but the bottom of the bag as zero protection. When you lay it down under a normal pace you can hear your laptop edge hitting the floor. If you use this bag on a daily basis the hits to the laptop will add up and eventually lead to damage. I unfortunately have to buy another bag now
Date published: 2018-09-21T00:00:00-04:00
Rated

5

out of

5
by
Nathan
from
Perfect size for the professional
Use this for a surface pro 4 and office commuter back pack.
Date published: 2018-03-07T00:00:00-05:00
Rated

5

out of

5
by
Biopeg
from
Eco-friendly, stylish and cool
I love this laptop backpack. After a few years of carrying a bulky shoulder-strap case through airports, I am excited to be using this pack now.
Date published: 2010-02-04T00:00:00-05:00
Rated

5

out of

5
by
AEKW
from
Great backpack!
Good quality bag with tons of compartments which I love.
Date published: 2021-03-04T00:00:00-05:00